Boston's New Education Czar: 'I'm Data Driven, But Not Data Religious'
10:46
Play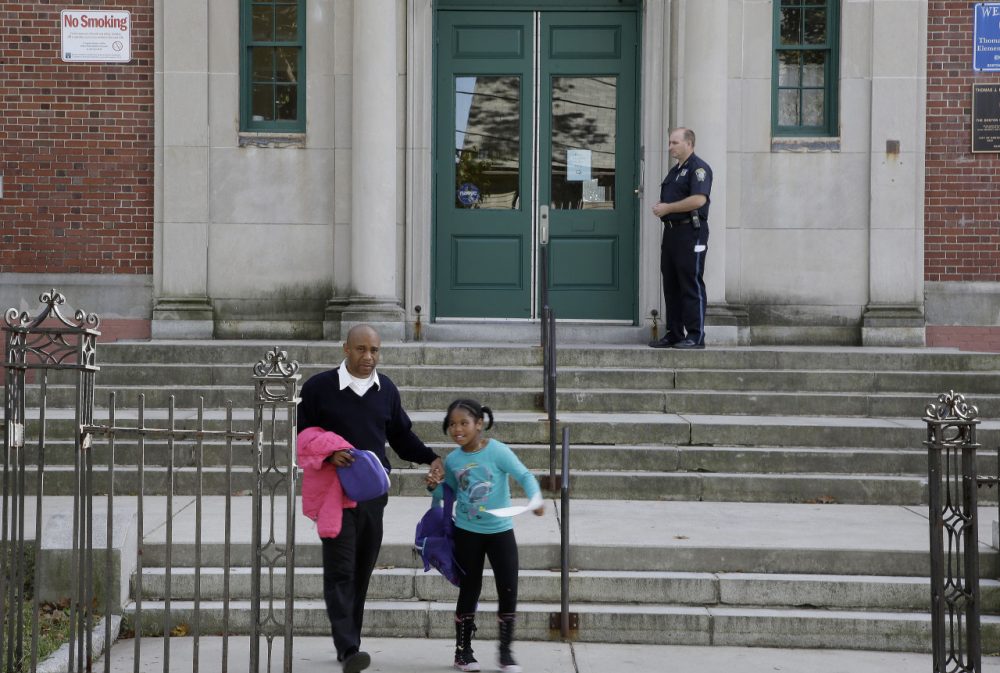 This article is more than 6 years old.
Boston is getting an education czar. Boston Mayor Martin J. Walsh created the new cabinet-level position to oversee education across the city.
Turahn Dorsey will become the city's new education chief Sept. 29. According to the mayor's office, Dorsey will work on everything from Boston Public Schools to colleges and universities and adult continuing education.
Guest
Turahn Dorsey, evaluation director of the Barr Foundation. He will become Boston's chief of education on Sept. 29. He tweets @turahndorsey.
Highlights
On what his early life taught him about education:
Turahn Dorsey: "To go back to Detroit...It was a great place to grow up. One, because I grew up in a culture of education. So, I went to the school that my mom taught at. I was taught by her friends in her community. So, I saw them inside the school and outside of the school. And so, there was a continuous kind of engagement and a stoking of my own passion for learning. The middle school that I went to — what was remarkable about it was, the staff were incredible, but the students were better. The student culture at that school was one where students held each other accountable for excellence. Even, sometimes, when faculty didn't really believe that we can achieve, the students held each other to a very high standard and that's something that I want to figure out in this role — how do you replicate that culture? All the time that I was doing this I was also spending time at the Detroit Institute of Art — art classes, drawing comic books with my friends, hanging out in recording studios, learning from engineers and being apprenticed into evaluation at a local market research firm. So, by the time I hit Concord Academy I had a lot of learning behind me. But then I came into an experience where it was about a lot of practical life lessons — the Concord Academy education is a fascinating and great education but to be fairly independent as a 14-year-old, 700, 800 miles away from home, is a completely different learning experience."
On the many roles the education czar will take on:
RD: "In my life I've been naive enough not to be overwhelmed by fear. And so there are certainly things to be apprehensive about and anxious about with the breadth of this position, but I'm still too naive to be completely fearful about it. So, I think that the way that we get at it is by defining strategy and priorities. There are a lot of places to play, but I think we have to start to play in those places that best put students and families in the position to fully engage in education and learning...Put education professionals in a position to be disruptive in some very powerful ways and to try the things that we need to to accelerate learning."
On the main goal of the city's new education czar:
RD: "The main goal is to open every door to learning in Boston. And so, what that means is that we've got to make sure that we open the obvious doors — schools, colleges and universities. But we've also got to coordinate some opening of doors in new serving nonprofits, cultural institutions, workplaces, trade and technical facilities, churches and natural spaces. But when we do that, what we have to be clear about is that when you enter the door, you'd better be getting a high quality learning experience. Secondly, we've got to make sure that those doors are accessible. There shouldn't be built in costs to access. Every student — every learner in Boston — should be able to enter the door. We've also got to equip students and families with the knowledge they need to choose the right door."
On metrics and outcomes numbers:
RD: "Let me speak personally about this. I'm data-driven but not data religious. So, my belief about data is that it really opens up another set of questions for us, gives us some insights, but does not create perfect knowledge. So, we've got to take that data and ask, 'How can we be doing better? Whom should we be targeting? Where should we be working that we've not been working?' And this is not for the purposes, I think, of holding people to account and penalizing. It's for making sure that we target student populations or whomever else that need the most, figure out what strategies we're going to use to support them and get the feedback we need to continuously improve. There are times when we're going to need to hold ourselves and others accountable for performance but I would rather not lead absolutely with performance. We need the kind of information that helps us get better at what we do."
More
The Boston Globe: Boston To Get Its First Education Chief
"Mayor Martin J. Walsh is expected to announce Wednesday the appointment of Turahn Dorsey as Boston's first "chief of education," a new Cabinet-level official who will cultivate relationships with all schools in Boston."
This article was originally published on September 08, 2014.
This segment aired on September 8, 2014.