2 Perspectives On Question 2: To Expand The 'Bottle Bill,' Or Not To Expand?
21:26
Play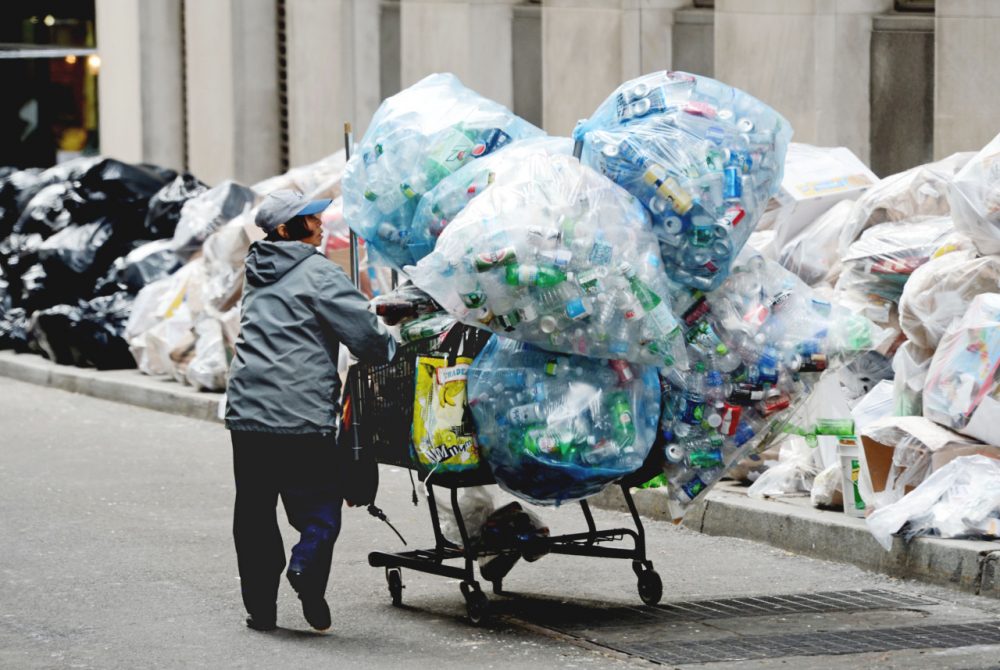 This article is more than 6 years old.
There's less than a month to go before election day. And, we've been taking a closer look at the ballot questions facing voters in November.
Question two asks about the "Massachusetts Expansion of Bottle Deposits Initiative."
It's a measure to expand the state's five cent beverage container deposit on carbonated beverages to include bottled water and other non-carbonated beverages like juice, iced tea and sports drinks. It would also require the current five cent deposit to be adjusted for inflation every five years.
Guests
Jack Clarke, director of public policy and government relations for Mass Audubon. He tweets @jackclarke.
Nicole Giambusso, spokesperson for the "No on Question Two" coalition. She tweets @NGiambusso.
2 Perspectives On Question 2:
On why to support/oppose question two:
Jack Clarke: "Since 1982, Massachusetts has had a very successful bottle bill, and that's for the redemption of carbonated beverages. And since 1982, we've had 35 billion containers not dropped on the street or put in the trash, but redeemed. And what we would like to do is look at the on-the-go beverages...These are the beverages that would be brought in under the new bottle bill, under question two, and we primarily see them as litter and trash along the roadsides, in parks, in forests. So, essentially, what we want to do is to stop this kind of litter and have these things redeemed. And people are saying, 'Well, they can certainly be placed in the curbside recycling bin.' But what we see is, while 80 percent of present redeemable beverages are brought back, only 23 percent of the non-carbonated beverages are brought back. The rest are tossed as litter and trash along the roadsides...That costs the state $7 billion to clean up."
Nicole Giambusso: "Those 80 [percent], 23 [percent] numbers that Jack mentions, I've yet to see a study that supports those. I've seen a number of citations, but no actual study. No on question two recently came out with a report that shows that question two essentially costs too much and does too little. It'll add about $68 million a year to grocery costs across the board, without having any significant impact on recycling. It would only increase the state's recycling rate by one eighth of a percent, and this is because it's an incredibly narrow law. It targets less than 1 percent of the waste stream. One of our main concerns is that recycling has changed dramatically in Massachusetts since the deposit law passed in 1982. Back then, curbside recycling didn't even exist. Today, 90 percent of residents have access to either curbside or some type of community recycling program."
On possible increased grocery costs as a result of question two:
NG: "The $68 million just comes from higher grocery costs across the board because, under question two, grocers are required to redeem these containers at their stores. So, this would mean an influx of bottles and cans that vary in size and shape, as well as gallons of water that there's no machine to accept right now, so between retail space and sanitation issues that they have to manage, this is going to cost grocers $68 million and that will trickle down to consumers."
JC: "We've looked at the 11 corresponding states that have similar bottle bills and the prices in those states did not go up. And I was here in 1982 when the original bottle bill was passed and the prices of Coca Cola and Pepsi did not go up and everything remained the same."
NG: "I'm familiar with the study that Jack referred to — that looked at a very, very small sample that sent students to a few stores on the border in New England states and compared just beverages — but these costs will be to grocers across the board, so that study's really not legitimate here when it comes to the concern about grocery costs as a whole."
On how litter levels might change as a result of question two:
JC: "I remember weeks after the bottle bill went into effect in 1982, there were no Pepsi and Coke cans around the playgrounds where I was, and we know that this would be the same with the present bottle bill if question two passes — and we're confident it will."
NG: "Massachusetts doesn't compile that kind of data in an aggregate way, but when you look at states that do, Vermont, Maine, New Hampshire — beverage containers make up under 10 percent of what's found on their streets. So, we're essentially spending $68 million of consumer money for something that ignores 90 percent of the problem. Wouldn't it make a lot more sense to put more recycling receptacles in public places if we're going to spend that kind of money?"
On how the two campaigns are being funded:
JC: "The vote yes on question two campaign is the [Massachusetts] Audubon Society...[the Environmental League of Massachusetts], the [Massachusetts] chapter of the Sierra Club, the Massachusetts League of Environmental Voters. The opposition is the big beverage industry from Washington, D.C. So, we have a grassroots, homegrown campaign to make our Commonwealth a cleaner place."
NG: "Our coalition came together, specifically, to oppose question two. That's our focus, that's what our nearly 3,000 members are looking to do. And to jump on something that Jack said, it is correct that we have support from the beverage industry, which employs over 4,000 people here in Massachusetts. And from grocers, many here in Massachusetts as well. That's been disclosed publicly. But our coalition is environmentalists, it's community organizations, it's individuals, it's businesses, grocers here in Massachusetts who've looked at question two and said, 'It's simply not the way to go.'"
On how question two might affect single-stream and curbside recycling:
NG: "We have developed, over the past 30 years, modern recycling technology, like single-stream and curbside, and that's the future of recycling. Jack said...that curbside and redemption systems go hand-in-hand, they absolutely do not. Our coalition includes large recyclers here in Massachusetts as well as the national waste and recycling association. I've talked to these recyclers and they have told me that question two will absolutely undermine curbside and single-stream recycling programs."
JC: "The issue is that Mass Audubon and the Sierra Club, in the 1970s, started the recycling programs in Massachusetts with the Department of Environmental Quality Engineering, now DEP, and other state agencies. And we fought hard to have the first bottle bill passed, so we are fully committed to seeing that both programs expand. We have less than half of the cities and towns in Massachusetts with curbside recycling, so we think they go hand-in-hand, and the Mass League of Environmental Voters, Mass Audubon society, League of Women Voters, all of our state organizations want to continue to promote both issues."
More
The Boston Globe: Advertisements With Inaccurate Data Aid Foes Of Wider Bottle Law
"A barrage of critical television advertisements containing information that state statistics show is false has apparently led to a dramatic increase in opposition to a November ballot proposal to expand the state bottle law."
This article was originally published on October 07, 2014.
This segment aired on October 7, 2014.