In New Memoir, Barney Frank Looks Back On 30 Years Representing Massachusetts
29:07
Play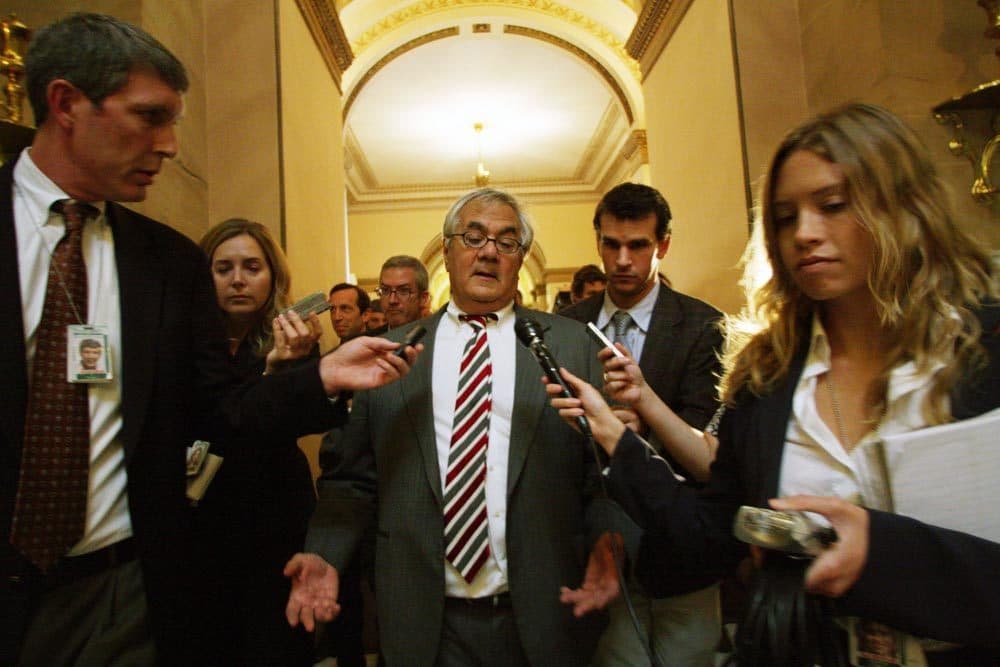 This article is more than 6 years old.
When he was 14, Barney Frank was like a lot of kids: he liked sports, unhealthy food and loud music. But he says there were two ways he was different from other guys: he was attracted to the idea of serving in government. And he was attracted to the other guys. That was back in 1954.
That's the way Barney Frank begins his new memoir about his long political career. He worked as an aide to Boston Mayor Kevin White. Then, he worked as a state representative on Beacon Hill. Then, he served for 32 years as a Massachusetts congressman until he retired two years ago.
When Frank was coming of age back in the 1950s, life was dramatically different for gays and lesbians. Sodomy was still illegal in Massachusetts, President Eisenhower denied gays security clearance and the Kennedy and Johnson administrations supported efforts by Congress to ban foreigners who, in the words of lawmakers, were "afflicted with sexual deviation."
Little wonder that a young Barney Frank resolved to keep his sexual orientation a secret forever. But over the course of his career, there was a dramatic shift in public attitudes. Support for legal protections for gays and lesbians grew, while regard for Congress plummeted.
Along the way, Frank became the first openly gay member of Congress, and earned a reputation as one of the toughest, brainiest, funniest and most eloquent liberals in Washington.
Barney Frank will be speaking about his memoir at a Harvard Book Store event Tuesday March 24 at the First Parish Church in Cambridge at 7 p.m.
Guest
Barney Frank, former Massachusetts congressman from the 4th district. His new memoir is, "Frank: A Life in Politics from the Great Society to Same-Sex Marriage." He tweets @BarneyFrank.
More
WBUR: Barney Frank's Journey From Closeted To An Openly Gay Member Of Congress
"In 1972, former Rep. Barney Frank, D-Mass., decided he would run for the state Legislature in Massachusetts — but he also explicitly decided to stay in the closet. And as he made this decision, he made a promise to himself to support LGBT rights."
The New York Times: 'Frank,' Barney Frank's Memoir
"Barney Frank's career in Congress spanned enough time and elevated him to enough prominence that most of the significant American political figures from the last four decades flitted through it, playing some part. And many make cameos, at the least, in his autobiography, 'Frank.'"
This segment aired on March 20, 2015.