Tsarnaev Attorney Judy Clarke: 'Most Ferocious Lawyer In America'
13:26
Play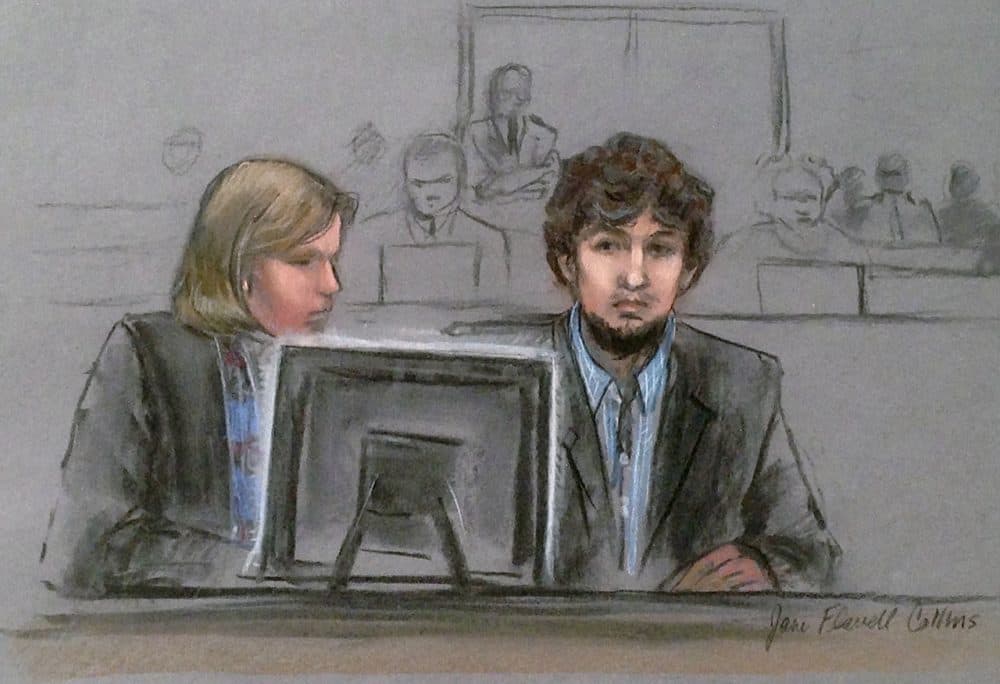 This article is more than 6 years old.
Closing statements in the trial of admitted Boston Marathon bomber Dzhokhar Tsarnaev are set for Monday. The defense rested its case Tuesday and, Wednesday, the courtroom is quiet. It provides an opportunity to step back and take a closer look at Tsarnaev's lawyer, Judy Clarke.
She was the attorney who stood before jurors a little more than two weeks ago and declared, "He did it." Tsarnaev isn't the first high profile criminal Clarke represented. Her client list includes Unabomber Ted Kaczynski, Atlanta Olympics bomber Eric Rudolph and Al-Qaeda operative Zacarias Moussaoui.
In each case, Clarke defended the indefensible. But in each case, Clarke's goal wasn't forgiveness for the crimes, but rather an attack on society's maximum punishment: the death penalty. As Mark Bowden writes in the most recent issue of Vanity Fair, "Among those who want capital punishment abolished in this country, Judy Clarke is the most effective champion in history."
Guests
Mark Bowden, author of many books including "Black Hawk Down" and contributing editor at Vanity Fair. He tweets @MarkBowdenwrite.
Highlights
On Judy Clarke's family:
Mark Bowden: "Her family in South Carolina were John Birchers, but they were a family that loved argumentation. So, they would sit around a large custom-made table at dinnertime and argue out the issues of the day. And so, I really think it was more the influence of argument and forming rigorous positions on the spot that was the influence, more than the right-leaning politics themselves."
On Clarke's political leanings:
MB: "She has her own way of interpreting the constitution and I think that it doesn't fall neatly into any category except, very clearly, the primary thrust of her work for the last few decades has been against the death penalty."
On her handling of the Susan Smith case:
MB: "Susan Smith was the young mother who strapped her two boys in car seats and then drove her car into a lake and let them drown. And in the days following, [Smith] went on television to claim that her boys had been abducted by a black man, which prompted a lot fear in the community and massive manhunts until the police determined that, in fact, Smith had done this to her own children...She has said that the Susan Smith case is the one that — as she put it — it sucked her into the black hole of death penalty cases. And I think, you know, what she set out to do was to reconstruct Susan Smith's entire life, up to the point where she made the terrible decision to kill her children in order, not to convince a jury that they should forgive her for the unforgivable, but rather that she basically could give them some spark of understanding of how this could have happened, and how Susan Smith could've arrived at that point. And that's what's proven to be so effective, is she's not trying to win forgiveness, she's trying to just engender just enough understanding to prevent her clients from being executed."
On what Judy Clarke means when she says she sees what the death penalty "does to us":
MB: "I can only speculate, but I think that she feels that it is a remnant of another age and she feels that — you know, she calls it legalized homicide. She thinks it coarsens — I think — American society. It coarsens our view and respect for human life and, you know, I just think she feels that it's time we got past it and she's done a great deal to make sure that that's happening."
On how Ted Kaczynski didn't want Judy Clarke as his lawyer and she blocked it:
MB: "He claims that she kept the truth from him about how she planned to present his case in court, which was an insanity plea. And so when he learned that he was going to be portrayed as insane in this effort to spare his life, he was furious because...his rationale for killing people was to popularize this very elaborate theory he had constructed about the impact of technology in modern society. And so if he...pleaded insane in a courtroom this, obviously, would undermine the import of his life's work. And so, when he learned that she planned to plead him insane, he stood up in the courtroom and demanded that he be able to represent himself and tried to fire her."
More
Vanity Fair: Dzhokhar Tsarnaev Has the Most Ferocious Lawyer In America Defending Him

"Judy Clarke, the publicity-shy anti-death-penalty attorney, has defended the Unabomber, Susan Smith, and Jared Loughner, and successfully spared them capital punishment. Mark Bowden provides an in-depth portrait of her startling career.
This segment aired on April 1, 2015.