Farm To Fork: Raising Goats And Making Cheese In Topsfield
10:06
Play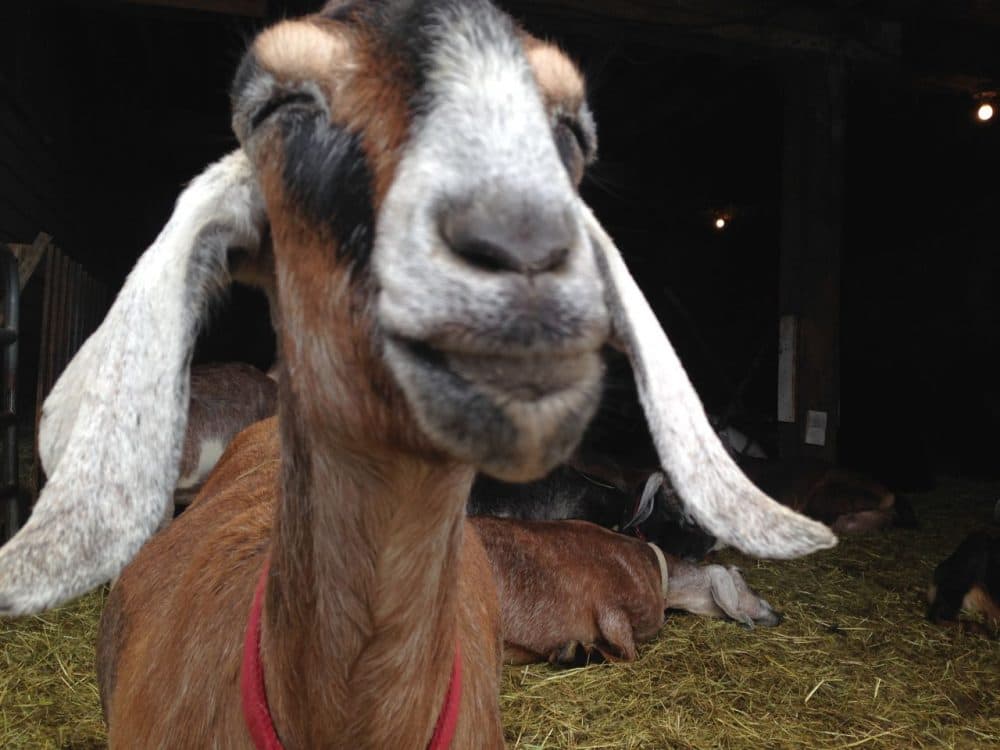 This article is more than 5 years old.
For our occasional food series, Farm to Fork, we take you out into the farm, fields and markets to search for the best ingredients New England has to offer.
Last month, we went up to Topsfield where Peter and Elizabeth Mulholland have been running Valley View Farmstead Cheeses since 1998 on Elizabeth's family farm.
Spring is a busy time for the Mulhollands — with trees to tap, cheese to make and goats giving birth left and right. It might sound like the idyllic country life, but it's hard work.
Guests
Andy Husbands, chef and owner of Tremont 647. He tweets @andyhusbands.
Elizabeth Mulholland, co-owner of Valley View Farmstead Cheeses. She divides her time caring for sons Andrew and Henry and the goats, making and selling cheese and volunteering in her community to preserve and promote history, architecture, farming and life in a small town.
Peter Mulholland, co-owner of Valley View Farmstead Cheeses. He's one part animal husbandmen, one part mechanic, one part carpenter, foodie and on and on. He also works off the farm as a registered investment adviser at Phalanx Asset Management in Topsfield.
More
Edible Boston: Building A Cave To Capture A New Terroir
"When Elizabeth and Peter Mulholland decided they wanted to start making cave-aged cheeses, they figured there was only one place to start: build a cave. This might seem rather obvious and simple to those of us who know more about eating cheese than making it, but for the husband and wife team behind Topsfield's Valley View Farmstead Cheeses, the decision to build an authentic, underground cheese cave was one that took years of dreaming and planning."
Pickled Peaches
Ingredients:
4 large ripe, but not over ripe peaches, peeled*, pitted and cut into 6 wedges each
2 cups brown sugar
2 cups maple syrup
1 cup champagne vinegar
1 cup water
1 tbs cloves
1 tsp coriander seeds
1 1/2 teaspoons chili flakes
4 cardamom pods
2 cinnamon sticks
1 teaspoons kosher salt
*There are many ways to peel a peach, from using a peeler to blanching in hot water, research the best method for you.
Instructions:
1. Place the peaches in a large stainless steel bowl.
2. Bring the remaining ingredients to a boil, simmer for 5 minutes. Let the liquor cool for five minutes, then pour over peaches.
3. Place the peaches in a non-corrosive container with a tight cover and refrigerate for two weeks before using. These will last up to 2 months.
Spring Bourbon Strawberries
Ingredients:
1 pint local strawberries, stem removed and cut in half
1/4 cup brown sugar
1 teaspoon kosher salt
1 pinch fennel seed, ground
2 tablespoons your favorite bourbon, like Bulleit
Instructions:
1. Toss all ingredients together in a stainless steel bowl, let sit, covered for 1 hour. Use right away or refrigerate until needed. Will last two days.
This segment aired on May 12, 2015.