Longest-Serving Mayor In Mass., Michael McGlynn Of Medford, Won't Seek 15th Term
10:28
Play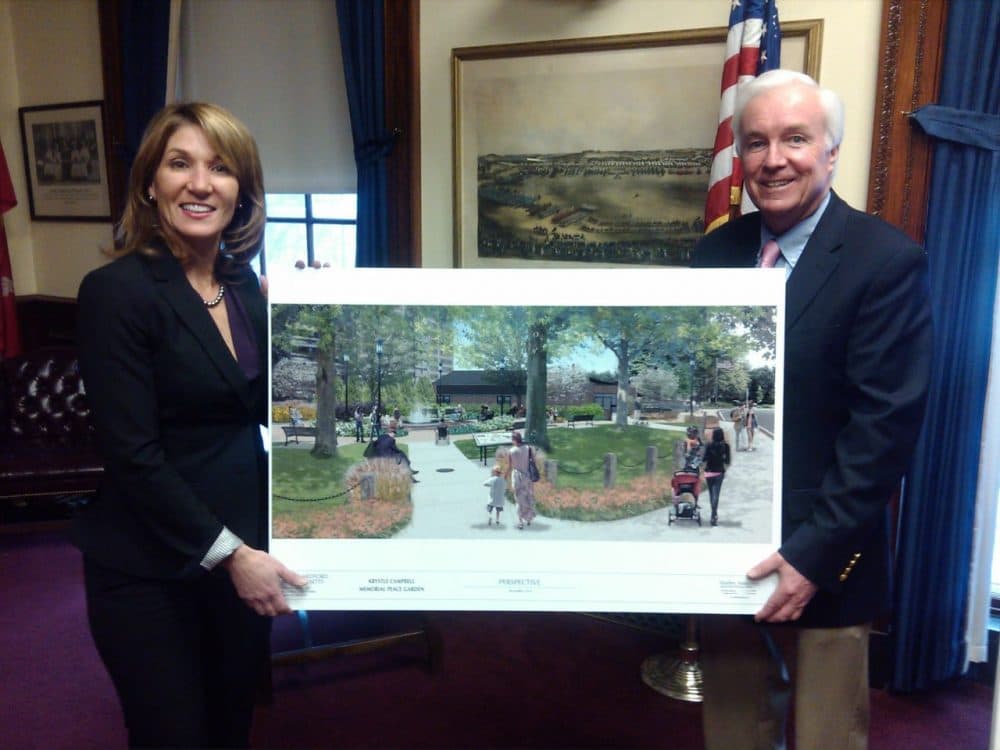 This article is more than 5 years old.
The first thing you learn about Michael McGlynn is that he loves being mayor of Medford. He's been at the job since 1987, which makes him the longest, currently-serving mayor in Massachusetts. But after 14 terms — or, 28 years in office — McGlynn decided that he won't seek a 15th term. It's surprising, because being mayor is pretty much all Michael McGlynn has ever wanted to do.
"I think it's important that every city change their mayor at least once every 28 years," says McGlynn, who also loves to joke.
His office houses paintings of Medford's pioneers, including Samuel Crocker Lawrence, a Civil War veteran, and Medford's first mayor, but Mayor McGlynn was most excited about a photograph of the Dalai Lama.
"The Dalai Lama is an honorary citizen here in the city of Medford. He was here, I want to say, about six weeks ago. I had lunch with him at TD Garden. I'll tell you, it's amazing. All of your anxiety — just being in his presence — is drained from your body, and you walk back, and you come into this office and then somebody's sitting there and they jump up and say, 'What about my tree?' And you go, 'Oh! Where'd that feeling go?'"
Michael McGlynn has loved being mayor every day of his 28 years in office — and that passion runs in his family. His father, Jack McGlynn, was a state representative and the mayor of Medford in the 1950s and 60s. Michael McGlynn remembers the exact day that he knew he wanted to go into politics: January 9, 1961.
Guest
Michael McGlynn, mayor of Medford since 1987.
Highlights
On the moment he decided he wanted to be mayor:
MM: "I was in second grade. I came home from school and my dad said, 'How would you like to meet the president-elect of the United States? John F. Kennedy.' And I said, 'Would I!'...[I] had my big Kennedy pin — I still have it from the 60s campaign. At the time, my dad was the mayor and he was a member of the state legislature. My godfather, Mike Catino, for who I was named, was also a member of the state legislature. So, as they moved all of the legislators out of the house chamber [for the Secret Service security sweep], my godfather stuck me under his desk, and as they went and they did the sweep to make sure everything was good — it was probably the first breach the Secret Service ever had...And [John F. Kennedy] walked down the aisle, he stopped, he talked to me, then he went up, he made his speech, and on the way back he talked to me again...All I heard for the next two months was, 'I want to shake the hand that shook the hand of the president of the United States. I want to shake the hand that shook the hand of the president of the United States.' When I got home that night, I said, 'Dad, I want to be the mayor of Medford.' He looked at me and he said, 'Go to bed, we'll talk about it in the morning.' And that's when I knew. I know some people think it's a big deal to be the mayor. For me it's just, I'm doing what my father did. You're trying to help people."
On why he's not seeking a 15th term:
MM: "When I first decided to run, I went to my wife, she said, 'How long do you think you'll want to do it?' And I said, 'I don't know, I just want to try a term. Two years.' And now, here it is. 28 years later. And the last couple of terms, if the truth be known, I said, 'I'm not sure if I'm going to run again.' And then I got back to it, I said, 'Sheila. I just want to finish this one last project.' I said that four years ago, and I said that two years ago, I started to say it again this year and then I see my grandchildren growing up all around me, my fifth one's on the way, and I noticed at some of the events now, I'm out at someone's 100th birthday, 50th wedding anniversary, somebody's wake, when everybody's home celebrating Sunday dinner. So I said, 'It's time.' I've had a great run, I love it as much today as I did [in the second grade.]"
On what he's loved most about being mayor:
MM: "There are two things. You have an opportunity to worship in everybody's church or temple. I've been in all of them, and I tell them, it's all the same. It's about prayer and song and, for me, church music of any type, that's my inner peace. And the other is, going to the schools and talking to the children. This may surprise people, but most of the things that happen in the city, they come from the schoolchildren. They talk about things they'd like to see, I just listen and implement them...There were three students who came in one day and they talked to me and they said, 'We'd like to have a skateboard park here in the city.' So, I went to the law department and I said, 'You know, I think I'm going to build a skateboard park for the kids.' And the solicitor said, 'You can't do it because of liability.' He said, 'All the broken bones, all the — you'll be creating an attractive nuisance.' So, I went back and I told the students, I said, 'You know, I really can't because of this liability.' One kid looked at me and said, 'Oh, we thought you were the mayor'...And I looked back at the kids and I said, 'Hey, you guys are right! We're going to build the park!'...So we built a park for them."
On Mayor Thomas Menino:
MM: "Tommy was a good buddy of mine. We used to joke about this all the time, they'd say, 'You know, Menino, he's the longest serving mayor.' I'd say, 'Tommy? He's a baby!'...Tommy was a big part of my life. We fought many battles together on Capital Hill and Beacon Hill to get things done."
On the big challenge facing cities:
MM: "The big challenge will always be — it will never change — finance. I've gone through three recessions in my 28 years and if you don't have the money, you can't hire the personnel, you can't deliver the services, you can't improve the quality of life, so you have to be creative. You have to work with the private sector. That's the biggest issue."
More
The Boston Globe: State's Longest-Serving Mayor Won't Seek 15th Term
"Michael J. McGlynn grew up dreaming of being mayor of the city where his family's Democratic political roots run as deep and blue as Medford High's traditional school color."
This segment aired on May 26, 2015.