Restoration Begins On The USS Constitution
13:37
Play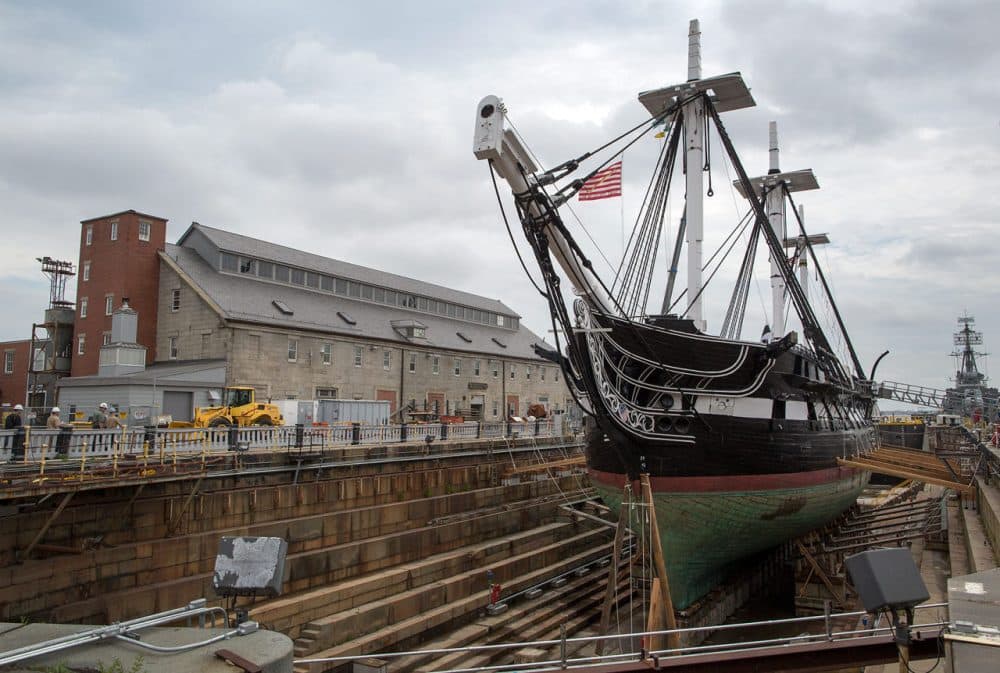 This article is more than 5 years old.
Today, we had one of those experiences that reminded us just how fortunate we are to live in this area. We were at the Charlestown Navy Yard, witnessing history: the USS Constitution, the country's oldest commissioned naval vessel is in dry dock.
This isn't the first time the Constitution has been in dry dock. She underwent significant restoration in the 1970s and 90s as well. It's breathtaking to see the ship this way, because in dry dock, the full glory of the Constitution is revealed. For example, you discover that "Old Ironsides" is copper bottomed.
The copper protects the hull from boring mollusks and crustaceans. Sean Kerns, the ship's commanding officer, climbs a ladder and begins removing one of the plates.
There are 3,400 plates — eleven and a half tons — of copper cladding the Constitution's hull, including half a million copper bolts. Back in 1794, the original bolts were provided by a foundry owned by none other than Paul Revere.
"Old Ironsides" will be in dry dock undergoing restoration for the next two years. We got a tour earlier today with several people working on the project.
Guests
Lieutenant Commander Tim Anderson, executive officer of the USS Constitution.
Jacob Harned, gunner's mate seaman.
Margherita Desy, historian with the Naval History and Heritage Command.
This segment aired on June 9, 2015.