How Are The Common Core Standards Affecting Kindergarten Classrooms?
22:01
Play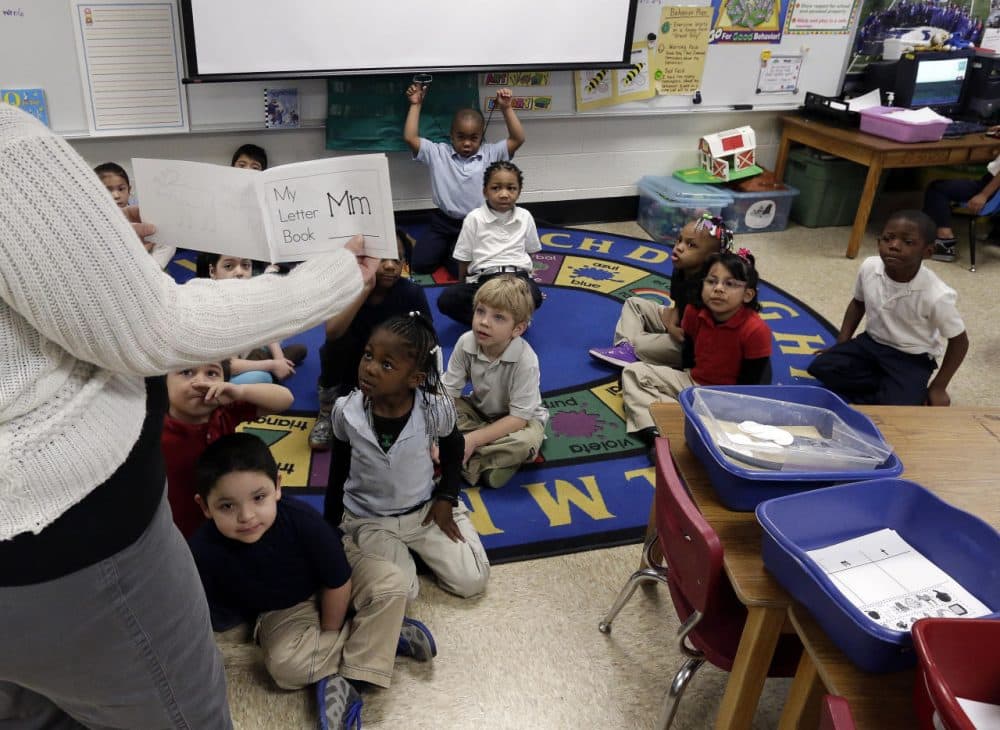 This article is more than 5 years old.
Many researchers have made a case for the importance of high-quality early education, and how it can lead to later academic success and general success in life.
So, a piece in Sunday's Ideas section of the Boston Globe caught our attention. The provocative title was, "Is the Common Core Killing Kindergarten?"
It asks if the Common Core, the new national standards, are forcing kindergarten teachers to move away from experiential, play-based learning, which many educators believe is so effective, and toward more rote memorization and lecturing.
Guests
Nancy Carlsson-Paige, professor emeritus of early childhood education at Lesley University.
Jason Sachs, director of early childhood education at Boston Public Schools.
More
The Boston Globe: Is The Common Core Killing Kindergarten?
"Opponents say ... the pressure to meet academic standards will lead to lecture and work sheet style teaching, foster rote memorization, and snuff out the inquiry and play-based instruction that can instill a love of learning. ... The Common Core's defenders say critics are misreading the kindergarten standards, which are meant to be goals, not dictates. ... What standards actually do, backers contend, is level the playing field and help keep students from falling behind early, which they say is the real and lasting danger for our youngest learners."
Common Core State Standards Initiative: English Language Arts Standards
"By emphasizing required achievements, the Standards leave room for teachers, curriculum developers, and states to determine how those goals should be reached and what additional topics should be addressed."
Common Core State Standards Initiative: Standards For Mathematical Practice In Kindergarten
"In Kindergarten, instructional time should focus on two critical areas: (1) representing and comparing whole numbers, initially with sets of objects; (2) describing shapes and space. More learning time in Kindergarten should be devoted to number than to other topics."
Defending The Early Years: Reading Instruction in Kindergarten: Much to Lose and Little to Gain
"Most children are eager to meet high expectations, but their tools and skills as learners as well as their enthusiasm for learning suffer when the demands are inappropriate. High-stakes assessments are adding to their anxiety. They feel less in charge of, and invested in, the learning process — and their internal motivation is thwarted. They begin to feel that learning, and its deep satisfactions, do not belong to them."
Boston Public Schools: Early Childhood Education
"Our goal is to provide all children with a strong and early start to their formal education. In 1998, Boston opened three new early education centers, providing "surround care" to students ages 3 through 6, including those with and without disabilities. Since then, Boston Public Schools also has guaranteed a full-day kindergarten seat to every five-year-old in the city."
This segment aired on June 16, 2015.