Supreme Court Rules In Favor Of Same-Sex Marriage Across U.S.
22:28
Play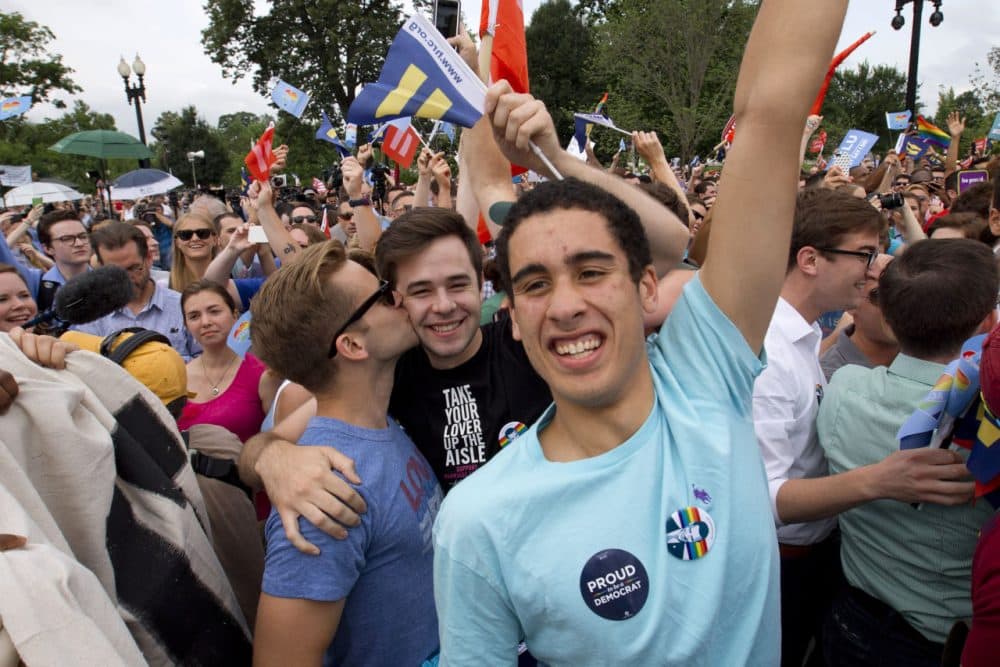 This article is more than 5 years old.
Friday was a historic victory for backers of gay marriage across the nation. In a 5-4 decision, the U.S. Supreme Court ruled that the constitution guarantees a right for same-sex marriage in all 50 states.
In the majority opinion, Justice Anthony Kennedy wrote, "No union is more profound than marriage." He said that same-sex couples respect that union and "they ask for equal dignity in the eyes of the law. The constitution grants them that right."
And with those words, a seismic shift on marriage equality, which began just 12 years ago here in Massachusetts, is complete.
"In my second inaugural address, I said that, if we are truly created equal, then surely the love we commit to one another must be equal as well," said President Obama Friday. "It is gratifying to see that principle enshrined into law by this decision."
Here in Boston, among those praising Friday's decision from the high court was Hillary Goodridge. She was one of the lead plaintiffs in the case that led the Massachusetts Supreme Judicial Court to extend marital rights to same-sex couples in Massachusetts back in 2003.
"Now, kids across the United States of America will be able to know that their parents who love each other are able to get married," said Goodridge. "And it's just a very very exciting time for everyone."
Guests
Mary Bonauto, civil rights project director at Gay & Lesbian Advocates & Defenders, which tweets @GLADLaw. She was lead counsel in the Goodridge case and argued before the Supreme Court in April.
Emily Bazelon, staff writer for The New York Times Magazine. She's also co-host of the Slate Political Gabfest and a Truman Capote Fellow at Yale Law School. She tweets @emilybazelon.
Arline Isaacson, president of Isaacson Political Consultants and co-chair of the Massachusetts Gay and Lesbian Political Caucus.
Susan Shepherd, a member of the first same-sex couple in the United States to file paperwork (in Cambridge) for a marriage license.
Marcia Ham, a member of the first same-sex couple in the United States to file paperwork (in Cambridge) for a marriage license.
Roger Severino, director of the DeVos Center for Religion and Civil Society at the Heritage Foundation.
Nancy Gertner, Harvard Law School professor and former Massachusetts federal judge.
Jeff Jacoby, columnist for The Boston Globe. He tweets @Jeff_Jacoby.
More
WBUR: Supreme Court Declares Same-Sex Marriage Legal In All 50 States
"States cannot keep same-sex couples from marrying and must recognize their unions, the Supreme Court says in a ruling that for months has been the focus of speculation. The decision was 5-4."
This segment aired on June 26, 2015.