Can You Learn To Be Funny? Emerson College Says: 'Yes'
18:52
Play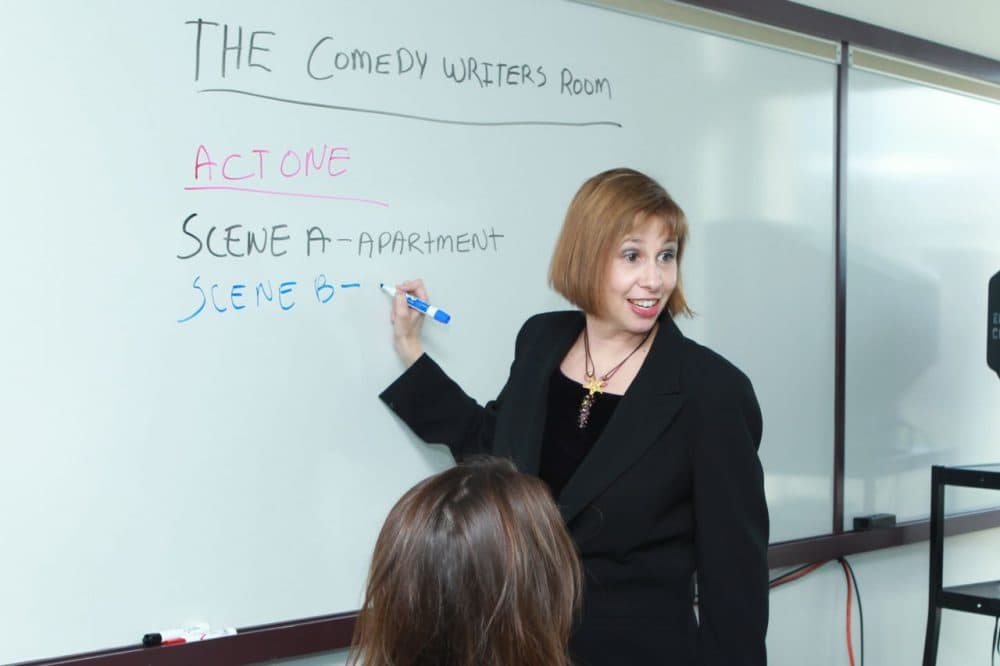 This article is more than 5 years old.
Can you really learn to be funny at college? Emerson College in Boston says the answer to that is, "Yes!" And beginning next September, for the first time, the school will be offering a degree in comedic arts.
Students will learn stand-up and how to write jokes. They'll study comedy production and editing, as well as the history of comedy, dating back to those uproariously funny Greeks and Romans.
Comedian Eugene Mirman, who grew up in Lexington, designed his own comedy major at Hampshire College. Years after he graduated, he returned to Hampshire to talk about it.
"My parents brought my brother and I to America when I was 4, and while at Hampshire I remember them telling me a story where they were at a party and somebody said to them, 'Oh, we're so sorry, we hear your son's at a liberal arts school studying comedy. Our daughter wanted to do theater, luckily that's over.' A few years ago I did a talk at a university, I can't remember where. Oh yeah, Yale! And one student asked me, what was your backup plan and I said, 'A backup plan is the first step towards failure!"
So, is a degree in comedy a real thing, or just a joke?
Guests
Martie Cook, creator and director of Emerson's comedic arts major. She'll be teaching pilot writing and writing for television this fall. She's also associate chair of Visual and Media Arts at Emerson and author of "Write to TV: Out of Your Head and Onto the Screen." She tweets @MartieCook.
Eugene Mirman, comedian and writer who attended Hampshire College where he created his own comedy major. He voices Gene Belcher on Fox's "Bob's Burgers" and founded the Eugene Mirman Comedy Festival. He tweets @EugeneMirman.
More
The Boston Globe: It's No Joke, Emerson College Offering A Comedy Major
"Beginning in September 2016, undergraduates looking to brush up on their on-screen performance skills or comedy-writing abilities will be able to work toward a bachelor of fine arts degree in the 'Comedic Arts.'"
A.V. Club: Emerson College To Offer A Four-Year Degree In Comedy
"While Emerson has produced some notable comedic alumni, including Norman Lear (dropped out after two years to enlist in WWII), Jay Leno (bachelors' degree in speech therapy), Denis Leary (creative writing), and David Cross (dropped out after a semester), none of them had a degree in comedy, and therefore weren't really that funny."
SplitSlider: That's A Thing: How Eugene Mirman Cut His Own Path In Comedy
"In 1992, Mirman went to Hampshire College, which offers a make-your-own major program. Mirman chose comedy. Mirman says this turned out to be incredibly practical."
This segment aired on July 8, 2015.