This Massachusetts Lab Is At The Forefront Of Tissue And Limb Regeneration
12:16
Play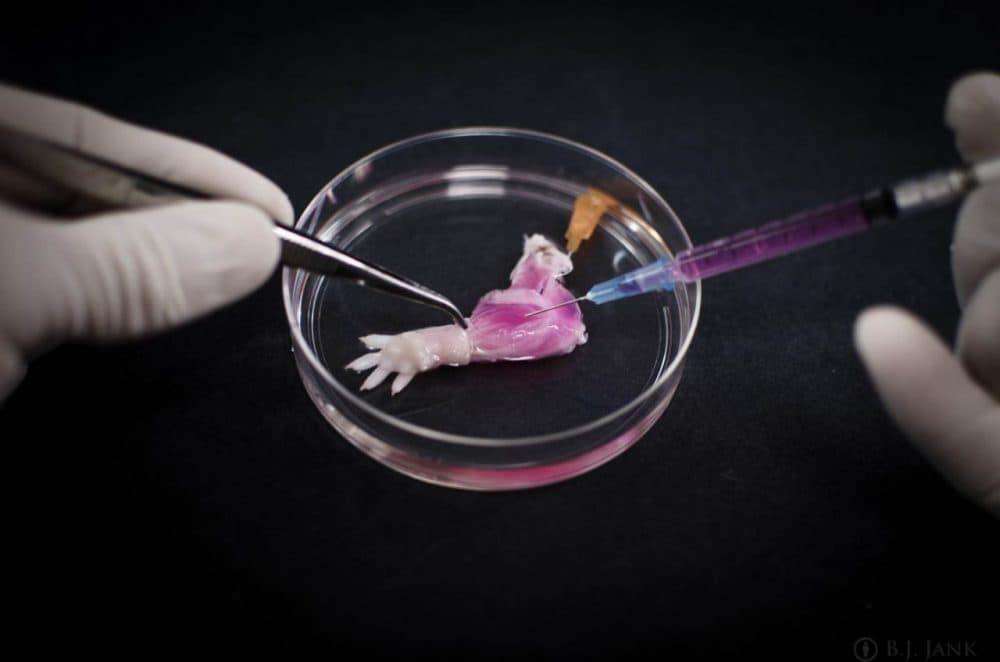 This article is more than 5 years old.
We visit the Ott Lab at Massachusetts General Hospital, where scientists are regenerating organs and limbs.
Guests
Dr. Harald Ott, head of the Ott Laboratory for Organ Engineering and Regeneration, a thoracic surgeon at the Massachusetts General Hospital, and assistant professor in surgery at the Harvard Medical School.
Jacques Guyette, research fellow at the Ott Lab.
Sarah Gilpin, research fellow at the Ott Lab.
More
BetaBoston: Mass. General Researchers Grow Muscular Rat Arms In A Dish
"In a step toward a future in which custom-grown limbs are transplanted in people, Boston researchers have regrown muscles on the chopped-off arms of rats. When they were re-attached to the rodents, vascular channels filled with blood. And when a low current was applied to the muscles, they twitched."
WBUR: In Massachusetts Lab, Scientists Grow An Artificial Rat Limb
"This may be an important first step leading to the eventual creation of functional, bioartificial limbs that could be used in transplants. That could be a step up from existing prosthetic devices."
This segment aired on July 10, 2015.