Josh Altidor Plants Boston Public Garden's Flower Beds With His Caribbean Roots
08:42
Play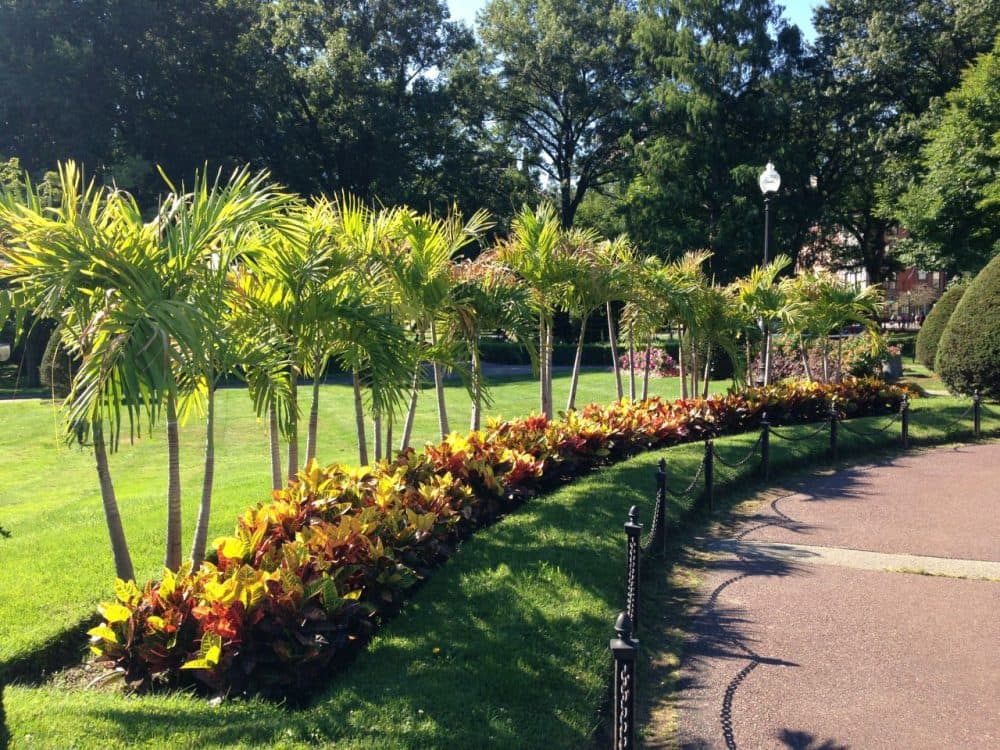 This article is more than 5 years old.
As Boston's short, precious summer months come to a close, it would do us all well to take one more stroll through the Boston Public Garden.
It's in full bloom right now, bursting with lantana, ornamental grasses, hibiscus, zinnias, dusty miller — flower beds carefully designed by Josh Altidor, executive assistant of horticulture for the city of Boston.
Radio Boston producer Emma-Jean Weinstein took a tour of the botanical garden — one of the oldest in America — with the self-described "plant nerd" who designs and plants all 58 flower beds in the garden.
The most talked-about bed in the garden includes palm trees — but Altidor points out they've been there since the 1800s.
"I think people, nowadays, they notice it more. But they've been around for a long time. This is the heart of the Public Garden so when you come in here, you have all those four tropical beds. It's like you're in the middle of the Caribbean."
And Altidor knows what that's like — he was raised on his dad's farm in Les Cayes, Haiti.
"Growing up in Haiti, that's the survival mode," Altidor says. "You have to know how to work the land. I mean, here, we have different opportunities. In Haiti, you have to be able to grow for yourself. You have to be able to try to survive on the land. So learning from my dad how to take care of all the stuff — it's help me have my creative mind. So, I mean, I will say I was born to do what I'm doing right now. It's helped me to design. When I'm looking or reading or going on vacation, it's helped me to kind of look deep into the design — the landscape design — and see what I can bring to catch people's eyes."
Altidor's father still grows rice and beans on Haiti's southern coast. He also just visited Boston and had a chance to see his son's gardening first-hand.
"He gave me a little tap on the back, good job," Altidor says. "He's my teacher so he's always tried to teach me more and more and more. I think I still need his guidance from now and then."
But the path Altidor forged from a Haitian farm to one of the most distinguished horticulture jobs in the city was all his own.
"I was doing my bachelor's degree in Haiti, then I came to America for an internship through Ohio State University. Then, coming from Ohio, I go to North Carolina to work at Metrolina Greenhouses, that's the biggest greenhouse in the country for those who don't know. Then I went back to Ohio to work for the botanical garden. From Ohio to here, I met my now-wife that was my girlfriend, and then we couldn't do the long-distance relationship and I was able to come from Ohio to Boston. At first, it was a crazy city, because I'm like, 'Man, people driving like crazy. I don't know what to do in that city.' I come to love the city. It's a beautiful city with great people and stuff like that. Little step by steps, I happen to be here. I think it's a good spot to land, it's a good place to be."
A good place, made better by Altidor's design sense — call it "tropical verve."
"There's the tropical plants, all the design going on. I mean, I wouldn't take the credit by myself. I have a group of staff that help me with it and people that allow me to do what I do with my design. I'm trying to go for the bold statement and the fullness of all the beds."
One example of that bold statement is right under the iconic George Washington statue, high on his mighty steed, right off of Arlington Street. Altidor says he went for a simple look, with spike cordyline, ginger, pentas and pepper.
"This is a pretty full bed, so when you come around George it's like pretty calm and peaceful."
Lime-green ginger foliage, ornamental grasses, hibiscus leaves — isn't that a far cry from the Public Garden's traditional, tidy Victorian-style beds?
"We're not trying to get away from the tradition of the Public Garden. We're still a Victorian garden."
But Altidor is mixing things up — and under tight budget constraints. There's much to do, the department is short-handed and new plants are limited.
"We try to use what we can in the greenhouse, because most of this stuff here — the annuals — we grow them in the greenhouse. So we try to use what we can and we'll use them again. For the palm tree, we use them again every year. We store them in the greenhouse."
Altidor's already working on next year's plants at Boston's Franklin Park greenhouses.
"I'm the head grower of the greenhouse. I start everything from seeds. As of right now, I'm starting to work on the plants for next year. So me and the superintendent, we're about to order the seeds for next year. So my goal is to start everything by January and February. That's the growing season at the greenhouse. Then getting ready to put everything out in the summer."
While Altidor's mind may already be on next year's blooms, you've still got time to walk through the Public Garden this summer and appreciate the colors, the shapes, the delicacy and daring of his artful work on this year's beds.
"I make a lot of things work with what I have, which is small space," Altidor says. "So, I can fit a ton of plants with less competition and stuff like that. This is my passion. I'm blessed to be able to get paid for what I do. That's what I do. Horticulture is part of my upbringing. Coming from Haiti, that's how it started, with horticulture and agriculture and all the design. So coming here to be able to put my talent to work, so I really love it. I'm passionate when it comes to plants. I'm a plant nerd!"
Guest
Josh Altidor, executive assistant of horticulture for the city of Boston.
More
The Boston Globe: New Tropical Plants Added To Historic Public Garden Beds
"The riot of tropical plants and colors is a departure from the clipped, manicured glory that is the Public Garden."
This segment aired on August 21, 2015.