4 Ways To Talk To Teens About The New Hampshire Prep School Rape Trial
Play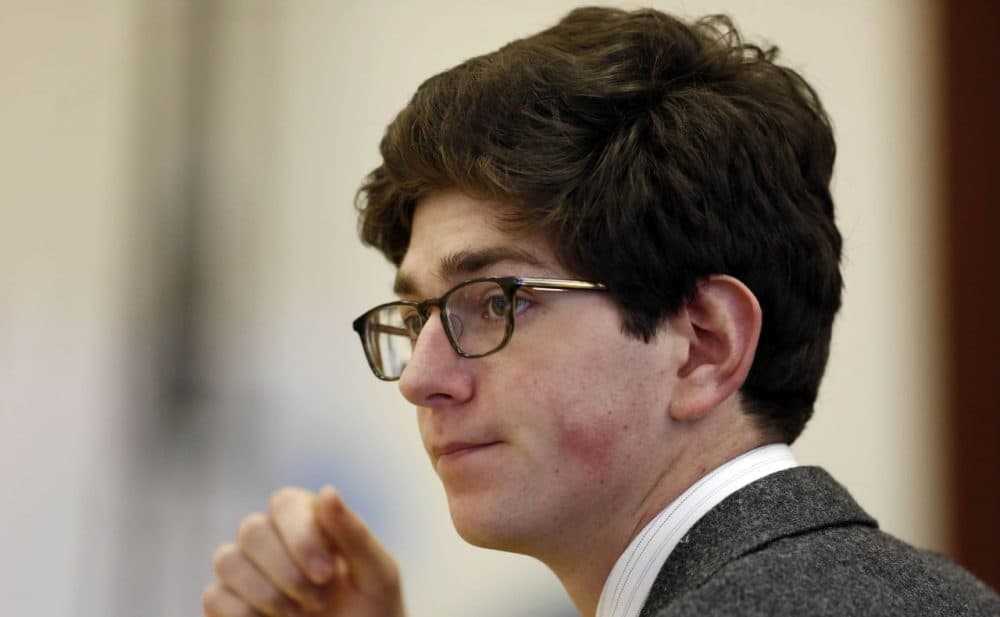 This article is more than 7 years old.
Last week we talked about a trial currently underway in Concord, New Hampshire. The defendant is 19-year-old Owen Labrie, graduate of the elite St. Paul's prep school. He's accused of sexually assaulting a then-15-year-old female student at the school, as part of an annual ritual at St. Paul's called "senior salute" where older students look to meet up with younger ones, for anything from a walk to sex.
The case brings up so many complicated issues, from what constitutes consent, to bigger questions about teens and their attitudes and expectations about sex. So, how do you talk with your teen about the case?
Guest
Joani Geltman, lecturer in Curry College's psychology department and author of "A Survival Guide to Parenting Teens: Talking to Your Kids About Sexting, Drinking, Drugs and Other Things that Freak You Out." She tweets @JoaniGeltman.
Joani Geltman's 4 Ways To Talk To Teens About The Trial
Talking about sex and sexual assault with your teen is a delicate matter. As a parent, you want your teen to understand the moral, legal and emotional consequences of participating in a sexual encounter that may or may not be consensual. But, if you present your lecture on the "Moral, Legal and Emotional Consequences of a Non-Consensual Sex Act" to your teen, you will have lost a valuable opportunity for opening communication on a subject that is uncomfortable to talk about, especially with your parents. Your teen will clam up, roll their eyes and tell you that they would never, ever end up in a situation similar to what allegedly happened between these two teenagers at a New Hampshire prep school.
Here are some strategies for opening up this conversation:
1. Start from a place of understanding, not judgment:
"I get that girls can be flattered by attention from an older boy." And, "I get how boys can get caught up in the pressure to hook up with younger girls, even if they know, on some level, that it's not right."
2. Don't lecture:
In theory, your teen understands that boys may sometimes take advantage of girls. They don't need you to tell them that. What they need is a safe haven to explore their own feelings. You might say to your daughter: "There may be a situation that you're in, when you're getting attention from a boy you have a crush on. I totally get flirting, but let's figure out how you can flirt without sending out the message that something more physical is on the table." And, with your son, you might say: "Understanding and knowing how far a girl really wants to go can be really hard to know sometimes, but it's really important that you think about this. Let's come up with some cues from a girl that you should really pay attention to."
3. Help them to develop the scripts and language that will help them out in situations that make them feel uncomfortable and/or unsafe:
Most teens end up doing things they don't want to because they don't know what else to do. They can always use the, "I need to go to the bathroom" excuse. It gets them out of the room without getting into a whole thing. Or, check the time and say, "my friends are waiting for me, and if I don't show up, they'll think something's wrong." For boys who are getting pressured by their friends to do something they don't want to do: "It's just not my thing!"
4. Remember that your teen is being led by their emotional brain, not their thinking one:
Before they leave to hang out with friends, your parting words to them should always be: "What is your safety plan for tonight?"
More
The Wall Street Journal: Rape Trial Casts Spotlight On New Hampshire Prep School
"A high-profile rape trial under way here has put an uncomfortable spotlight on one of the nation's most prestigious boarding schools."
This segment aired on August 25, 2015.