'Share The Road,' Or No Bikes On Boston Streets?
24:33
Play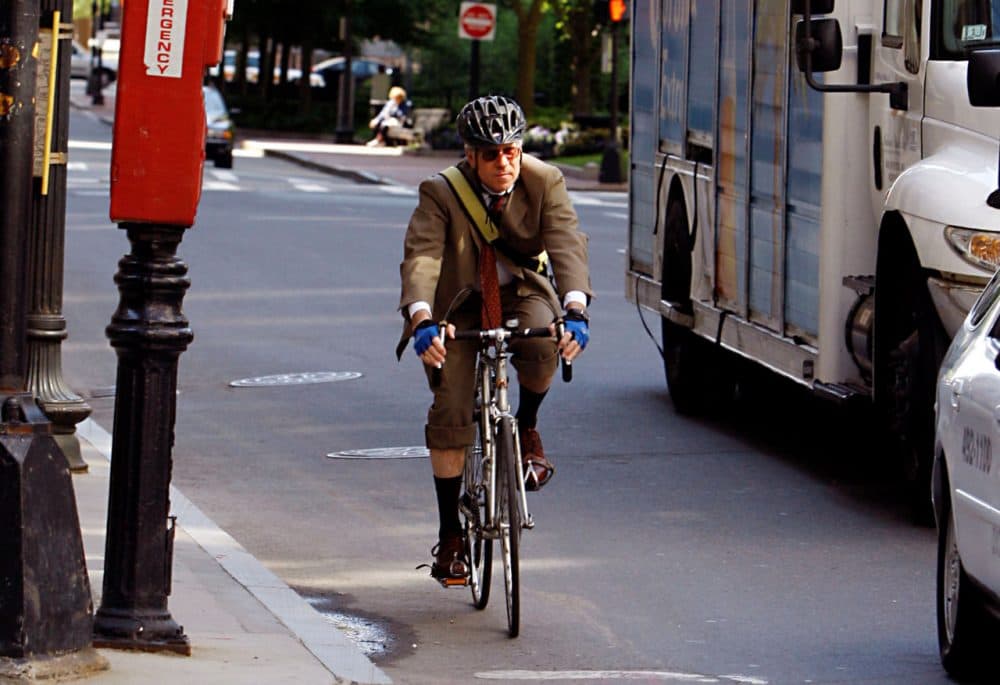 This article is more than 5 years old.
We undoubtedly have some urban transportation challenges here in Boston, with increasing worries about deadly collisions between bikes and cars.
Just last month, we were reminded of that when Anita Kurmann, a 38-year-old medical researcher, was struck and killed by a tractor-trailer while turning on to Beacon Street in Back Bay. She was at least the 13th cyclist killed in Boston since 2010.
There is also a growing number cyclists in Boston — they've doubled since 2007. But continued tragedies like Kurmann's are prompting calls for protected bike lanes and demands that motorists "share the road."
It sounds reasonable if you're a cyclist. But Boston Globe columnist Jeff Jacoby says bikes don't belong on busy city streets. In an op-ed, "Urban Roads Aren't Meant For Bicycles," Jacoby wrote that the tragic death of Kurmann is the latest reminder that "cyclists and traffic don't mix." He says, "It's not just foolish to pretend otherwise. It's deadly."
Guests
Jeff Jacoby, columnist at The Boston Globe. He tweets @Jeff_Jacoby.
Jeff Rosenblum, co-founder of Livable Streets Alliance and PhD candidate in urban planning at MIT. He tweets @RosenblumJeff.
More
The Boston Globe: Urban Roads Aren't Meant For Bicycles

"If you want to ride a bicycle in Boston, you've got plenty of great places to do it. Massachusetts Avenue during business hours shouldn't be one of them."
United States Census Bureau: Who Drives To Work? Commuting By Automobile In The United States: 2013
" In 2013, about 86 percent of all workers commuted to work by private vehicle, either driving alone or carpooling. In recent years, the percentage of workers who commute by private vehicle remained relatively stable after decades of consistent increase."
Boston Bikes: State Of The Hub
"Preliminary numbers suggest that the crash injury rate may be declining.2013 saw 572 crashes, a 20% increase over 2010. Ridership in the same period, however, increased.
42% according to the American Community Survey. The rate of accidents, therefore, is better, though ultimately we aim to reduce the absolute number of crashes as well."
The Boston Globe: Massachusetts Has The Vision To Fix Transportation
"Over more than two years of meetings and countless conversations, [the Boston Transportation Planning Review's] call for a 'balanced transportation' approach laid the foundation for decades of progressive transportation policy in Massachusetts."
This segment aired on September 9, 2015.