Why Dutch Artist Theo Jansen Feels Like A God — And A Slave — To His 'Strandbeests'
Resume
We recently encountered some beasts in Salem that we'd never seen before. It's impossible not to smile when you see these beasts, maybe because they seem so alive — but they're not.
"Somehow you see just a bunch of tubes, and this gives a conflict in our brain which somehow makes people smile or either cry or — it does something with our brain, which is, for me as magical as it is for you, but it happens," says Theo Jansen, the creator, mastermind and — in his words — slave, behind the "strandbeests" — "beach beasts" in Dutch.
They're made of a yellow kind of tube used in Holland for power cables, and they can walk thanks to Jansen's rotating crankshaft and articulated legs.
"In 1990 I had this idea to make new forms of life, which have to survive on beaches," says Jansen. "They move on the wind, so they don't have to eat, these animals. This is the big advantage, according to the other animals. They always waste their time looking for food, these animals don't have to do that. And so in the years they became better at surviving the storms and the sand and the water on the beach and I'm in the middle of that process. This summer I was on the beach doing all kinds of experiments with a new animal, then it comes to full, I declare an animal extinct, and then it goes to the boneyard and it becomes a fossil and since a few years these extinct animals are adopted in exhibitions so, what you see here is in fact a beach animal history."
You can find Jansen's beach animal history until January at the Peabody Essex Museum exhibit, "Strandbeest: The Dream Machines of Theo Jansen."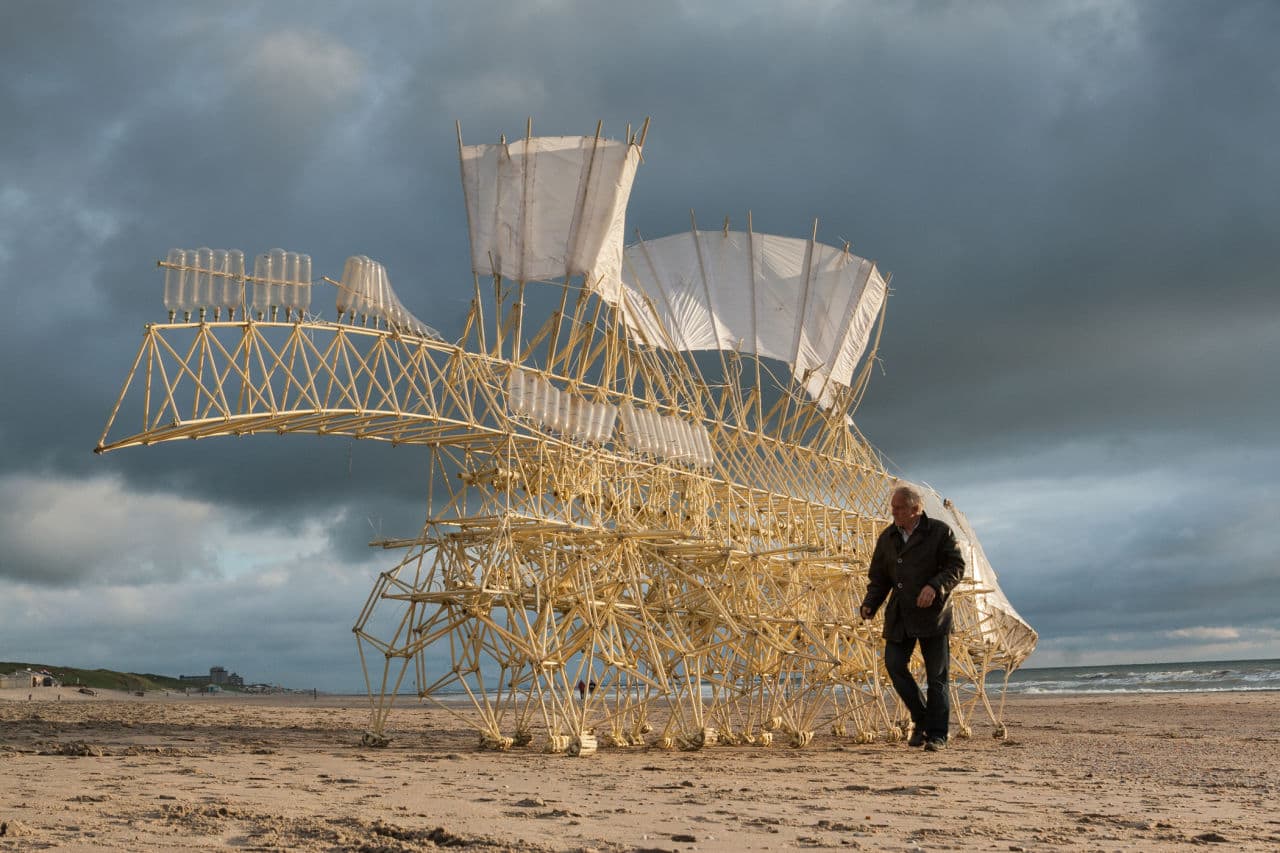 Guest
Theo Jansen, Dutch artist behind the "strandbeests." He tweets @StrandBeests.
More
The ARTery: Wind-Powered Strandbeests Amble Their Way Into Boston
"Strandbeests — wind-powered kinetic sculptures that were created by the Dutch artist Theo Jansen — strolled across Boston City Hall Plaza Friday afternoon and take to the city's Rose Kennedy Greenway Friday evening. That follows an earlier appearance, on Saturday, Aug. 22., when they wandered along Crane Beach in Ipswich."
The Boston Globe: There's Beauty In Theo Jansen's Strandbeests
"Idle thought, but imagine if Leonardo da Vinci had delivered a TED talk. All the funding he would have attracted! All the exhibitions he would have been offered! The convention appearances, the artist residencies! He could have employed a whole staff. He might actually have finished something."
This segment aired on October 16, 2015.