How Did We End Up With A Federal Reserve System?
12:46
Play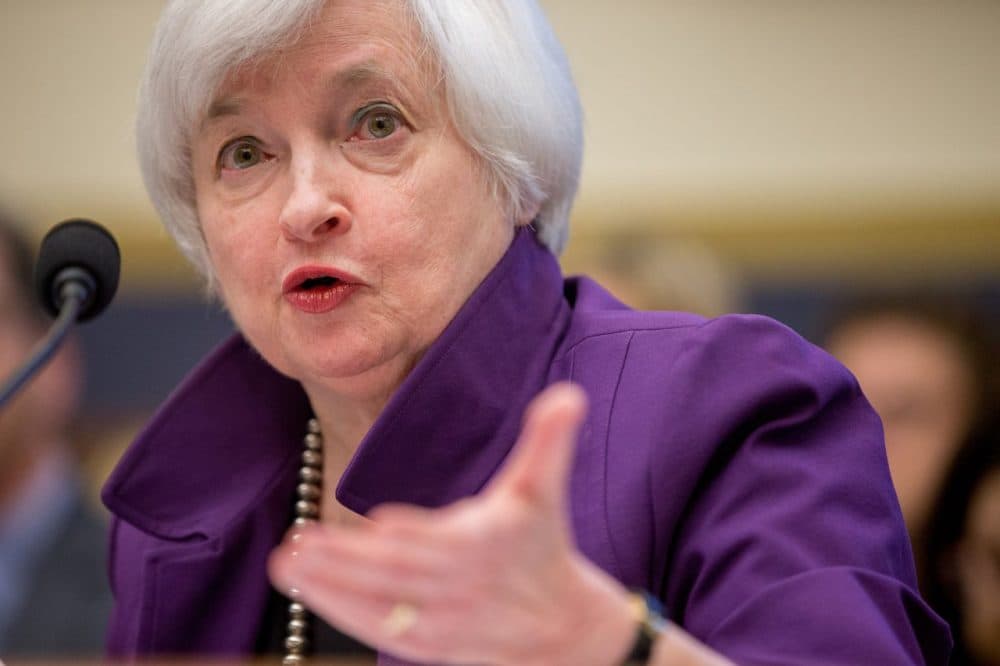 This article is more than 5 years old.
Wednesday on Capitol Hill, Federal Reserve Chair Janet Yellen testified before the House Financial Services Committee.
"At this point, I see the U.S. economy as performing well," she testified when asked about the possibility of raising interest rates next month.
She also said the fed expects to see further improvement in the labor market and that inflation will remain low. And, if that happens, they may raise interest rates. But, how exactly did we get to this place where one institution, and even one person, can have so much power over the economy?
Guest
Roger Lowenstein, journalist and author of the new book, "America's Bank: The Epic Struggle to Create the Federal Reserve." He tweets @RogerLowenstein.
More
The Boston Globe: America's Innate Fear Of The Fed
"Antipathy to centralism lives on, particularly in areas remote from the Northeast. Bizarrely, populists today are angry not because the Fed failed to save the financial system in 2008 but, rather, because it forcefully intervened and did save it. Candidates for high office are popular merely because they are not from "Washington." The political labels are reversed (in 1900, Democrats were the party of laissez-faire; today, Tea Party Republicans are). But obsessive anticentralism is just as toxic. Americans would do better to mimic an alternative legacy of the Founding Fathers — faith in a robust federal government, properly tempered by constitutional checks."
The Wall Street Journal: Fed's Yellen: December Is 'Live Possibility' For First Rate Increase
"Federal Reserve Chairwoman Janet Yellen said the U.S. central bank may raise short-term interest rates at its mid-December meeting, but emphasized no decision has yet been made."
This segment aired on November 4, 2015.