20 Years After Mill Fire, Fabric Company Closes Factory
07:09
Play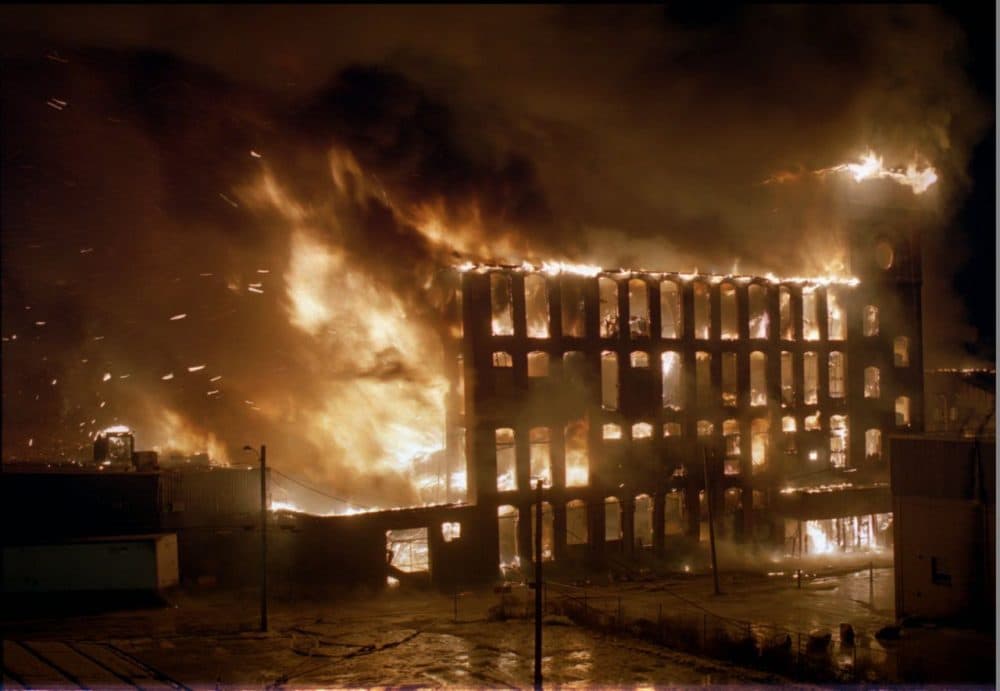 This article is more than 4 years old.
Twenty years ago, a massive fire destroyed the Malden Mills factory in Lawrence. The workers there made Polartec, the winter apparel fabric. And, it was in the depths of December 1995 that mill owner Aaron Feuerstein promised to keep his workers on the payroll as the factory was being rebuilt.
"We're going to continue to operate here in Lawrence," Feuerstein said. "We had our opportunity to run to the south many years ago, and we didn't do it then, and we're not gonna do it now."
But on Thursday, Polartec LLC announced it will close the factory and move operations to New Hampshire and Tennessee. The mill employed up to 300 workers and was one of the largest employers in the Merrimack Valley.
Guest
Dan Rivera, mayor of Lawrence. He tweets @danrivera01843.
More
 The Boston Globe: 20 Years After Fire, Polartec Will Close Lawrence Facility
"Twenty years ago Friday, workers at Malden Mills faced catastrophe when a wind-blown fire destroyed most of the huge textile factory in Lawrence where they made Polartec, one of the nation's top winter apparel brands. But in an uncommon display of generosity, mill owner Aaron Feuerstein said he would continue to pay his workers and rebuild the mill his family had operated for three generations in one of the state's poorest cities."
The Valley Patriot: Lawrence Mayor Says He Was "Deceived" On Polartec Closing, Layoffs Come One Day Before Anniversary Of Historic Mill Fire
"Lawrence Mayor Dan Rivera says he has been "deceived" in the closing of Polartec on Broadway in Lawrence. The mayor released a statement late on Thursday saying that when he met with the company over their purchasing a similar business in Tennessee. Rivera says he was assured when they made that purchase that the Lawrence facility would remain open."
The Boston Globe: In Flicker Of Flames, Malden Mills Owner Vows To Rebuild
"'We're going to continue to operate in Lawrence,' vowed Aaron Feuerstein. 'We had the opportunity to run to the South many years ago. We didn't do it then, and we're not going to do it now.' Feuerstein's promise to rebuild here was desperately needed reassurance for an economically battered area reeling from a Monday night explosion and fire at the textile complex that threw 1,400 employees out of work and injured about 36 persons, eight critically. Among the injured were a half-dozen firefighters, none seriously."
This segment aired on December 11, 2015.