The Funny, Touching Stories Of 'Office' Actors Mindy Kaling, B.J. Novak And Rainn Wilson
51:06
Play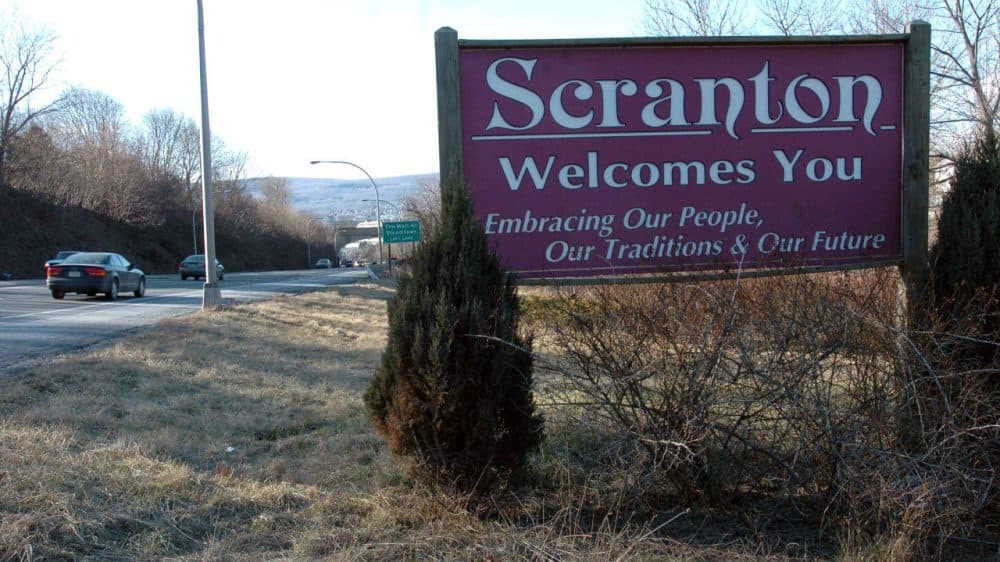 This article is more than 5 years old.
With New Year's Eve behind us, a return to the daily grind is fast approaching. And, for many of us, that means going back to the office — that place of weird co-workers, desperate attention-seeking bosses, the sublime drudgery of interminable meetings and team building workshops.
No one captured the bizarre beauty of ordinary office life better than NBC's Emmy Award-winning comedy, "The Office." The mockumentary ran from 2005 to 2013.
The workaday drones from Scranton earned legions of fans for so many reasons — most notably, we could all recognize our own offices in the satire of Dunder Mifflin. But, also because of the pitch perfect deadpan delivered by many of the show's brightest stars.
The Office launched the careers of so many actors and, interestingly, a bunch of them have strong Massachusetts connections: Acton's Steve Carrell, Cambridge's Mindy Kaling, Newton's BJ Novak and Rainn Wilson, who spent time at Tufts University.
So, in preparation for your return to the office, we listened back to three conversations we've had with several of those actors.
Guests
Mindy Kaling, actress and writer. She played Kelly Kapoor on "The Office," and wrote 23 episodes of the show, one of which earned her an Emmy nomination. She launched "The Mindy Project" in 2012, which is now in its fourth season. We spoke to her in 2011 following the publication of her first book, "Is Everyone Hanging Out Without Me? (And Other Concerns)." Her latest book is called "Why Not Me?" She tweets @mindykaling.
B.J. Novak, actor, writer, comedian. He wrote, directed and executive produced for "The Office" and played Ryan Howard. His fiction debut is "One More Thing: Stories and Other Stories." He tweets @bjnovak.
Rainn Wilson, actor, best known for his Emmy Award-nominted role as Dwight Schrute on "The Office." His new memoir is, "The Bassoon King: My Life in Art, Faith and Idiocy." He tweets @rainnwilson.
More
Radio Boston: Cambridge Native Mindy Kaling Comes Home
"Kaling grew up in Cambridge, went to Dartmouth College, and had her break-out success co-writing and co-performing in 'Matt and Ben,' a comedy act about two other Massachusetts stars, Matt Damon and Ben Affleck."
Radio Boston: Catching Up With Boston Area Native B.J. Novak
"Actor and Newton-native B.J. Novak is best known for his work on NBC's Emmy Award-winning series 'The Office,' where he played 'the temp' Ryan Howard for all of its nine seasons."
Radio Boston: Rainn Wilson On Acting, Spirituality, Failure And Playing Dwight Schrute
"It's an interesting exercise to write one's memoir. I firmly believe everyone should do it. And you look back on my 49 years, and I see these weigh points, these special little hinge moments that without which I wouldn't have the life that I have."
This segment aired on June 10, 2016.