Why Is Massachusetts So Bad At Providing Access To Fresh Food?
25:01
Play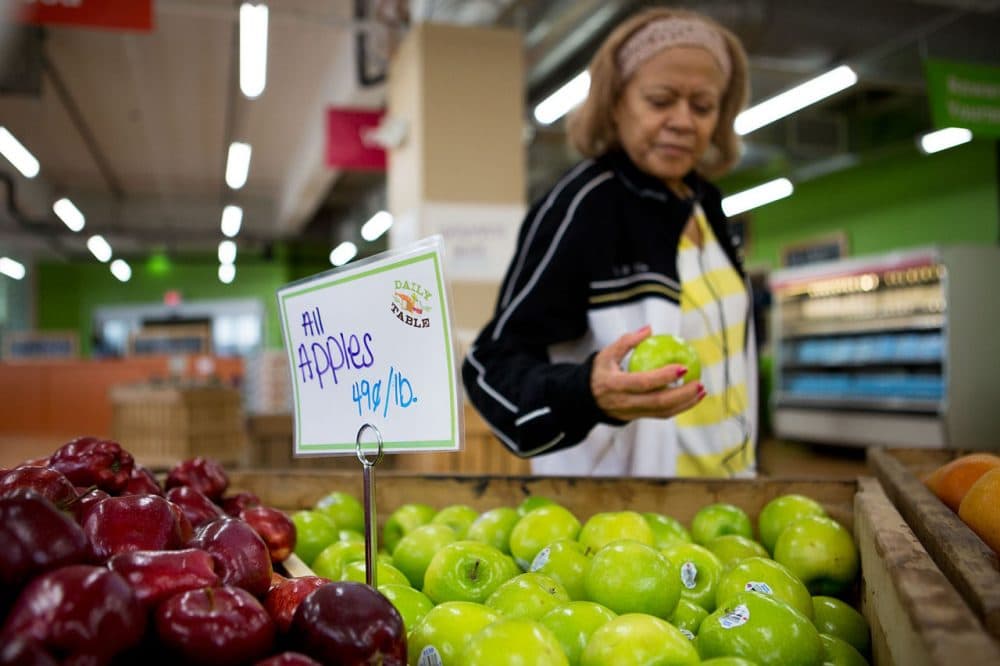 This article is more than 5 years old.
Massachusetts ranks 48th out of all states in the number of supermarkets per capita, according to a 2010 Food Trust report.
There is a bill, though, that would help fix our terrible ranking. The Massachusetts Food Trust proposal would give $2 million in capital funds to build supermarkets and give loans to smaller stores to increase the amount of fresh food available. That money failed to pass the governor's administration last fiscal year, but it has another chance this year.
Guests
Rebekah Gewirtz, executive director of Massachusetts Public Health Association, which tweets @MAPublicHealth.
Jenny Silverman, co-founder and board member of Dorchester Community Food Co-op, which tweets @DotCommCoop.
More
The Boston Globe: Advocates Press Baker For Healthy Foods Initiative Funding
"Though Massachusetts is one of the wealthiest states in the country, it has fewer than one supermarket for every 10,000 people, a lower rate than all but two other states, New Jersey and Texas, according to a 2010 report by The Food Trust, a national advocacy group. If funded, the Massachusetts Food Trust would help new businesses to bring healthy food options to underserved areas in an already underserved state, Ribble said."
Massachusetts Grocery Access Task Force: Stimulating Grocery Development In Massachusetts
"There are too few supermarkets in Massachusetts, and the resulting lack of access to affordable and nutritious food undermines the health and well-being of children and families in many communities across the commonwealth. Despite being one of the most affluent states in the nation, Massachusetts has fewer supermarkets per capita than almost any other state, ranking third lowest nationwide."
The Food Trust: The Grocery Gap
"Improving access to healthy food is a critical component of an agenda to build an equitable and sustainable food system."
The Food Trust: Food For Every Child: The Need For More Supermarkets In Massachusetts
"Some cities, including Boston, Springfield and Brockton, have as much as 30 percent fewer per capita supermarkets compared to national averages. In Lowell and Fitchburg, the number of supermarkets would need to double to adequately serve the population. The problem is statewide; when measured against the national rate of per capita supermarkets, Massachusetts has 141 too few."
This segment aired on January 6, 2016.