Boston Musicians Reflect On Maverick Composer, Conductor Pierre Boulez
14:48
Play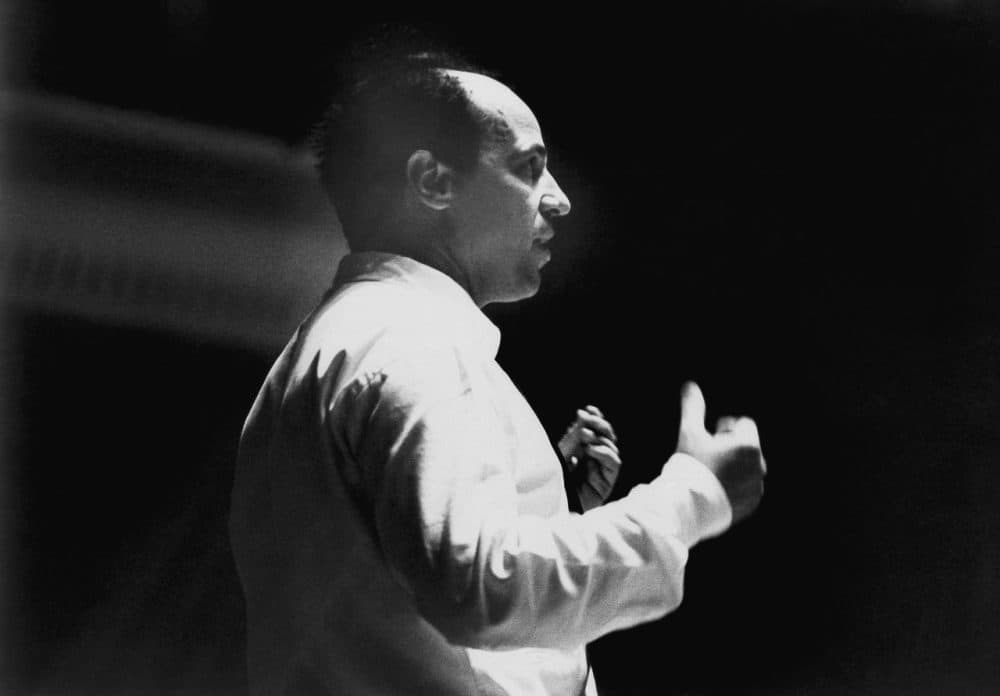 This article is more than 5 years old.
Conductor Pierre Boulez was a giant of post-WWII European classical music. "Audacity, innovation, creativity," is how France's prime minister, Manuel Valls, described Boulez this week on Twitter upon learning that the composer died Tuesday in Baden-Baden Germany at the age of 90.
Pierre Boulez challenged musical orthodoxy for decades. He challenged the world's best orchestras, as well, including the New York Philharmonic, where he served as musical director in the early 1970s. The man who dared music lovers to "burn down" their preconceived mental libraries proved too much for New York. He left quietly six years later, but his impact on modern music continued, and continues to this day.
So, we spoke with two Boston musicians who knew Boulez and his music to see what they make of the man who once said, "[traditional classical music] seems more than ever to me a great burden. In my opinion, we must get rid of it once and for all."
Guests
Eric Hewitt, chair of the woodwinds department at Boston Conservatory. He put together Boston Conservatory's weekend-long tribute to Boulez in 2010. He tweets @EricAlexHewitt.
Gabriela Diaz, Boston-based violinist who worked with Pierre Boulez over multiple summers at the Lucerne Festival in Switzerland.
More
The ARTery: A Loving Look At The Late Pierre Boulez, The Incandescent Master Of Modernism
"Pierre Boulez, who died on Tuesday at the age of 90, wasn't just a composer or a conductor. He was in many ways the voice of — and for — the modern world. He was the eye that saw it and the ear that heard it. He had what the Germans call a 'Weltanschauung' — a world view."
The New York Times: Pierre Boulez, Composer And Conductor Who Pushed Modernism's Boundaries, Dies At 90
"Pierre Boulez, the French composer and conductor who helped blaze a radical new path for classical music in the 20th century, becoming one of its dominant figures in the decades after World War II, died on Tuesday at his home in Baden-Baden, Germany. He was 90."
This segment aired on January 8, 2016.