Senate President Stan Rosenberg's Agenda For 2016
26:21
Play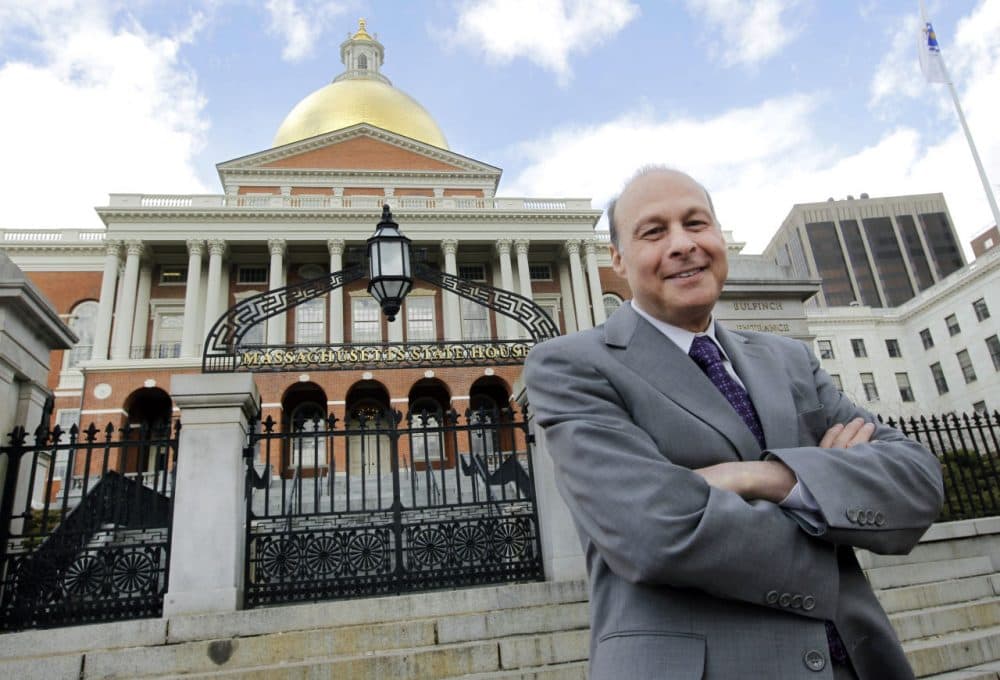 This article is more than 5 years old.
With six months left in this legislative session, Radio Boston is touching base with state leaders about some of the key issues on their agenda. Tuesday, Senate President Stan Rosenberg came to the WBUR studios to talk policy and take listener questions.
Guest
Stan Rosenberg, Massachusetts Senate president. He tweets @SenStan.
Interview Highlights
What Rosenberg hopes to focus on the most this year:
SR: "Budget is No. 1. No. 2 would be opioid legislation. No. 3 would be energy legislation, and there might still be some additional work that we could do that relates to income inequality here in Massachusetts. As you know, last year we had the first increase in the earned income tax credit in 18 years. Just two weeks ago, the second installment of an increase in minimum wage went into effect. So about 450,000 to 500,000 families saw some real relief that helps with the income inequality problem, but there's more to be done."
On the likelihood of legislation to lift the charter school cap:
SR: "Last term, the House of Representatives passed a bill; the Senate took up a bill that was similar, but not identical, and defeated it overwhelmingly. As people said, it's been 20 years, we haven't reviewed and revised the program. And we're not willing to lift the cap without considering the things that are not going as well as they should. So I undertook three separate caucuses in the Senate so the members could hear from opponents, then another caucus on proponents and then the third caucus was our own discussion. And then I spent the holidays talking with each of the Democratic senators; the minority leader did so with the minority caucus. So within these next couple weeks we'll have a decision whether we're going to move forward or not with trying to actually construct a bill and send it over to the house. ... We know it's going to be a tough sell in the Senate."
On raising the minimum wage in Massachusetts:
SR: "I'm in favor of increasing wages for all low-wage workers. I'm in favor of something that we tend to call a "living wage" — a lot of people debate what that actually means. In the Boston area, you have to be in the low [$20 per hour range] in order to be able to support your family in the 40-hour-, or even 60-hour-a-week job or collection of jobs, so one of our major focuses in the Senate is income inequality. We are very mindful of the fact that from the late '70s from where we are today, the standard of living for the people in the lower half of the economy has stagnated and is dropping and in the next quintile, they're barely holding their own."
On erecting a "firewall" between his personal and professional life:
SR: "Like all other couples, [my fiancee and I] talk about things that happen during the day in the evening, and the important thing is that when I made that statement it was because there was some understanding or interpretation that he was going to be interfering in the day-to-day work of the Senate. ... [Bryon Hefner] doesn't participate in any decisions. He doesn't participate in anything that would inappropriate, and it doesn't go beyond anything that any couple would engage in in talking about their day and their jobs."
On how having been in foster care has shaped his perspective:
SR: "So when I came into the Legislature in the freshman year, [a colleague] came up to me on the floor one day and she said, 'do you realize that there are four former foster kids in the Massachusetts House of Representatives?' Four out of 160 when you think about that, it's pretty remarkable, because the general view is that foster care is a path to no where. And the fact that people do succeed after they've gone through the foster care system was something that she wanted and encouraged us to focus on so we could be examples to kids who are in foster care or on adoption tracks. We have spent the last 25 years trying to help improve the foster care system here in Massachusetts. Many positive changes have been made, but it is an extremely challenging agency to run, to work in, to be served by because there are just so many challenges with trying to maintain a quality system when you have uneven funding, when you have uneven caseloads, when you have changing policy."
More
WBUR: As Mass. Legislature Kicks Off New Year, A Look At Where Key Bills Stand
"A handful of bills will be occupying the headlines out of Beacon Hill during the next few months. Here's a summary of where things stand."
Stan Rosenberg: Senate Accomplishments — 2015
A list of the accomplishments the state Senate passed in 2015.
Radio Boston: New Senate President Stanley Rosenberg Outlines Agenda
"All budget cuts are painful to someone because those programs are serving someone. The issue here is: can we do the least damage and create the least pain possible putting the budget back into balance."
This segment aired on January 19, 2016.