Remembering Marvin Minsky, Founder Of Artificial Intelligence Field
15:01
Play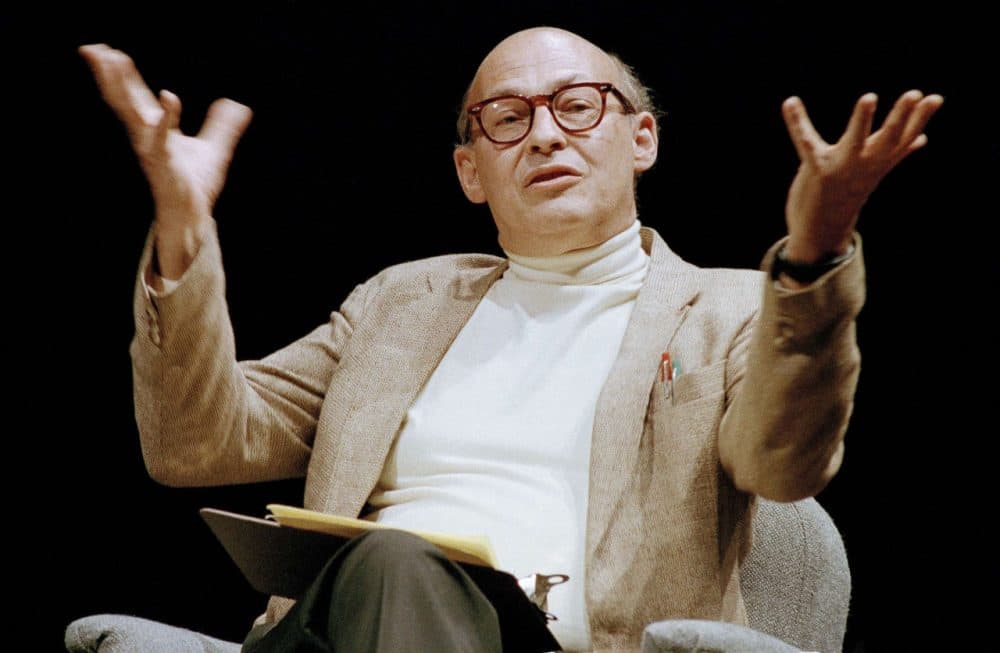 This article is more than 5 years old.
Back in 2004, a journalist at The Washington Post met the scientific visionary Marvin Minsky at a conference on the future of the human race. Minsky left a lasting impression. "What a character!" the journalist wrote, "Hawaiian shirt, smile as wide as a frog's, a telescope always in his pocket, a bag full of tools on his belt including — what he said — was a cutting laser and a belt woven out of 8,000-pound test Kevlar, which he said he could unravel if he ever needed to pull his car out of a ravine."
What a character, indeed. But, more accurately, what an incredible mind. Minsky died this weekend. He was 88 years old. The MIT scientist leaves behind a legacy that changed the world — he pioneered the field of artificial intelligence in the 1950s, he was a founding member of MIT's Media Lab, he built the first neural network simulator and invented many robotic devices. Plus, he was a musical genius!
Most importantly, Marvin Minsky changed the way think about the human brain, and about the fundamental nature of intelligence itself.
"I don't think I ever thought there was anything that we couldn't mechanize, eventually," said Minsky in an MIT Technology Review video last fall. "The question was, when? And, how difficult? And, what would have to be done first? The brain has 1 billion cells, and it could be that there's some things it can do that would be very hard to do with other architectures, but it's not clear that they would be very important. It's a romantic idea that somehow, because it's alive, it's different from other things."
Guests
Patrick Winston, professor of artificial intelligence and computer science at MIT.
Alan Kay, pioneering computer scientist and friend of Marvin Minsky.
More
The New York Times: Marvin Minsky, Pioneer In Artificial Intelligence, Dies At 88
"Well before the advent of the microprocessor and the supercomputer, Professor Minsky, a revered computer science educator at M.I.T., laid the foundation for the field of artificial intelligence by demonstrating the possibilities of imparting common-sense reasoning to computers."
This segment aired on January 26, 2016.