Framingham's Christa McAuliffe And The Legacy Of Space Exploration
08:20
Play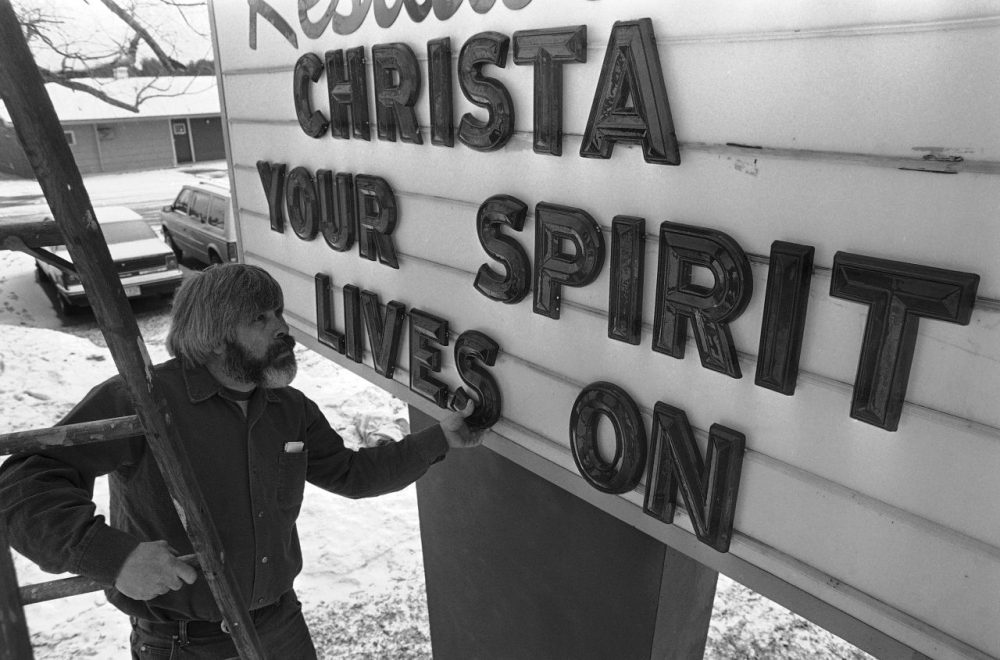 This article is more than 5 years old.
On Jan. 28, 1986 — 30 years ago — Christa Corrigan McAuliffe boarded the Space Shuttle Challenger, excited to be the first civilian in space. She planned to teach lessons from outer space, but the Challenger mission ended in tragedy when the shuttle exploded shortly after launch.
Chista was a student at Framingham State University, which is now the home of the Christa Corrigan McAuliffe Center and Challenger Center.
Guests
Mary Liscombe, former director of the McAuliffe Center.
Tess Caswell, holds a doctorate at Brown University School of Earth, Environmental, and Planetary Sciences and she's an aspiring astronaut. She tweets @CaswellTess.
More
Here & Now: 30 Years After Challenger Explosion, Locals Remember McAuliffe
"It was a horrible sight. I had been to Florida during one of the first launches as a younger kid. So when the explosion happened I thought, oh, aren't those rockets supposed to come off? It didn't look quite right, so I looked to one of the teachers, I was in a chemistry class at the time, so I looked the teacher and she was already crying."
Radio Boston From 2011: 25 Years Later, Challenger Disaster Still Painful
"But through the Challenger mission, McAuliffe's classroom would be transported miles above earth and her students would be the millions of children around the world — children like me — who were captivated by the mystery and possibilities of space. That's why January 28, 1986 still feels so recent and real to me. Mr. Hart had wheeled a big TV into the classroom. He brought popcorn and soda, and we pushed all our desks to the edge of the room and formed a wiggling dog pile of fifth graders on the floor."
The Boston Globe: Fiery Blast Destroys Space Shuttle Challenger
"The space shuttle Challenger exploded into a huge fireball moments after liftoff yesterday morning, killing all seven crew members, including Christa McAuliffe, the New Hampshire high school teacher who was to be the country's first private citizen to orbit the Earth."
Challenger Space Center: Christa's Lessons
"In addition to live lessons, Christa McAuliffe had planned to conduct a number of demonstrations during the flight. The filmed activities, known as the six lost lessons, were to be used as a part of several educational packages that would be distributed after the mission. In addition, two live lessons were to be televised on PBS on the sixth day of the mission."
Space: Challenger: Shuttle Disaster That Changed NASA
"The space shuttle Challenger was one of NASA's greatest triumphs. It was the second shuttle to reach space, in April 1983. It successfully completed nine milestone missions. But Challenger was also NASA's darkest tragedy. On its 10th launch, on Jan. 28, 1986, the shuttle exploded 73 seconds after liftoff, killing the seven crew members. The accident changed the space program forever."
This segment aired on January 28, 2016.