Heroic Ship Rescue Off Cape Cod Debuts On Big Screen
04:43
Play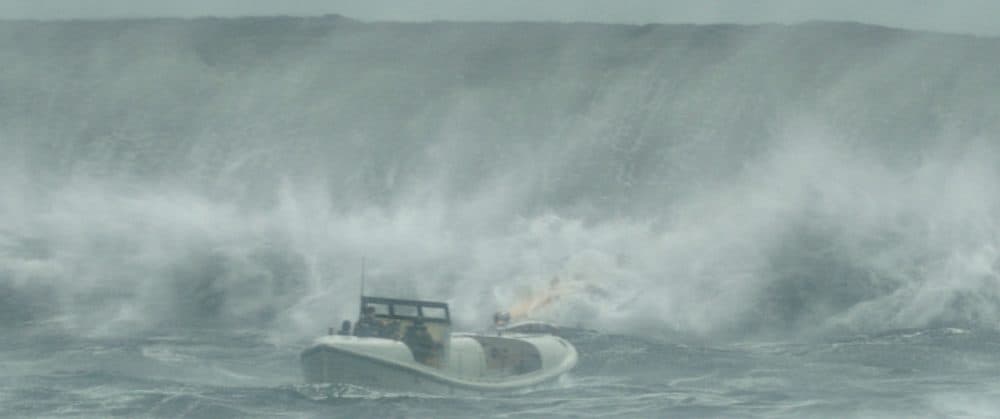 This article is more than 5 years old.
A humble Cape Cod lifeboat is the unlikely star of a new movie. "The Finest Hours," starring Chris Pine and Casey Affleck, tells the tale of the Coast Guard's greatest small boat rescue in U.S. history.
The movie is based on a 2009 book of the same name, covering the historic rescue of the tanker S.S. Pendleton. The tanker was headed toward Boston with heating oil and kerosene, when it was caught in the violent nor'easter of February 1952. Under the weight of the storm, the vessel split in half off the coast of Cape Cod.
The Coast Guard Station in Chatham scrambled to put together a search and rescue team and four men were assigned to life boat 36500, puny in comparison to the 70-knot winds and 60-foot seas that night. But the small boat and its crew saved 32 lives.
In 2009, a group of volunteers and professional boat builders completed a restoration of the lifeboat. You can see photos of the boat online at the Orleans Historical Society.
Guests
Peter Kennedy, member of Orleans Historical Society.
Michael Tougias, author of "The Finest Hours: The True Story of the U.S. Coast Guard's Most Daring Sea Rescue."
Andy Fitzgerald, former Coast Guardsman, awarded the Gold Lifesaving Medal for his rescue with CG36500.
Suzanne Leahy, owner of Marine Restoration & Salvage in Orleans.
More
The Christian Science Monitor: 'The Finest Hours': Coast Guard Participant Remembers The Historic Rescue
"Fitzgerald got what he wished for, and more, when he volunteered to be the boat engineer to rescue men off a stricken tanker on Feb. 18, 1952. He and the three other Coast Guardsmen on the CG36500 were awarded the Gold Lifesaving Medal, the Coast Guard's highest honor, for plucking 32 men off the SS Pendleton."
WBUR's ARTery Review: A Good Storm And Dazzling Heroics Make 'The Finest Hours'
"this film is a new year's treat. Not only is it well made, but it tells the true story of the most daring, small-boat rescue in the history of the U.S. Coast Guard, its thrills enhanced in Digital and IMAX 3-D."