MIT Engineering Students Win Hyperloop Design Competition
05:30
Play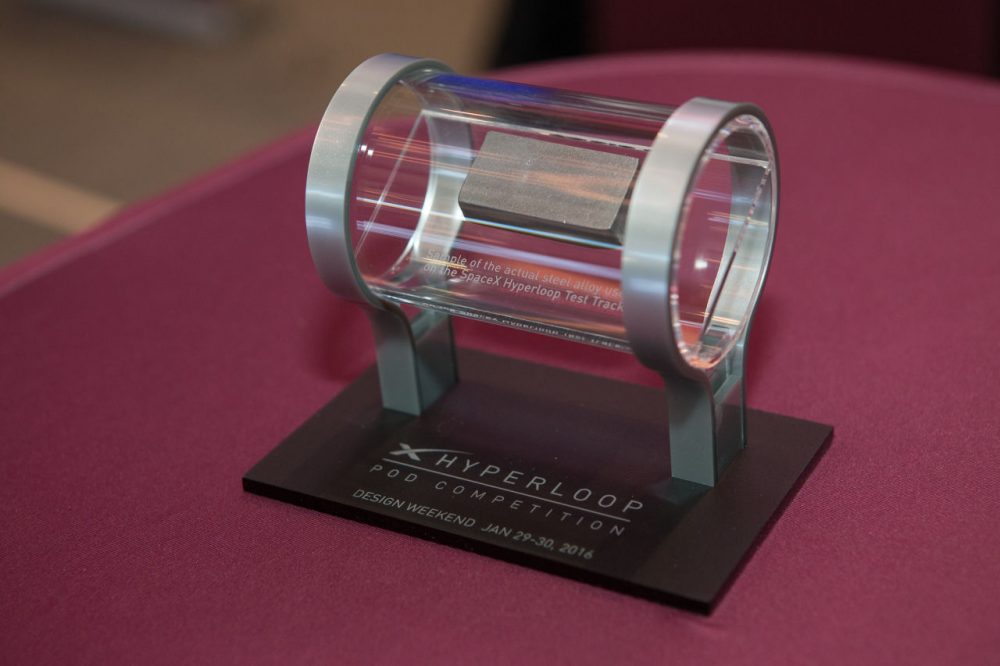 This article is more than 4 years old.
Picture this: Boston to New York in the time it takes you to watch an episode of Seinfeld. Sounds better than Megabus? Elon Musk, the man behind SpaceX, Tesla and PayPal, wants to make it happen.
The billionaire has thrown his weight behind the "hyperloop." The design calls for a system of pods shooting through pressurized tubes at near-supersonic speeds. This weekend, engineering students gathered at Texas A&M University to present designs for a hyperloop prototype.
The winning design, out of entries from around the globe, was from MIT.
Guest
Chris Merian, chief engineer of the MIT hyperloop team, which tweets @MITHyperloop.
More
The Boston Globe: MIT Students Are Tops In 'Hyperloop' Design Competition
"Student engineers at Massachusetts Institute of Technology are flying-high after taking first place in a competition to design a "pod in the sky" for the Hyperloop, a futuristic transit system proposed by space mogul Elon Musk."
Wired: So Elon Musk's Hyperloop Is Actually Getting Kinda Serious
"The partnerships with Oerlikon and Aecom are a big endorsement, suggesting the prototype may be a real thing, not an idea whipped up by Don Quixote. It shows the project is worthy of time and effort from two publicly traded companies with shareholders to answer to. And these companies know what they're doing. Oerlikon has been in the vacuum business for more than a century, and has worked on projects like the large hadron collider at CERN."
This segment aired on February 2, 2016.