Oscar On Mars: What Makes For A Great Fiction To Film Adaptation?
14:30
Play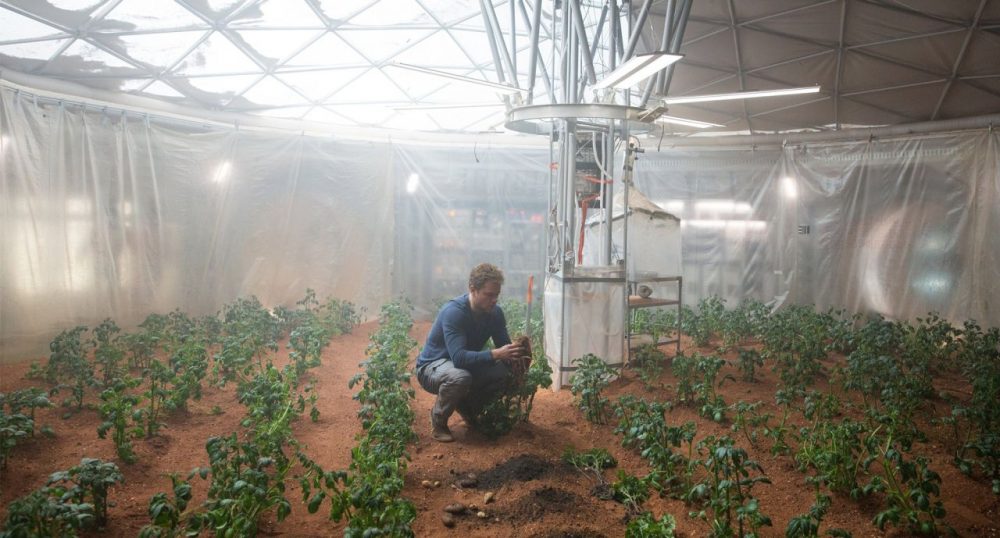 This article is more than 4 years old.
Part two of our special four-part series, "Oscar on Mars."
We're dissecting different aspects of the Ridley Scott film, "The Martian," starring Matt Damon. It's nominated for seven Academy Awards. We're not saying that we think it's going to win on Sunday — that's up to the Academy — but we're looking at a cross-section of categories: visual effects, sound design, screenplay, to better understand how the pieces work together to make a critically acclaimed film.
Of course, the stand out thing about "The Martian" is that it's based almost entirely on Mars. So, we started with the visual effects category and talked with Sean Devereaux, co-owner at Boston-based ZeroFX, about the challenges of realistically recreating an environment more than 100 million miles away.
"It's hard to do a planet like Mars, one that we've now all seen pictures of," said Devereaux. "But, they also had to make it very cinematic. So, they had to tweak it to the point where it was more beautiful and stunning but not to the point where it broke our preconceived vision of Mars. It was done on a lot of green screen, but there were big landscapes that were done in the Jordan desert that also had to be heavily manipulated with visual effects to make it work."
"The magnificent, awesome, terrifying landscape of Mars, which the special effects people did beautifully, that's something that you just don't receive in the book," Debbie Danielpour Chapel told us. She's an assistant film professor at Boston University, where she teaches "Writing the Fiction to Film Adaptation." She's also written teleplays for several big-name science fiction series.
Drew Goddard wrote the screenplay for "The Martian." It's based on the beloved book by Andrew Weir.
Debbie talked with us about why she thinks "The Martian" deserves the nomination for best adapted screenplay.
Guest
Debbie Danielpour Chapel, assistant film professor at Boston University, where she teaches "Writing the Fiction to Film Adaptation."
More In This Series
Radio Boston: Oscar On Mars: Behind The 'Invisible' Visual Effects Of 'The Martian'
"'The Martian' is about a manned mission to Mars in the near-future. Astronaut Mark Watney, played by Matt Damon, is believed to be killed in a storm and his crew leaves him behind on Mars."
More
Variety: 'The Martian': Andy Weir, Drew Goddard Discuss The Book-To-Film Journey
"That was the challenge of the screenplay; every scene had to do four different things. We had to get the science in it, we had to get the humanity in it, you to explain what was going to happen to the audience and you have to set up the next scene. It becomes a zero-sum game of "I only have so many words per scene."
Vulture: The Toughest Scene I Wrote: How Drew Goddard Made Physics Fun In The Martian
"I hung up thinking I was going to have to start another draft — and then I thought, let's just put that in the scene. Let's just put Matt Damon saying, 'A physicist would never use that word, I'm just being manipulated.' It was just a conversation between Andy and me, but it really crystallizes the process of the whole movie, where I would be dumb and Andy would correct me and then I would put that correction in the pages of the movie. It's just a half-page scene, but it's really satisfying to me because of Matt Damon and the way he's able to go from A into B so by the end of it you have 'Waterloo' kick in, and we're off to act three."
This segment aired on February 24, 2016.