President Obama Visits Cuba — And Mass. Reacts
19:59
Play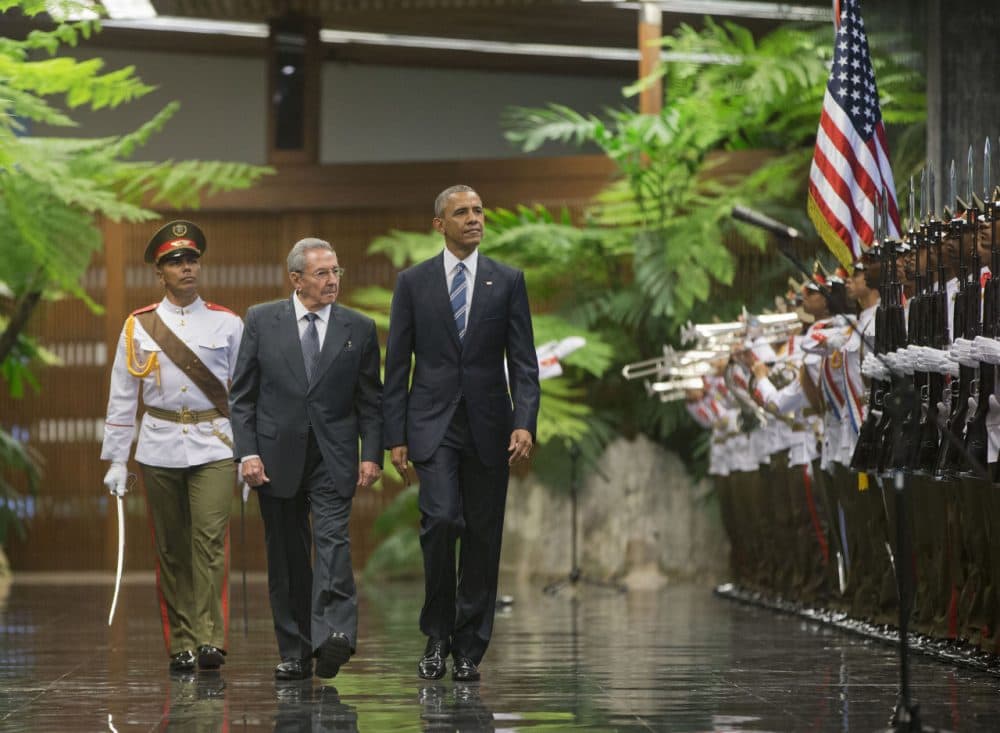 This article is more than 5 years old.
The last time a U.S. president visited Cuba, he arrived on a battleship in 1928. Then came a revolution, the Cold War and decades of estrangement between Washington D.C. and Havana.
On the second day of his historic visit to the Cuban capital, President Obama met with Cuban President Raul Castro, marking a major step toward restoring full diplomatic relations.
Guest
Micho Spring, Boston-based global chair of Weber Shandwick and co-chair of Friends of Caritas Cubana. She tweets @michospring.
Seth Moulton, representative for the 6th District of Massachusetts. He tweets @sethmoulton.
More
WBUR: In Cuba, President Obama Is Welcomed By President Raúl Castro
"This is a new day -- es un nuevo dia -- between our two countries," President Obama said after meeting with Cuban President Raúl Castro in Havana."
The Boston Globe: Cuba On The Cusp
"Cuba has spent more than five decades largely isolated from America, yet unable to escape its shadow. Cubans freely admit that the ideology and economic constraints of the past 50 years have left the socialist country with a fractured economy. At the same time, they're fiercely proud of their gains in education and health care, and are determined to safeguard the soul of the country they love."
U.S. Congress: President Obama Invites Congressman Seth Moulton To Join Him On Historic Trip To Cuba
"Congressman Moulton is also a co-sponsor of the Freedom to Travel to Cuba Act, a bipartisan bill with more than 60 cosponsors that would end restrictions on travel by American citizens and legal residents to Cuba."
Weber Shandwick: Weber Shandwick Receives U.S. Treasury License Io Pursue Opening Operations In Cuba
"Weber Shandwick, one of the world's leading global communications and engagement firms and part of Interpublic Group (NYSE: IPG), has been granted a specific license by the U.S. Department of the Treasury authorizing the company to pursue opening operations on-the-ground in Cuba."
This segment aired on March 21, 2016.