Team Hoyt Continues Work By Inspiring Other Cerebral Palsy Families
08:39
Play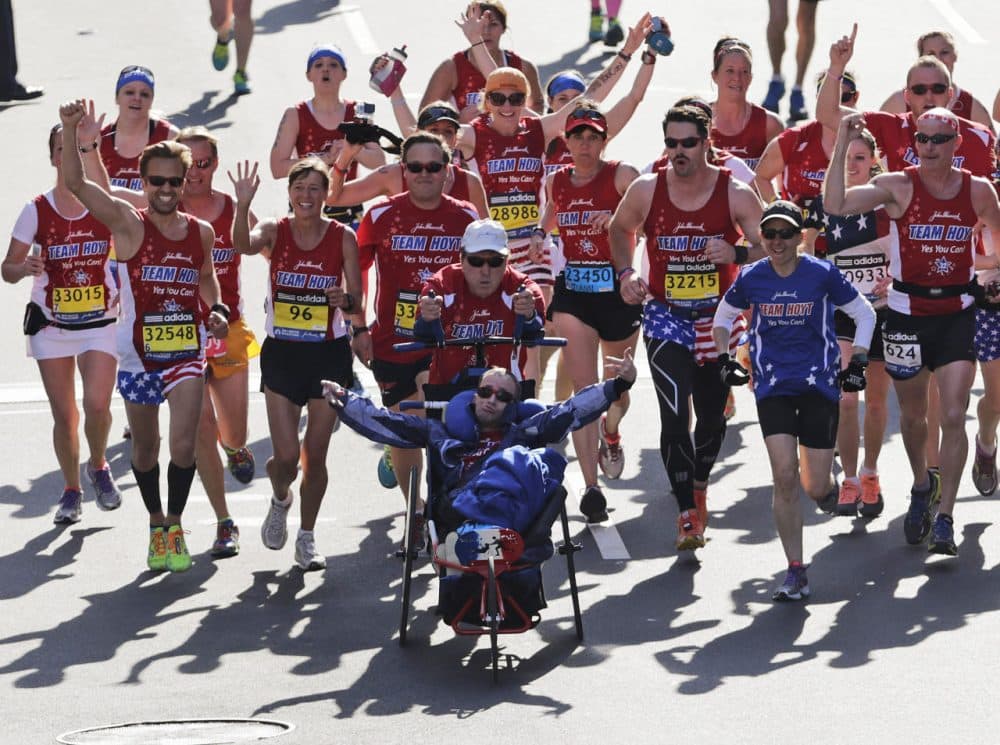 This article is more than 5 years old.
The 120th running of the Boston Marathon is on Monday. Though they're not running this year, Dick Hoyt and his son Rick have long been fixtures of the race. They've run Boston 32 times since 1980.
Rick has cerebral palsy. Dick, his father, pushed Rick in a modified wheelchair along the 26.2 miles of the course.
Team Hoyt is legendary among marathon fans. And, even though they're not running, they're still inspiring a new generation of parents and children with cerebral palsy.
We recently caught up with Dick Hoyt when he was visiting Brian Gauthier and his 4-year-old son, Elijah, in their Auburn home.
Dick immediately connects with Elijah, who also has cerebral palsy. Brian says it's important to him to see his son have that instant, easy rapport with someone.
Brian Gauthier first met Dick Hoyt back in 2014. Dick was giving a talk at Charlton Town Hall. Brian's wife urged him to attend. He did, and the two men formed a strong relationship — part friendship, part mentorship. Because of that, Brian now runs with Elijah in the same way that Dick ran with Rick.
Who better to understand both the challenges and possibilities of raising a child with cerebral palsy than a father who's experienced it?
Guests
Dick Hoyt, ran the Boston Marathon with his son Rick Hoyt 32 times since 1980. He tweets @Dickhoyt262.
Brian Gauthier, runs with his son Elijah.
More
Boston Children's Hospital: Yes You Can: How Running With Team Hoyt Changed This Father's Life
"Elijah Gauthier, 3, and Rick Hoyt, 53, have a lot in common. Both are first-born sons. Both have smiles that light up a room. Both love running with their fathers."
WBUR From 2014: One Last Marathon For Legendary Father-Son Team
This segment aired on April 14, 2016.