Why Society Must Prepare For The Self-Driving Car Revolution
30:30
Play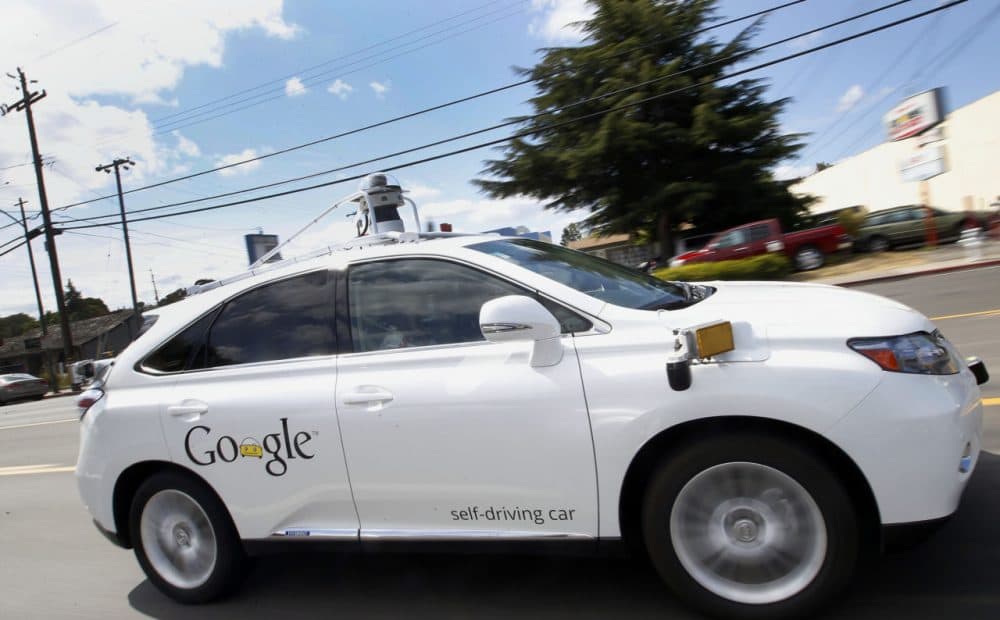 This article is more than 5 years old.
Self-driving cars are no longer a piece of science fiction. But as we move forward, we have yet to answer how we as a society will adopt autonomous vehicles and the laws and policies we form around them.
We speak to three experts about the potential economic and social downsides of the technology and what still remains to be addressed.
All this week, WBUR is exploring the many facets of the region's traffic woes in a special series called,"Driving Us Crazy," part of our new initiative called BostonomiX, that covers the intersection between brains and business.
Guest
Robin Chase, co-founder and former CEO of Zipcar. She tweets @rmchase.
David Strickland, spokesperson and counsel for the Self-Driving Coalition for Safer Streets.
Bryan Reimer, research scientist at MIT and associate director of the New England University Transportation Center. He tweets @bryan_reimer.
More
WBUR: Autonomous Vehicles Could 'Change Everything,' But 'Growing Pains' Are Likely
"It was Reimer's lab that installed sensors and cameras inside Manning's Tesla to research human behavior and autonomous vehicles. Data showed how the driver was interacting with the semi-autonomous car. Developing the hardware is a lot easier than programming the software to make ethical decisions that could be a matter of life and death."
CityLab: "Will a World of Driverless Cars Be Heaven or Hell?
"People consider the cost of individual car trips to be just the cost of gas and we won't think twice about asking a driverless robot car to do our bidding. In a FAV world, where we won't actually need to be doing the driving ourselves, each and every errand whim we might dream of is now a reality. If single-occupancy vehicles are the bane of our congested highways and cities right now, imagine the congestion when we pour in unfettered zero-occupancy vehicles."
Wired: "Prepare for Nightmarish Swarms of Google Robot Cars, Says Zipcar Founder"
"Though Chase admits autonomous cars might very well cut down on accidents, she believes that the more pressing issue is the amount of congestion and pollution that cars produce in big cities. Autonomous cars, she says, will only exacerbate these problems."
Reuters: "Google, Ford, Uber Launch Coalition To Further Self-Driving Cars"
"Sweden-based Volvo Cars... and Uber rival Lyft also are part of the Self-Driving Coalition for Safer Streets. The group said in a statement it will 'work with lawmakers, regulators and the public to realize the safety and societal benefits of self-driving vehicles.' "
This segment aired on April 29, 2016.