Mass. House Set To Debate Transgender Bill
Play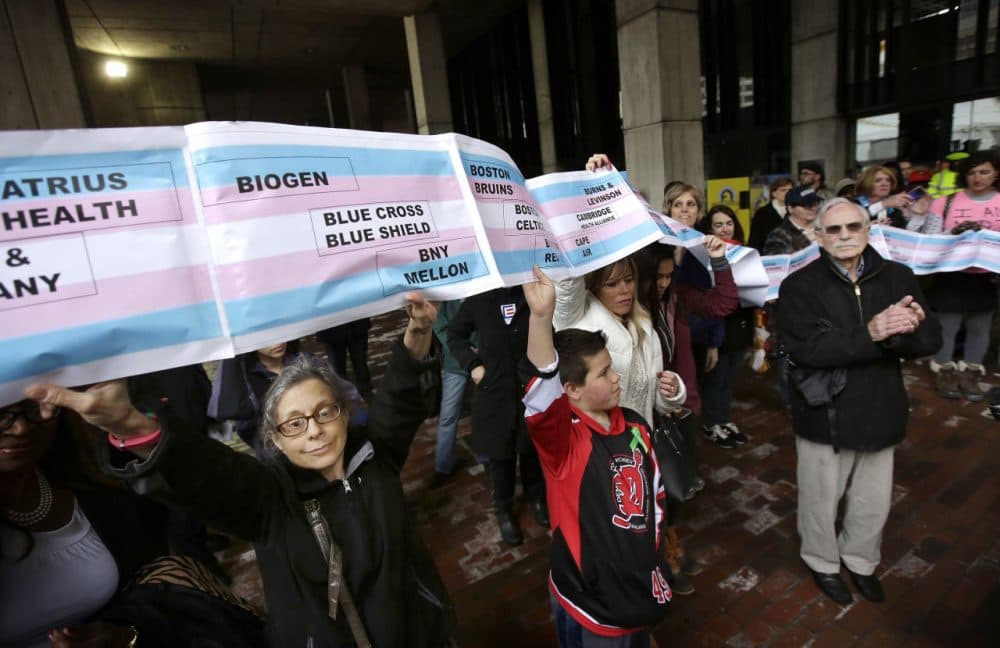 This article is more than 6 years old.
The Massachusetts House is preparing to debate a bill Wednesday that would ban discrimination against transgender people in public accommodations like restaurants, sports arenas, gas stations and other public accommodations. It would also specifically allow people to use the restrooms, locker rooms and changing rooms that match their gender identity. Opponents call it "the bathroom bill."
The state Senate has already passed the bill. If signed into law, Massachusetts would join 17 other states with similar laws already on the books.
Guest
Jenniver Levi, director of GLAD's Transgender Rights Project. She tweets @JenniferLevi1.
More
Radio Boston: Massachusetts Transgender Bill Stirs Robust Debate
A conversation with both sides, including Andrew Beckwith, president of the Massachusetts Family Institute, and Andrew Taylor, a transgender man.
Cognoscenti: 3 Reasons Why Bathroom Laws Matter
"First, HB2 and all other similar bans are unnecessary. The defenders claim they protect children. But on the matter of public safety, there has not been a single case in the United States of a transgender person attacking a child in a public bathroom. And 90 percent of the victims of child abuse know their attackers."
Bill S.375: An Act Relative To Transgender Anti-Discrimination
"Any public accommodation including without limitation any entity that offers the provision of goods, services, or access to the public that lawfully segregates or separates access to such public accommodation or other entity based on a person's sex shall grant all persons admission to and the full enjoyment of such public accommodation or other entity consistent with the person's gender identity."
The Boston Globe: Mass. Senate Passes Transgender Bill
"After an emotional debate, the Massachusetts state Senate on Thursday passed a controversial bill that would prohibit discrimination against transgender people in sports arenas, gas stations, movie theaters, bars, malls, and other public accommodations. The vote was 33-4."
This segment aired on May 31, 2016.