What Trump's Labor Secretary Nominee Might Mean For Mass.
09:30
Play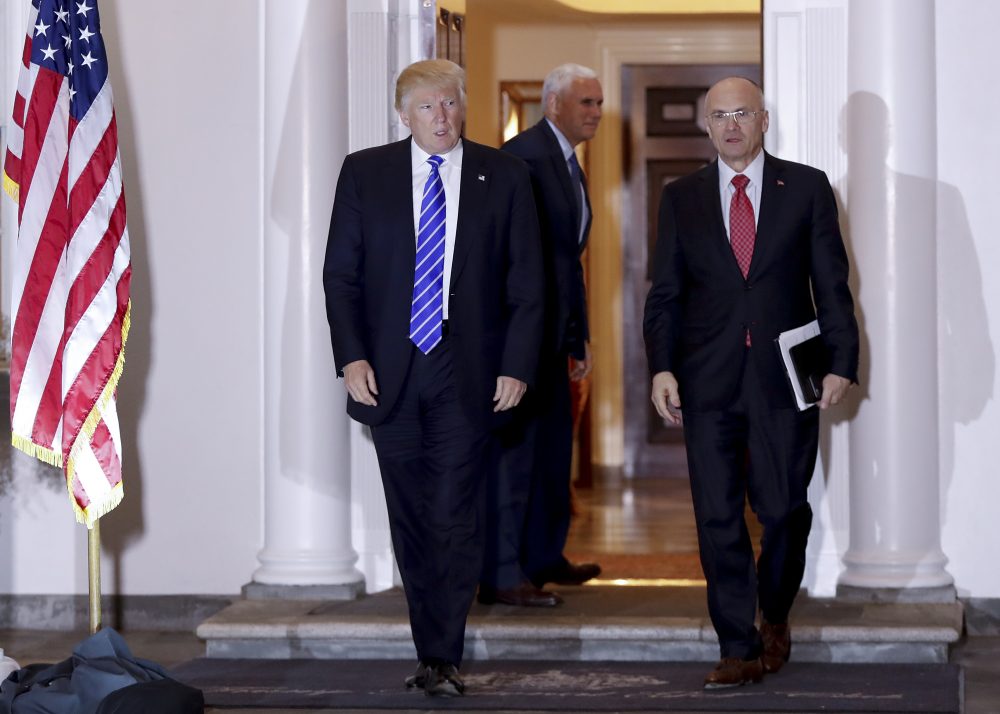 This article is more than 4 years old.
Part of our series examining President-elect Donald Trump's cabinet nominees, and what his picks might mean for Massachusetts.
This week, Trump nominated Andy Puzder for labor secretary. Puzder is CEO of CKE Restaurants, which operates the Carl's Jr. and Hardee's fast-food chains. He is an opponent of rules that would make more workers eligible for overtime pay and he has been an outspoken critic of efforts to raise the federal minimum wage to $15 an hour.
On Fox News last month, he said, "I've been opposed to minimum wage increases that kill jobs. And a lot of these state increases are to that level where they would kill jobs, I think that's bad for American workers. But you know, working in a cabinet, working in the federal government, there's really nothing you could do to stop states from raising the minimum wage. You could use the bully pulpit to encourage them to do what's best for American workers, what's best for wages, what's best for economic growth. But states have the right to raise the minimum wage, as do many municipalities."
The current minimum wage in Massachusetts is $10 per hour. Unions and other labor groups are advocating raising the state minimum to $15 per hour.
Guest
Suzanne Bump, Massachusetts auditor and former Massachusetts secretary of labor and workforce development, from 2007-2009, under Gov. Deval Patrick. She tweets @MassAuditor.
Interview Highlights
On How Important The Federal Level Post Is Compared To Local Level
"It's enormously important because of the sweep of regulatory authority that the labor secretary has. When you think of the protections that we have for safety on the job, for wage enforcement, for pensions, family leave, employment discrimination, sexual harassment, it's a long list, pension regulation. So you can see that someone who has that sweep of authority can really have a big impact on even the day-to-day lives of Massachusetts residents."
On Puzder's Potential Impact On The Minimum Wage
"[Puzder] is right that there's a lot of state authority but we also know that a lot of states, dominated particularly by Republicans, are cutting off the ability of counties and local governments to enact their own minimum wages, which a number of jurisdictions have done because of failure to act at the state level. And there are lots of other ways that the minimum wage comes into play in labor policy making.
"For instance, one of the things that was done under the Obama Administration was they extended the protection of minimum wage and the requirement for overtime to workers who are providing direct care services to people in their homes — the elderly and the folks who are physically challenged. There's a lot of impact that the Labor Secretary can have. Think of other decisions that came out of the Obama Administration — rules around the payments of the need to pay interns who in many instances are being exploited by this labor market; the mis-classification of workers as independent contractors rather than employees, which deprives them of worker's compensation coverage or unemployment insurance coverage.
"There's a lot of decision making, of policy making, that can go on in that office that is very much to the detriment of workers and it's actually being called for by the business community including — I don't know if you saw today the Wall Street Journal endorsement and to-do list of Puzder, which is to roll back all of these efforts to try to address the economic insecurity of so many low wage workers."
On Massachusetts' Labor Laws Vs. Federal Laws
"In a number of these instances, we are fortunate to have the policies in place in Massachusetts that regard the federal standards as a floor, not as a ceiling. The minimum wage ... is an example of that. In January, it goes to $11.00 per hour. We know that that's gonna be revisited again. That increase was put in place back in 2014. We know that there are going to be efforts to continue the push to $15.00 an hour.
"But in other very fundamental ways, there is a lot that this [presidential] Administration can do that will negatively impact workers as part of this agenda to cut back regulation on business — occupational safety standards are examples of that.
"One of the agenda items for the business community is to eliminate the newly imposed obligation on investment brokers to act as fiduciaries in retirement planning. There are so many ways that these basic protections that were, to my point of view ... are there to protect workers whether they are aspiring workers or they are incumbent workers or they are retired workers, really can be seriously eroded with this agenda of the Trump Administration."
On Puzder As Secretary of Labor
"His position [on immigration] is really is at odds with that of Donald Trump and many Trump supporters as well.
"I think that actually this cabinet position has the greatest potential to really disrupt — to make the Trump supporters unhappy — more than anything else. Because when you think about some of the core slogans, the core emphases of the Trump campaign — certainly anti-immigration bend was one of them, but that whole idea of 'Making America Great Again' and bringing back the economy — it wasn't just that they wanted numerically more jobs. But remember those jobs in that Golden Era, they came with living wages to support a middle-class standard of living — pensions, healthcare — those goals of those voters and the goals of the business community, they're not aligned."
This article was originally published on December 09, 2016.
This segment aired on December 9, 2016.