Retired Admiral James Stavridis On U.S. Foreign Policy Under Trump
18:32
Play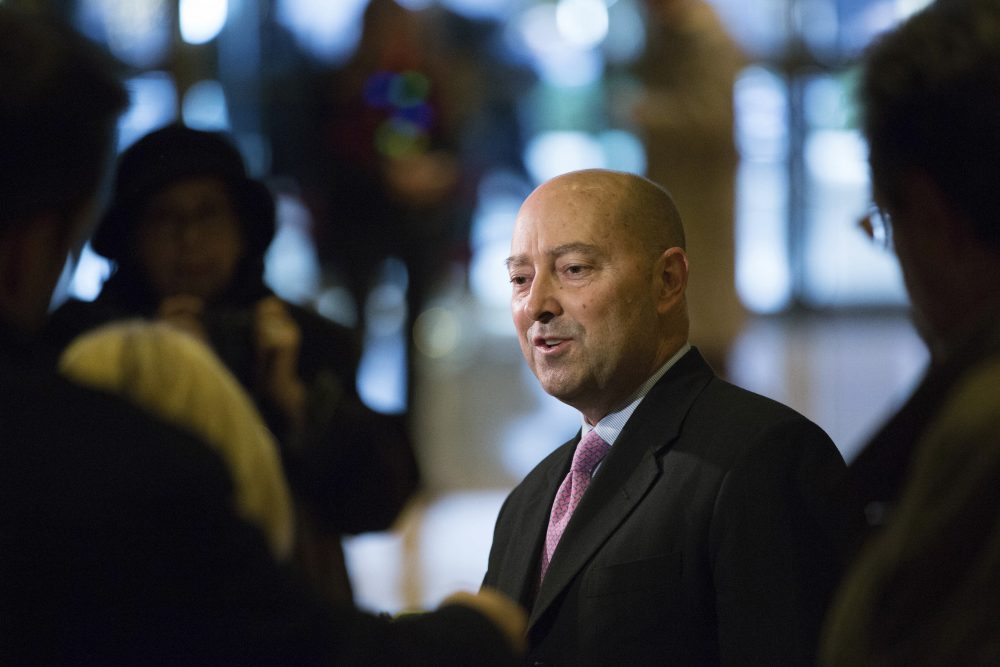 This article is more than 4 years old.
President-elect Donald Trump is doubling down on his criticism of the CIA. He tweeted Monday: "Can you imagine if the election results were the opposite and WE tried to play the Russia/CIA card. It would be called conspiracy theory!"
Trump was referring to Friday's Washington Post report about a CIA analysis that concluded that the Russian government not only tried to undermine the U.S. election, but that it acted to give Trump the advantage.
On Fox News Sunday, Trump said, "I think it's ridiculous. I think it's just another excuse. I don't believe it. I don't know why."
The New York Times says Trump's reaction has created an "extraordinary breach" between the president-elect and the national security establishment.
Guest
James Stavridis, dean of the Fletcher School of Law and Diplomacy at Tufts University. Supreme Allied Commander of NATO in Europe from 2009-2013. He tweets @stavridisj.
Interview Highlights
On Trump's Rejection Of CIA Report
"I am concerned. I do think we need to recognize that this is based on leaks at this point, in terms of the material that supposedly is in the CIA report. But even stepping back and looking at reports which have been verified about the WikiLeaks from the material at the [Democratic National Convention], which were done by Russia, this is not ridiculous. It's not 'laughable,' as Kellyanne Conway said earlier today. It's a serious matter and that's why you hear Congress on both sides of the aisle, very concerned and calling for an independent investigation. I support that."
On What An Appropriate Response To Russia's Hacking Might Be
"I think first and foremost it would need to be proportional. In other words, what we have suffered here is a cyber attack that was directed at our electoral system. So what we would not do for example is attack the Russian electrical grid in a cyber sense. I think we would need to tailor our response so it was proportional and in roughly the same zone. I'll give you two examples of things that perhaps could be considered.
"One would be doing something that exposes overseas financial accounts of Russian leaders. This would be embarrassing to them, it would be in roughly the same space that we're talking about. And it would I think have domestic impact in the same sense that these actions perhaps have had domestic impact here.
"Second idea would be to use our cyber system to then penetrate and expose the way Russia is using its cyber internally in Russia to suppress dissidents. Those are two thoughts. There are other ways to respond. You could also do things clandestinely and not do them in a public way.
"There's a variety of options that will hit the table but of course ironically, all of these options in this conversation will be occurring under the Trump administration. So we have to wait and see what President Trump does."
On Relations With Russia
"What we need to do with Russia is find zones of cooperation and there are places we can cooperate with Russia. For example, in counter-narcotics, counter-piracy, counterterrorism, in the Arctic, perhaps in arms control. But there are gonna be places where we'll need to confront Russia when their behavior is simply unacceptable. And the three obvious examples of that are: their support for the dictator Assad in Syria; the cyber attacks that appear to have been directed at our electoral process; and above all the annexation of Crimea — direct violation of international law."
On Trump's Relationship With Intelligence Community
"I think we should give President-elect Trump time to get to know the intelligence community better. He's never worked with the intelligence community. He has zero political background. It's not a part of the government he's touched in any way, so let's give him some space understand and work with it. But at some point, I think he has to trust his intelligence community. There's no way we can have a functioning executive branch with a breakdown of trust between a president and the intelligence community so I think we're off to a rocky start. But he's not even the president yet. Let's give it a little bit of time."
On Trump's Refusal To Have Daily Briefings
"I took daily intelligence briefings as a Supreme Allied Commander of NATO at roughly the level that the president saw and I think what's important about intelligence is that it's not a snapshot. That's not what's helpful. It's a movie. It keeps progressing and changing. I think it is important to be in a conversational flow with your briefer on a daily basis.
"Now, an alternative, some people do better when they read than when they're being briefed. There are different techniques for absorbing that information but I think it's crucial for any senior leader in the security business to include the president, receive information on a daily basis. And just getting an occasional snapshot is not the same as watching the movie every single day."
On His Meeting With Trump
"What I can say is I was with him for about 50 minutes. It was a collegial conversation. It was described to me as a chance to provide my views on international and security issues and that's really what transpired.
"He asked a long series of questions about North Korea, cybersecurity, Russia, China, it was a very serious conversation. And I think I had an opportunity to present my views and in two particular areas — NATO, which I strongly support, and cybersecurity, where I think we need to strengthen ourselves — he was particularly engaged. So it was a good conversation and it was indicative of a president-elect taking his new role seriously, in my view."
On His Former Comments About Trump, Saying Trump Does Not Grasp Issues Facing Nation
"I think it's too soon for my opinion to have changed. The issues I was speaking about in that interview include building a wall with Mexico. I think that's a bad idea. Withdrawing or reducing our influence in NATO, I think that's a bad idea. Considering nuclear weapons technology for Japan, South Korea, Saudi Arabia, I think that's a bad idea. Developing a particularly warm relationship with Russia, I think that's a bad idea.
"... I will say one encouraging thing, if you will, is that earlier I would've added to the list his comments that he would bring back waterboarding and torture. However, following a conversation with Gen. Jim Mattis whom I know extremely well, who's the secretary of defense designee, President-elect Trump has walked back from that. So we should give him time and the benefit of listening to advisers and hope that these opinions will shift as we go forward."
On What He Told Trump About NATO
"I talked to him and tried to make a business case for NATO. I think individuals who go in to brief the president-elect or eventually the president would be well-served to consider his background.
"I tried to make the point that the U.S. spends $600 billion a year on defense which is quite a bit of money. Russia spends about only $80 billion on defense. China spends only $140 billion on defense. Here's the point: Europe spends $300 billion on defense. They are contributing. They are not freeloading. The European defense budget outstrips China and Russia combined. So the point I tried to make with the president-elect was: This is pretty good value for the money. We could press them to spend a little bit more, that would enable us to spend a little bit less. That would be a good thing. But as a business case, we wouldn't wanna walk away from an organization providing the second largest defense budget in the world after ours."
MC: Did he seem receptive to that argument?
"He did actually. He I think will take my thoughts into account as he goes forward. I am hopeful that as others approach him with other good points, similar things will occur."
This article was originally published on December 12, 2016.
This segment aired on December 12, 2016.