A Dictionary, Trending In The Age Of Trump
12:01
Play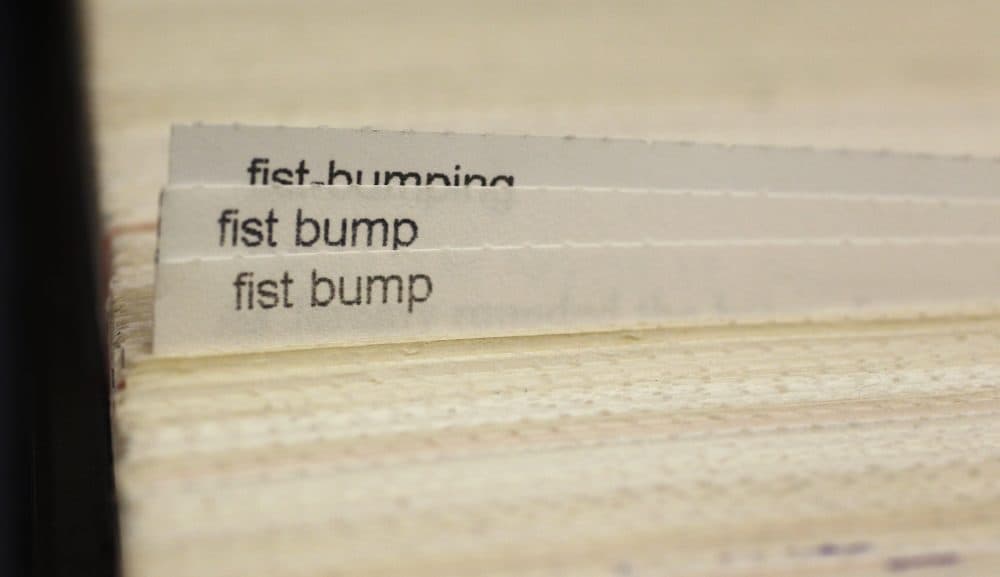 This article is more than 3 years old.
The Merriam-Webster dictionary is trending. When White House adviser Kellyanne Conway said that press secretary Sean Spicer gave "alternative facts" about inauguration crowd size, one of the most-shared tweets on the topic was from Merriam-Webster's Twitter account. It was a tweet that shared the definition of "fact," "a piece of information presented as having objective reality."
Merriam-Webster has also seen spikes in searches for news-related words. Words like "impugn," after Mitch McConnell accused Elizabeth Warren of "impugning" Attorney General Jeff Sessions on the Senate floor, "vetting," after the president signed his executive order on refugees, and "nepotism," after Trump son-in-law Jared Kushner was appointed to a senior role in the Trump administration.
It's part of a search for facts as people question what is true, on matters of policy as well as the meaning of the very words we speak.
Guest
Peter Sokolowski, editor-at-large of Merriam-Webster Dictionary. He tweets @PeterSokolowski.
Interview Highlights
On what he notices in how politicians use words
"A dictionary editor notices interesting usage. For example, to pick one at random, the use of the word 'deplorable' as a noun. And what I mean by that is when you say 'basket of deplorables,' that was an immediately sort of galvanizing statement in a political sense but from a strictly linguistic standpoint, we only define the word 'deplorable' as an adjective in our dictionary and she said 'deplorables,' making it a noun ...
And so not only was it a point of interest from a news perspective, it was a point of interest from a language perspective. We found very little evidence of the word used as a noun. It's an innovative use and it shows the flexibility of language ...
For lexicographers it's not a question of judgement or correction, it's a question of noticing how the language is sort of twisted and bent because that's the way language evolves."
On recent word additions to the Merriam-Webster Dictionary
"We just a week or so ago added 1,000 new words to our online dictionary ... which is a big group of language information to bring in all at once.
It's true that some of them do kind of feel of-the-moment, but it's important to remember that those three criteria I just mentioned apply to all of these words, whether they're tech words or slang words or words for food or science terms.
For example, 'net neutrality' is the news these days and that is a noun we just added to the dictionary. But also things that we do with technology like 'binge-watch' or 'photobomb' or the kind of organization of technology like 'abandonware' and 'botnet.' These were added to this last batch. Also words from medical terms we have for example 'eldercare' and 'supercentenarian,' that is to say a person over 100 years of age. And that reflects clearly a piece of medical innovation, which is to say that people are living longer."
On their ability to track what people search for
"We put the dictionary online in 1996 ... and that was the first time for us, that lexicographers could see what the public were curious about. What words are looked up?
And initially this was sort of a static list. They were kind of hard words or abstract words. Words like 'affect' and 'effect,' which are so difficult in English. Or 'integrity' or 'paradigm' or 'pragmatic.' Kind of abstract words that were always SAT words.
But then we saw in the first instance, one of the first news events that was widely shared online was the death of Princess Diana. And we saw the word 'paparazzi' spike and the word 'cortege' on the day of her funeral and the word 'princess' itself. And so that told us that we can follow the news according to the vocabulary that sends people to the dictionary.
"And we have now about 100 million page views a month so it's a large sample from which to register this curiosity and to see what people look up and also what they don't look up."
On the searches for specific words
"Curiosity is not ignorance. Most of us as adults look up words that we have encountered before ...
One of the gratifying things we learned by putting the dictionary online is that the words that people look up tend not to be the sort of flashy new vocabulary that's brought in by the internet or by youth culture or by Hollywood movies. The words that people look up are the bread and butter words of ideas. Like 'ubiquitous' and 'integrity' and 'paradigm' and 'conundrum.' These are the words that people have slight trouble with the nuance and they come to the dictionary for that nuance.
... For example, it's just interesting to look at the history of that words and recognize that 'impugn,' its Latin root, 'pugnare,' means to fight. Which is the root of 'pugilism,' boxing, or 'pugnacious,' which means aggressive."
On if he thinks people are using words more loosely in politics
"There's an intensity of interest at the moment about facts and truth. We know that because when the word 'fact' spiked for several days, that was clearly the subject of the national conversation. It's also a little bit unusual to see a word that a very common word, a word that's really used on a daily basis by most of us, to see that kind of intense interest to look it up in the dictionary to get the real specific linguistic facts about the word 'fact.' So that does tell us something a little bit unusual is going on.
"... It does seem to be that we're in a moment where people are seeking kind of objective truths and maybe researched and trustworthy sources and to that extent, it's gratifying that people are turning to the dictionary because that's essentially what we've always done, isn't it?"
This article was originally published on February 16, 2017.
This segment aired on February 16, 2017.