Segregation On Trial In Children's Book 'The First Step'
12:30
Play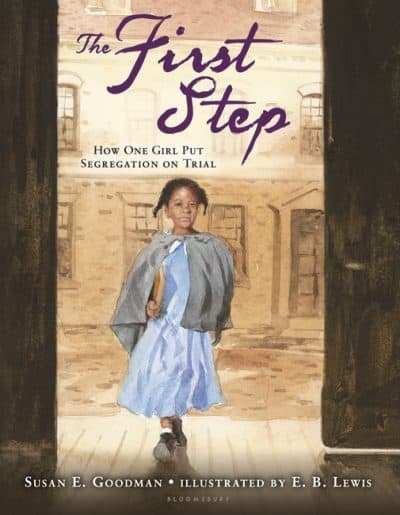 Sarah Roberts was just 4 years old when she tried to go to an all-white school.
Her case, Sarah C. Roberts v. The City Of Boston, was the first legal challenge to school segregation.
This hidden history is now being told in a new children's book called, "The First Step: How One Girl Put Segregation On Trial."
Guest
Susan Goodman, author of "The First Step: How One Girl Put Segregation On Trial." She tweets @susangoodman123.
Interview Highlights
On how Goodman first heard the story of Sarah Roberts v. Boston
"I moved to Boston in 1975 and I've lived here long enough that a million visitors have come. After many times on the Freedom trail, I said to myself 'I can't do that anymore' so the next time, I looked around and found out that there's this Black Heritage Trail. When I was walking on this walking tour, which is the back of Beacon Hill, this is the first time I heard this story of Sarah C. Roberts v. Boston and I was totally amazed. I had never heard of it;...and what I found is that, surprisingly, few people know this story."
On the goals of abolitionists in Boston in 1948
"...It was an unbelievable active time in terms of abolitionists, black and white. People were trying to desegregate railroads, they were trying to get rid of integrated marriage, they were trying to get rid of what had become a very lousy school, the Smith school…, the school designated for African American kids. They had boycott [of the school] going on."
On what Goodman discovered about Sarah Roberts and her family
"...We know almost nothing about Sarah. We know a lot about her parents. Particularly, her father [Benjamin Roberts], but the only things we know about her are what were reported in the census every ten years."
"I can tell you that her father, in particular, was an activist and came from an activist family. There's a wonderful story about him growing up with his parents, who had bought a pew in a church...and the next time they had come to use the pew it had been tarred. This was a white area. The week after they brought their own chairs. The next week after that it was ripped down, and they sat in the aisles for the rest of the year."
"...But, as a children's book author, we really wanted a child hero…As a nonfiction children's writer I'm not allowed to put any feelings in [a character's] heart that I don't know, I can't put any words in their mouths. So my strategy was to give so much detail about every scene that Sarah was in so that kids today could try to put themselves in Sarah's place and feel what I couldn't assign to her."
On the lawyers, Robert Morris and Charles Sumner, who represented Sarah Roberts in court
"Benjamin Roberts knew he was going to go to Robert Morris. Robert Morris was an African American activist: the second black lawyer in the United States, the first one to ever do a jury trial."
"...Eventually when they go to the Superior Court, he asks Sumner to join him. Sumner grew up on the back of Beacon Hill as well. His dad was a rabid abolitionist, so was Sumner. Sumner was called by Lincoln 'the conscious of our nation;' This case...was the first time he really put words to some of the most important phrases that we use today like 'separate is never equal' … and also 'equality before the law.'"
On the continued struggle to end school segregation and what can be learned from Sarah's story
"I wrote at the end of this book ... a segregation timeline. It's so inspiring to be able to do that 100 year span between [Sarah Roberts v. Boston] and Brown v. Board of Education. But then I couldn't stop there. I had to show what happened after that. What you see if increasing segregation and, of course, there's the political situation today."
"I think one of the most important things I learned when I wrote this book is if you have causes that are dear to you, you gotta watch them like a hawk, and you have to work with other people because things change. They go forwards and back."
This segment aired on February 24, 2017.