Remembering Neil Fingleton, Mag The Mighty In 'Game Of Thrones'
04:06
Play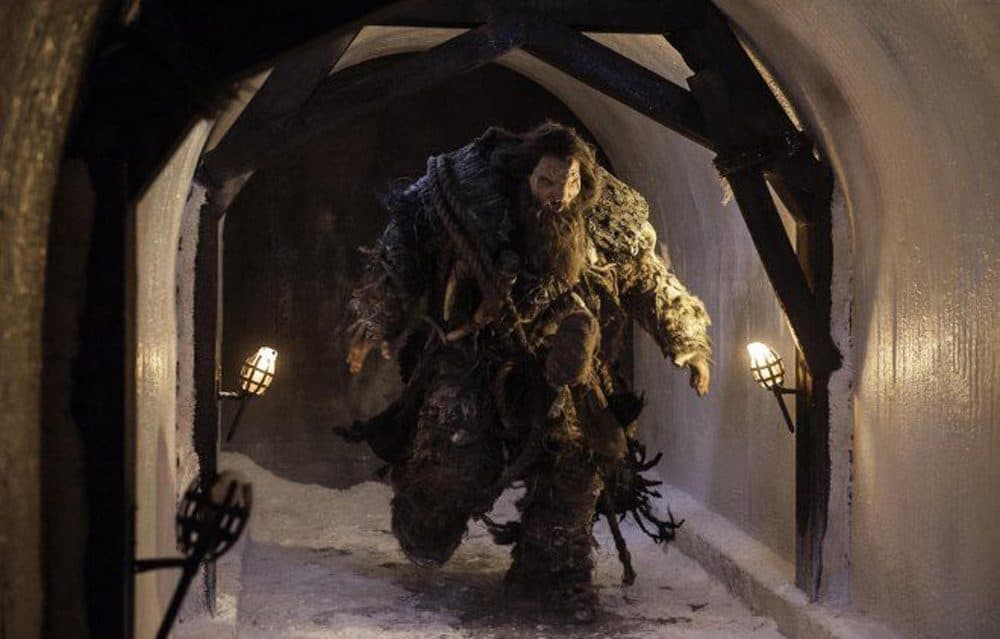 This article is more than 4 years old.
Mag the Mighty roars no more. "Game of Thrones" fans know the giant, who fought in the wildling army, died at the end of Season 4 of the show. And this week, Nigel Fingleton, the actor who played Mag, died at his home in England. He was just 36.
Whether Fingleton liked it or not, there was another number that defined him. At 7-foot-7, Fingleton was the tallest man in Britain. But that great height also brought him to Massachusetts, where in the 1990s he played high school basketball at Holy Name Central Catholic Junior-Senior High in Worcester. And in 2002, Fingleton played college ball at Holy Cross.
Worcester remembers Fingleton fondly. His former high school coach JP Ricciardi told The Boston Globe that he's a "better guy for having known" Fingleton. Phil Giarusso, whom the Globe says acted like a surrogate parent to Fingleton, says the whole city "took him in" and appreciated his sense of community. Giarusso said, "No one cared that he was tall or that he played basketball."
That 'come as you are' love Worcester gave him must have been refreshing to Fingleton. Just about everywhere else he went, people gawked.
Fingleton told the BBC that it was tough being defined by his height for his entire life, a trait completely out of his control.
"Being on the front page of the Sun, being on the Daily Mirror, being in all these magazines, and TV crews wanting to do things on you because you're tall. That's when it really stuck out in my mind because I'm a 14-year-old lad. I'm trying to fit in with everybody else. A normal 14-year-old doesn't have to go through this. So why do I have to go through it?"
Fingleton's time in Worcester propelled him to professional basketball in Europe. He told Holy Cross magazine in 2011 that he never thought basketball would end for him. But it did, following a back injury. That's when he turned to acting.
"Every day, going through this. How tall are you, how big are your trousers, how big are your shoes, how do you fit in a bed? Over time, you can imagine the consequences that has and who it molds you into being. You could either look at it — why me? But then you could say, why not me? Why not do something special? Why not try to achieve something, because, it's my advantage."
That's the Fingleton that his friends in Worcester are remembering. "He was a big guy," former high school teammate Jimmy Moore told the Globe. "More importantly he had the biggest heart."
And that mighty roar, that thrilled so many "Game of Thrones" fans.
This article was originally published on February 28, 2017.
This segment aired on February 28, 2017.