2 Black Students Question School Discipline For Hair Extensions
Play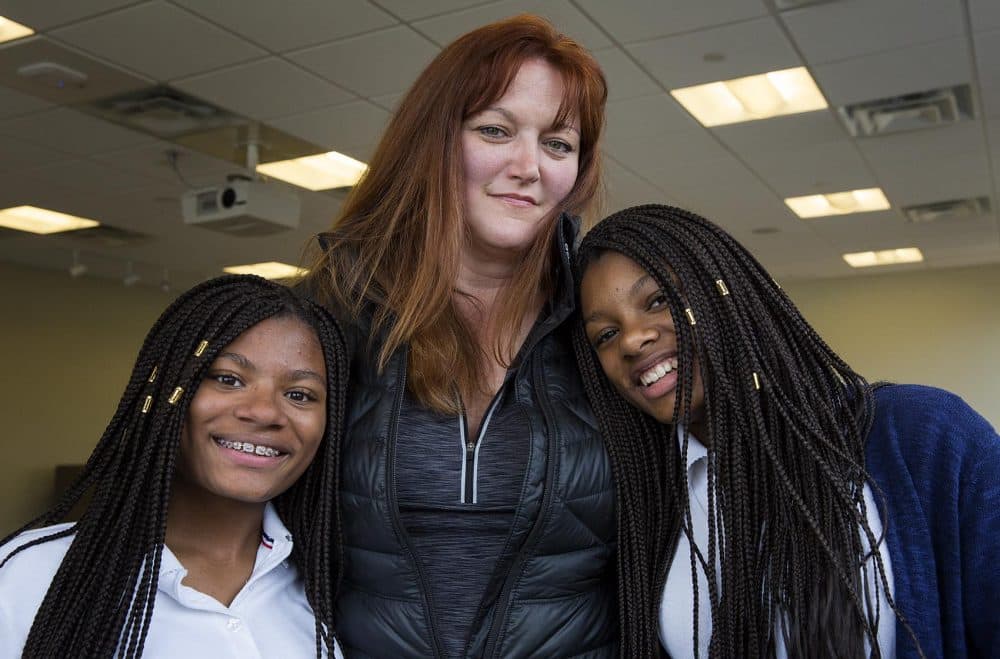 This article is more than 5 years old.
Deanna and Mya Cook say they've been barred from prom, suspended from sports, and have to serve double detention as punishment for wearing hair extensions to school.
The school, Mystic Valley Regional Charter School in Malden, says it has a policy against all hair extensions and enforces the policy without discriminating.
Update: The ACLU has filed a complaint with the state education department.
Guest
Deanna Cook, 15-year-old student
Mya Cook, 15-year-old student
Colleen Cook, mother of Deanna and Mya
Kim Janey, senior project director at Massachusetts Advocates for Children (MAC). She tweets @kim_janey.
Interview Highlights
On what happened at the school
Deanna: "We got extensions in [our hair] because we wanted to get them braided and that's what black, African-American people do. ... And when we showed up to school the first day we went, it was fine, no one said anything. The second day, [a teacher and the nurse] told us that we had to take them out."
Mya: "It violates the dress code."
Deanna: "We kept getting detentions and letters sent home and the school kept giving us more detentions and infractions for it."
Mya: "As we kept them in, day after day, we were in more and more violation of the dress code and their policy."
Colleen: "We met with the school a couple times and we asked them, how do we go about talking and having a conversation to change the policy? And they basically said that they felt this was an equitable policy and they weren't going to change it. That's when we sent a certified letter to the Board of Trustees."
On what happened to other students
Mya: "Students were called down whether they had braids or not. All of them were just black or African-American and they were called down. Some of them didn't even have braids. And they were asked if their hair was real or not. And some of them were interrogated where the nurse, or whoever, was asking them, 'Oh, is that your real hair? Think about it, think about it before you answer.' ... Most students said it was their real hair. And some students said that it wasn't."
On the school's statement that braids cost more money
Colleen: "They did not say that to me on their meetings with them. They told me that artificial or unnatural hair was not allowed to be braided into their hair, so I found it very, I was very confused that they would now come and say that. Because it actually costs less to have their hair braided because the braids last for three months. If you have extensions in, it lasts a considerable time longer than just regular braids."
On discrimination in the policy
Kim: "As a black woman, that we are still dealing with this issue where our hair is being questioned. ... That is the real distraction. That is taking time away from learning and it is discriminatory. The bottom line, it's discriminatory. I hope that they will change this policy, but even if they do, I'm deeply concerned that you still have a team of educators who believe that the only way black children can learn is if somehow they be something other than who they are ...
"I just think that we should be focusing on what is in someone's head and not what's on top of their head. ... Even if they change the policy, there's language in that policy that says if your hair grows 2 inches in height off your head, well whose hair does that? Black people, people of color, our hair tends to do that."
On what they're expecting the school to do now
Kim: "I think the school should definitely follow through and respond to the letter sent by the lawyer's committee. ... I read that there's one black teacher even though the school is 40 percent students of color. That's problematic. That's how you end up with policies like this."
Colleen: "White men and white women should not be trying to make a policy for black girls' hair. There should be input from the community, there should be input from fellow black people."
Deanna: "I would like to see the policy revised to have to be for black people instead of against them."
This article was originally published on May 15, 2017.
This segment aired on May 15, 2017.