CommonHealth: Should Schools Serve Chocolate Milk?
08:18
Play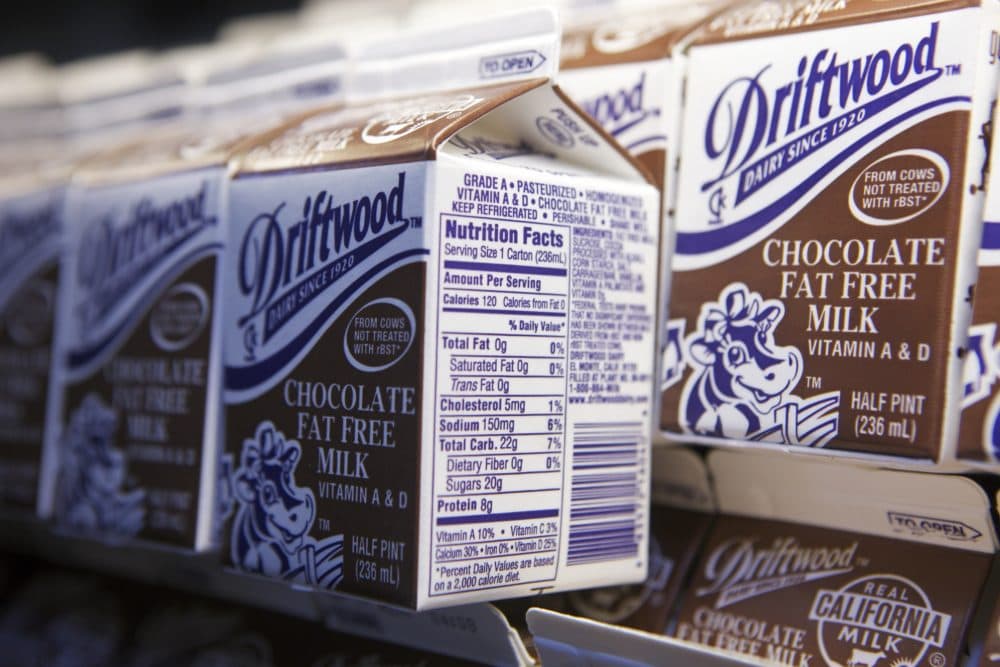 This article is more than 3 years old.
Should chocolate milk be served in schools? That's the central question of a debate that gets to the controversy over fat, sugar and how we think about food.
Federal guidelines ban schools from offering whole milk in the cafeteria, and in many schools, low-fat chocolate milk has come to replace its full-fat, unflavored counterpart. But some food workers in schools, including Houston-based school nutrition chief Betti Wiggins, say "chocolate milk is a treat" and that it is less healthy than whole milk because of the added sugar.
Dariush Mozaffarian, the dean of the Tufts Friedman School of Nutrition Science and Policy, agrees. "Healthier foods with more calories are better for kids," he says. "It's better to have 100 calories of nuts or 100 calories of broccoli than 80 calories of soda. And similarly, I think it's better to have whole milk than to have chocolate skim milk with a little bit fewer calories."
But Dr. Steve Abrams, the incoming chair of the nutrition committee at the American Academy of Pediatrics, says that offering chocolate milk is a way of getting kids to drink more milk, period. "If you take all the flavored milk out of the school, then you will tend to decrease the amount of milk the children are drinking," he says.
So does a spoonful of sugar help the medicine go down? Should schools be offering chocolate, skim or whole milk? And should the federal government decide?
Guest
Carey Goldberg, host of WBUR's CommonHealth blog, which tweets @commonhealth.
This article was originally published on June 12, 2017.
This segment aired on June 12, 2017.