Admiral James Stavridis On General McMaster, North Korea
14:59
Play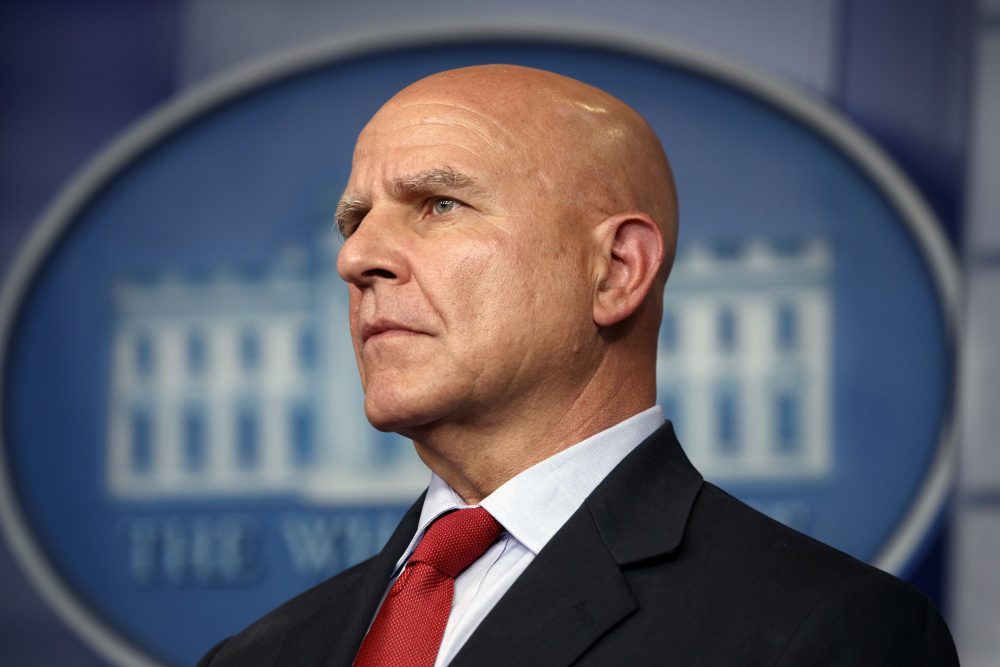 This article is more than 3 years old.
In the foreign policy and national security world, a lot has happened over the past several days. There was a right-wing media push against National Security Adviser H.R. McMaster, a unanimous U.N. Security Council vote on North Korea sanctions, and transcripts of President Trump's early calls with leaders in Mexico and Australia, leaked to the Washington Post.
Guest
Admiral James Stavridis, dean of the Fletcher School of Law and Diplomacy at Tufts University. Supreme Allied Commander of NATO in Europe from 2009-2013. Author of Sea Power: The History and Geopolitics of the World's Oceans. He tweets @stavridisj.
Interview Highlights
On H.R. McMaster
I've mentored him for 20 years. When I was the Supreme Allied Commander at NATO I requested him by name — he was a young, one-star general at that point — to come and be part of my team in Afghanistan, where I put him in charge of anti-corruption which, as you would appreciate, central to our potential success over time in Afghanistan. He has incredible integrity and he's famous for speaking truth to power as a result of his marvelous book, "Dereliction of Duty." So I've known him for two decades and remain deeply impressed with him.
On the criticisms of McMaster
"I think it's an orchestrated campaign. And one would guess that at the center of it is Steve Bannon, who came from Breitbart News, is a thought leader in that alt-right hard right-wing movement.
... I think it's all part of the palace intrigue which makes Game of Thrones look like Captain Kangaroo. So the White House is a very troubled place right now.
Here's the good news: It's the arrival of Chief of Staff General John Kelly, Marine four-star, a contemporary of mine, bit older than I am actually, but we were young officers together 30-plus years ago. I know John extremely well. Boston native, son of a Boston police officer. If there is anyone who can bring order out of chaos and protect H.R. McMaster in that environment, it's General John Kelly.
So stay tuned, I think McMaster survives at least this round and over time, hopefully he'll remain. Because he is a centrist, he's a politico, he has the deepest respect for the constitution and the best interests of our nation at heart."
On how the National Security Council and White House staff are functioning under Trump
"Knowing H.R. quite well, he is the type of person who will put his head down and run through the fire. He will not allow distractions or a great deal of self-doubt. He is a quietly, self-confident individual. He has a Ph.D. He knows he has the intellectual heft. He knows he has the operational experience. He's a highly decorated military officer. He will be fine.
What I worry about ... is the hiring, the firing, the constant tumult — the contradictory tweets that come out from your boss. All that makes constructing foreign policy very, very difficult. The only good news I would offer is that August typically is a bit quieter because people are taking vacations around the world. Even Vladimir Putin is sunning himself in Siberia. And therefore, I think there's a breathing space here for a) John Kelly to consolidate his control over the staff and b) for H.R. McMaster to consolidate his control, having gotten rid of some of the really difficult people. So, let's talk again in September and see where it heads.
On at what point, a president should get a new National Security Advisor
"At any point that he or she desires. And the National Security Advisor, the job H.R. McMaster is in, he directs the National Security Council and the National Security Council staff and he serves at the pleasure of the president.
And in my experience in Washington — and I've had 7 tours in Washington and the Pentagon — the president and his National Security Advisor I have seen them always be very, very close. Condoleezza Rice could literally finish sentences that President Bush would start. Same thing for President Obama with both of his National Security Advisors. But when that gets out of sync, it's time for the National Security Advisor to move on."
On his recent communications with McMaster
"I spoke to him last about three or four weeks ago. And his spirits are good. And he seems to continue onward and again, his personality is like a big, strong, intellectual tank that kind of just clanks right at you. And he I think can withstand a lot of internal bickering and fighting, particularly if he has the support of a good strong chief of staff."
On the degree of politicization of McMaster's position
"Generally, historians who look at that particular position look at someone like Brent Scowcroft who held the position — coincidentally as a three-star officer, same as H.R. McMaster is — as apolicital and at the very top of the list of National Security Advisors. I think someone like Condi Rice had more of a political sensibility about the way she approached things. But I think broadly speaking, what makes a good National Security Advisor number one, is a mind-meld with the president. Number two is a non-parochial approach within the Cabinet. In other words, balancing the equities of all the different departments of Cabinet. And number three, having a long term strategic view for the country. I think H.R. fulfills all those things. The challenge for him will be that mind-meld with the president."
On if the U.N. Security Council vote on sanctions on N. Korea was a win
"I do. And I would put it pretty squarely in the win column for ambassador Nikki Haley who I think from square zero has been the top appointment that the president has made. And I'm pleasantly surprised — she's not a woman with great international experience, she's governor of South Carolina, I don't think she's traveled extensively. I think she's done remarkably good work at the U.N., particularly given she does not get a lot of, shall we say, inherent support from the Trump Administration.
... The second win here is that the Trump Administration evidently is now beginning to realize that we don't have to have a unilateral foreign policy — that we can win through our alliances and through international organizations like the U.N. So yes, I think it's a win. However, it's not a panacea. It's not gonna immediately solve the problem."
On the likely effectiveness of the sanctions on N. Korea
"I think it's not likely to be immediately effective and it will only be effective if China steps up. China is very content to talk the talk of sanctions, but we have not seen them walk the walk. We have not seen them use the fact that they control 90 percent of N. Korea's import/export markets to actually take the measure of Kim Jong-un. All roads to Pyongyang, the capital of N. Korea, lead through Beijing. We've got to see China step up and I am most encouraged by this [sanction] because China supported it. Now we've gotta hold China's feet to the fire to actually take control and help us enforce those sanctions."
This segment aired on August 7, 2017.