Drag Queens Take Center Stage At Museum Of Science
Resume
The show is called Boston's Best Drag Queens — an experimental series at the Museum of Science. According to Dani LeBlanc, director of the Charles Hayden Planetarium, it's the first show of its kind in the country.
"Maybe in Europe there is something, but to my knowledge, I don't know of any other planetariums that have held drag shows like this in their spaces," LeBlanc said.
Drag, for the unfamiliar, is a queer art form that plays with gender and usually involves a lot of flamboyant costumes and make up. Some of the most well known performers are cis-gendered men who dress up as flamboyant female characters, or queens.
James Wetzel, co-producer of adult programs at the Museum of Science, is excited to bring drag into the Museum of Science's planetarium.
"For me, drag is one of the most immersive types of performance that exists," he said. "There's no fourth wall, they crash through that right away. And the room is set up so that you're in the round. There is no stage, the stage is the room, the audience is part of the environment."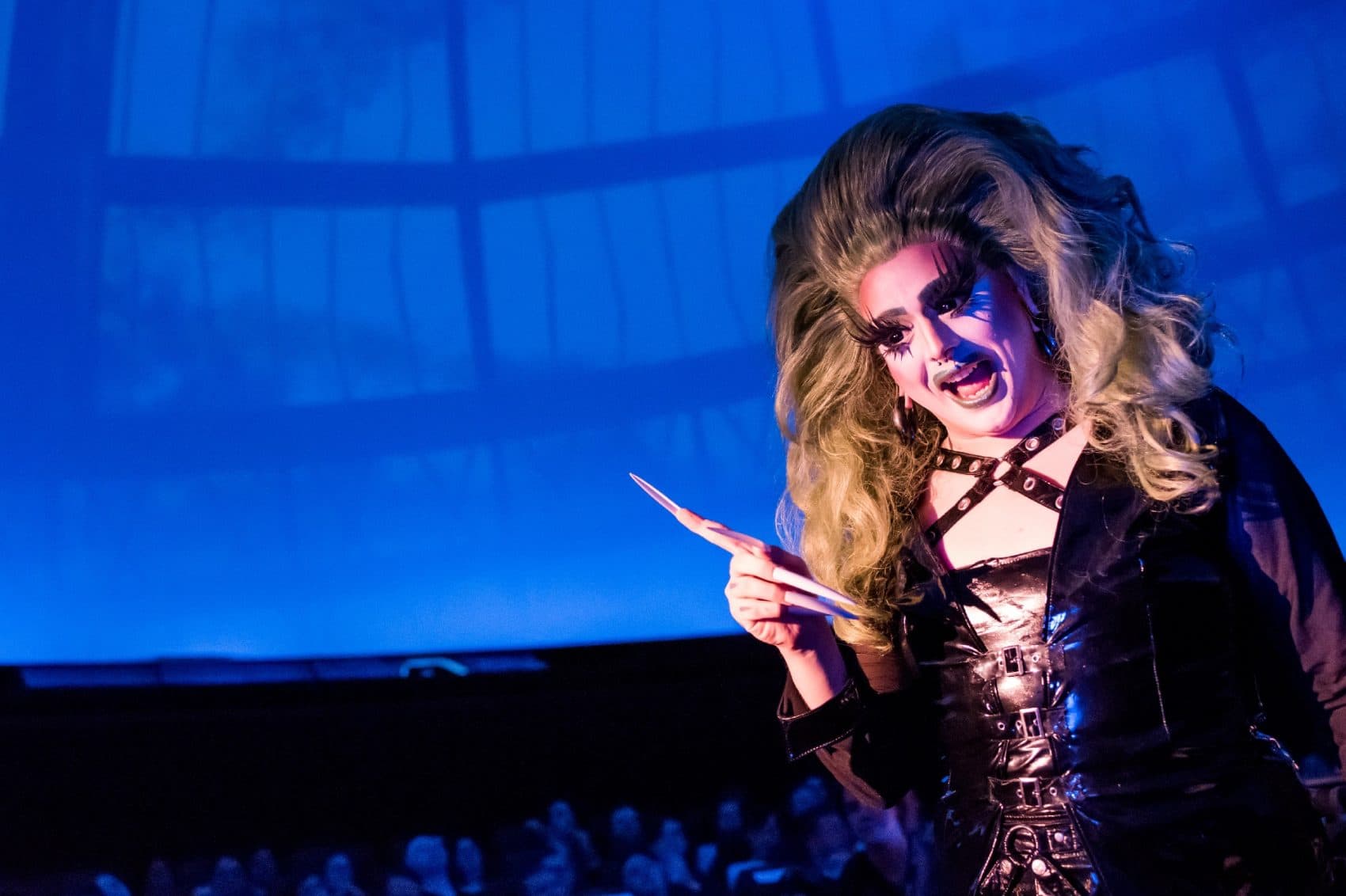 If you've seen a drag performance in Boston, you probably went to a venue like Jacques, Machine or Oberon. In those spaces, there's a stage. But at the planetarium, performers are surrounded by the audience — a set up that can influence a drag queen's performance.
"I just want to make sure everyone is able to see me," said a queen who goes by the name Violencia Exclamation Point, "and make sure I have a set amount of time in each quadrant of the planetarium, so [people aren't missing] out on a performance in one half of the room."
At the planetarium, an audience of 200 people are seated in the round with a giant projection machine in the center of the room. There are four entrances, which the queens can use for maximum effect.
And while it may be a drag show, it's also still the planetarium at the Museum of Science. Bright, colorful images are projected onto a giant screen above, ranging from technicolor wormholes to kaleidoscopic starscapes, adding a surreal element to the show. One performer said it's like being sucked into a science fiction movie.
"'Inception,' that is the best way to describe it," said performer Qya Cristál. "Where they're sitting at the cafe in the town and the whole thing starts to flip over on itself and things are flying at you. That's the closest thing I could describe what you will experience without it actually flying at you."
Drag queens are known for gags during their  performances, like death drops (a kind of split), outfit changes, wig reveals and sometimes glitter and confetti. All that required some negotiation between the performers and the Museum of Science staff.
"We've never been asked about using glitter in the planetarium before," said LeBlanc. "Sometimes we've had props and we've had trash cans, so we're very excited to use glitter in the planetarium for the first time — hopefully not the last."
But of course, this is really all about the music. Throughout most of the show the performers lip-sync, but Cristál will close out the show live.
"I love the challenge," said Cristál. "No shade, but I pride myself on the fact that I'm a singing Queen and do female songs and do them justice. So the fact that this is what people will go away with that and that makes me really proud."
Cristál hopes the mainstreaming of drag will show audiences that drag queens, and kings, are talented performers.
"Hopefully these people will understand and start to realize that drag queens are more than just dudes in dresses."
This segment aired on July 12, 2018.