'The Friend' Tells Tale Of Shared Grief, Complicated Friendships And Goodness Of Dogs
Play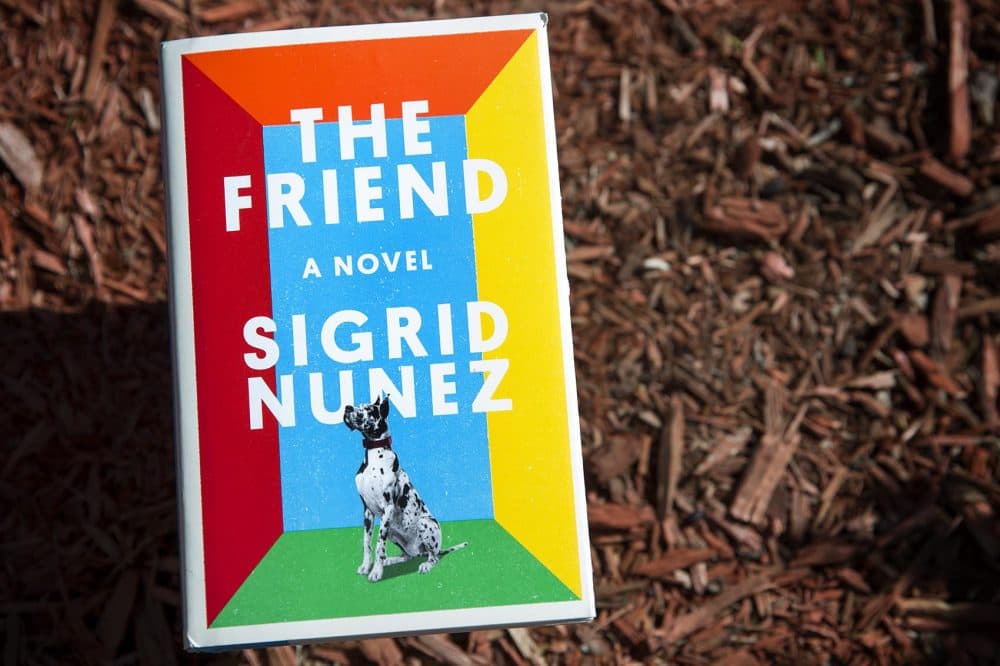 This article is more than 3 years old.
The 2018 National Book Award winner for fiction is "The Friend," by Sigrid Nunez.
Her novel follows the story of a writer living in Manhattan, who's come into the care of a massive Great Dane named Apollo after her former professor, mentor, and one-time lover commits suicide.
Guest
Sigrid Nunez, author of "The Friend."
Book Excerpt: "The Friend"
By Sigrid Nunez
Part One
Where were you going? Nowhere in particular. No errand, no appointment. Just strolling along, hands in pockets, savoring the street. It was your thing. If I can't walk, I can't write. You would work in the morning, and at a certain point, which always came, when it seemed you were incapable of writing a simple sentence, you would go out and walk for miles. Cursed were the days when bad weather prevented this (which rarely happened, though, because you didn't mind cold or rain, only a real storm could thwart you). When you came back you would sit down again to work, trying to hold on to the rhythm that had been established while walking. And the better you succeeded at that, the better the writing.
Because it's all about the rhythm, you said. Good sentences start with a beat.
You posted an essay, "How to Be a Flâneur," on the custom of urban strolling and loitering and its place in literary culture. You caught some flak for questioning whether there could really be such a thing as a flâneuse. You didn't think it was possible for a woman to wander the streets in the same spirit and manner as a man. A female pedestrian was subject to constant disruptions: stares, comments, catcalls, gropes. A woman was raised to be always on guard: Was this guy walking too close? Was that guy following her? How, then, could she ever relax enough to experience the loss of sense of self, the joy of pure being that was the ideal of true flânerie?
You concluded that, for women, the equivalent was probably shopping—specifically, the kind of browsing people do when they're not looking to buy something.
I didn't think you were wrong about any of this. I've known plenty of women who brace themselves whenever they leave the house, even a few who try to avoid leaving the house. Of course, a woman has only to wait until she's a certain age, when she becomes invisible, and—problem solved.
And note how you used the word women when what you really meant was young women.
Lately I've done a lot of walking but no writing. I missed my deadline. Was given a compassionate extension. Missed that deadline, too. Now the editor thinks I'm malingering.
I was not the only one who made the mistake of thinking that, because it was something you talked about a lot, it was something you wouldn't do. And after all, you were not the unhappiest person we knew. You were not the most depressed (think of G, of D, or T-R). You were not even—strange as it now sounds to say—the most suicidal.
Because of the timing, so near the start of the year, it was possible to think that it had been a resolution.
From THE FRIEND by Sigrid Nunez. Published by arrangement with Riverhead Books, an imprint of Penguin Publishing Group, a division of Penguin Random House LLC. Copyright © 2018 by Sigrid Nunez. 
This article was originally published on December 11, 2018.
This segment aired on December 11, 2018.