Virtual Virtuosos: Local Singers, Hamstrung By The Pandemic, Staged An Opera On Animal Crossing
Resume
The pandemic put life on hold for Larisa Bainton and Celeste Pelligrino.
The two are opera singers — both sopranos — and music educators. This spring, they graduated from New England Conservatory. With more time on their hands as the semester ended, both started playing the video game Animal Crossing.
"Like, oh, our degrees are sort of obsolete now, and all our classes are [in flux], like what is even happening," said Bainton. "But let's all play Animal Crossing, and make our little towns."
Their love of the game led to an idea, and a way to combine two passions: Bainton and Pelligrino, who are co-founders of small Boston-based opera company, decided to stage an opera production within the world of Animal Crossing.
On Saturday, Due Donne Production's premiered their version of "Hansel And Gretel", a 19th-century opera by German composer Engelbert Humperdinck. The performance is free to watch, but the company is soliciting donations — in large part to help classical singers of color pay for college.
The story is based on Grimms' Fairy Tale about two young children lost in a forest, who encounter a witch in a gingerbread house. Bainton and Pelligrino sing the parts of the titular characters, who are portrayed by two Animal Crossing avatars with comically oversized heads, large colorful eyes, and pleasant smiles plastered on their faces.
"I think it's just goofy and charming and silly," said Pelligrino. "I think it's very funny too... these little baby characters just singing full opera."
Animal Crossing has been around for almost 20 years, but is in the midst of a massive resurgence. It's been especially popular among millennials during the pandemic.
For instance, after it's release in March, the new version, "Animal Crossing: New Horizons", sold over 13 million copies in the first six weeks of its release. Its popularity has also been cited as a part of why it can be difficult to get your hands on the Nintendo Switch console
The game allows you to design your own island world and your own character. It's what's known as a life simulation game, with no defined objective for players.
"It's kind of like The Sims, if you've ever played The Sims," said Pelligrino. "But the characters are much more cute."
A core part of the game's appeal is that it allows players to be together — virtually. Players can sync up, and visit with friends on the game, in real-time.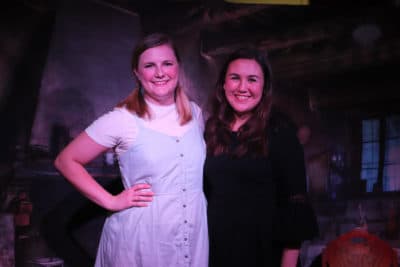 That's what made the production possible. While they recorded the music separately, all of the performers were able to "act out" their roles as their Animal Crossing characters.
While some opera companies have staged events on livestreams or on the video call platform ZOOM, creating music simultaneously online can be a challenge.
Pelligrino said they wanted to create a product that allowed for their performances to be seen and heard in unison, without the visual reminder that the performers themselves were apart.
"When you watch the opera and you hear it, it sounds like these people are in the same room, and there is no visual reminder that they're not," she said. "When you see the squares on ZOOM, you know they're not together."
Before the pandemic, Due Donne Productions was planning three in-person operas and had received grants to help them employ about 40 singers.
The future of in-person productions is uncertain as of now, as singing has been determined to be a high-risk activity for transmission of the virus.
"It's been a uniquely devastating experience in that singing is one of the most dangerous things you can do," said Bainton. "It's kind of put the whole industry in chaos."
Bainton said that the pivot to a video game didn't feel like a big leap. Cartoons and opera have been intertwined for decades. It pops up in episodes of the 90's show Hey Arnold!, in Spongebob Squarepants, and, of course, in Looney Tunes.
"You ask anyone, they are going to know the [Wagner's] Ride Of The Valkyries theme. They might not know that's the name, but they'll know what it is in their head," said Pelligrino. "The video game is the next generation of that kind of cartoon."
The two women hope their approach to opera will have a wide appeal. While they want to draw other young people and fans of Animal Crossing, Pelligrino said the project has also received a positive response from the more traditional opera fan.
"This is really fun for people who have loved opera their whole life and are sad that it's not happening right now because it's a fun, goofy way to enjoy what they're missing," said Pelligrino.
Yet what Bainton and Pelligrino most appreciated about the project was getting to perform again, with other people, in an era of social distancing.
"I think we all felt kind of emotional watching it for the first time and hearing all our voices together," said Bainton. "It sounds like we're together, even though we're apart."
This segment aired on July 29, 2020.