Dan Shaughnessy On Sports Records That Will Never Be Broken
22:47
Play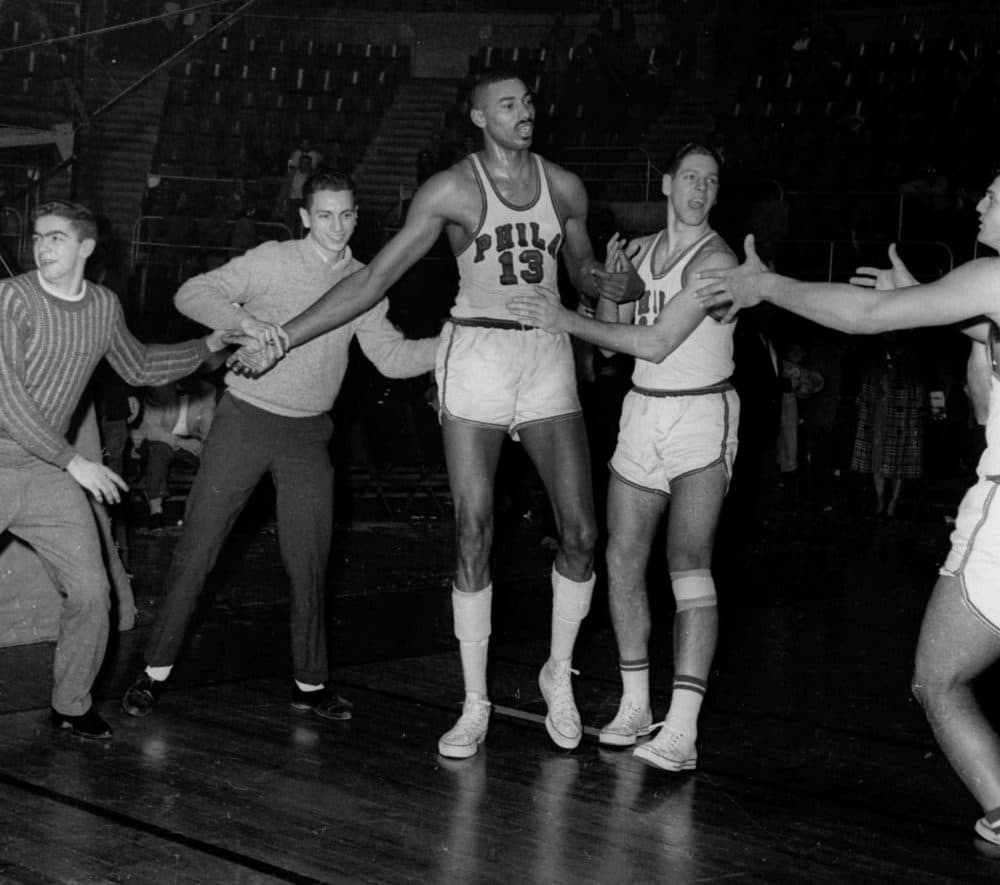 Today on Season Ticket, Host Chris Gasper (@cgasper) welcomes Dan Shaughnessy to debate whether some of the greatest records in sports are breakable or unbreakable.
Guests
Sports Records That Will (Maybe) Never Be Broken
Cy Young's 511 Wins
Dan Shaughnessy: That's just not going to happen again. People don't pitch for 140 years [anymore]. They don't win 20 games in a season and they used to win 30 games in a season. The opportunity is just not there and the longevity is just not there. It will not happen again.
Chris Gasper: Especially in today's baseball culture, I mean, they're pulling starters after the 4th inning, guys that are doing well. Even in the 2016 World Series, Joe Maddon of the Chicago Cubs ends up pulling [starter] Kyle Hendricks even though he's pitching really well because it's like, "I have to get to John Lester out of the bullpen." So, baseball culture has evolved. It has become so specialized. Our good friend Bob Ryan would say it's the "Tony La Russa-ization" of baseball. You're never going to see [511 wins] again and there's only one other pitcher who even topped 400 wins. That's Walter "Big Train" Johnson and he he last pitched in 1927.
Joe DiMaggio's 56-Game Hit Streak
Chris Gasper: I don't think anybody is ever going to break this. You look at baseball now—guys don't really care if they strike out. It's either a strikeout or a walk or a home run. The sabermetricians tell us those are the "Three True Outcomes" in baseball. Pete Rose, in the modern era, is the guy who's come the closest. 44 straight in 1978.
Dan Shaughnessy: I'm going to disagree strongly with this because it is always possible. Every season a guy is capable of doing this. It's very hard to do. It's a little bit of a 'lightning in a bottle' thing, but mechanically and statistically it is possible for a guy to keep doing it. Now, it's harder now with the media demands, the travel, the great relievers—all those things.
Chris Gasper: The defense! The defense in baseball [now] is way better than when DiMaggio played.
Dan Shaughnessy: I'm telling you, you're going to see more of an approximation of this record than a lot of other ones. Ee see guys get into the 30s every year. Yes, someone's going to do it.
Chris Gasper: I do hear what you're saying, I just think the defense is so good. You know, can you imagine if DiMaggio had Jackie Bradley Jr. leaping over the Red Sox bullpen to take away hits?
Wayne Gretzky's 2,856 Career Points and 215-Point Season
Dan Shaughnessy: Do you realize, if [Gretzky] had never scored a goal he would still be the leading scorer in NHL history? I mean, this is a ridiculous record. He's so far ahead. [Jaromir] Jagr is second now and he's like a thousand points behind. So Gretzky, just by virtue of all of his assists, has more points than anyone ever in the history of hockey.
Chris Gasper: I think Wayne Gretzky's greatest accomplishment is getting you to talk hockey during this podcast. And I also want to throw in there that Wayne Gretzky holds the NHL single season record for points with 215 set in 1985-86. Gretzky registered four 200 point seasons. He's the only NHL player to ever breach that barrier. And, this is unbelievable, how great the great one was—he had three straight 200-point seasons from 1983-84 to '85-86. So, I don't think that single season record will ever be broken [either].
Wilt Chamberlain's 100-point Game
Chris Gasper: He did it March 2nd, 1962. He was playing for the then Philadelphia Warriors against the New York Knicks in Hershey, Pennsylvania. The final score of that game: 169 to 147. I'm sure Brad Stevens, if he had been on the sideline, would have been pulling out his hair at a 169-147 game. Wilt "The Stilt" in this game attempted 63 shots. He hit 36 of them, but just attempting 63 shots, I mean, not even Carmelo Anthony would attempt 63 shots in a game.
Dan Shaughnessy: It's hard to do but I'm not going to sign onto this one because we saw Kobe get 80 when he was 100 years old just a couple of years ago. And sometimes they do these contrived things at the end of the season where they get the ball to one guy. You could make this happen. If they said, "LeBron, season's over. Let's get you 100 today," I think he could do that. It would not come organically. But this is a possible outcome.
Chris Gasper: It's hard to score 100 points shooting against air! Look, Devin Booker of the Phoenix Suns scored 70 last season against the Celtics. But, it's like, how much at the end were the Celtics trying to prevent him from scoring? I think if anybody got even close to this it would be like the old-school NBA you covered in the 80s—they'd be clotheslining people to make sure they didn't have 100 points scored on them.
Kareem Abdul-Jabbar's 38,387 Career Points
Dan Shaughnessy: Longevity players just don't stick around as long [anymore]. They do start younger, and they get more miles on their wheels at an early age, but [Abdul-Jabbar] is an underrated player in history. And I just think that Kareem, the longevity he had and the fact that he was a 20-25 points-per-game guy the whole time—no one's going to get there.
Chris Gasper: This is a great one. It really is. Kobe Bryant came straight out of high school at age 17. He played 20 seasons. He finished with 33,643 points. He's still 4,744 points behind Kareem Abdul-Jabbar! This record is really, really difficult to break.
Cal Ripken Jr's Streak Of 2,632 Consecutive Games Played
Chris Gasper: That's a streak that stretched over 17 seasons. He broke Lou Gehrig's previous record. I just think in today's baseball, with guys, again, like Joe Maddon—you think Joe Maddon is going to let somebody play in 2,632 straight games?
Dan Shaughnessy: It's very unlikely. But, again, we thought Lou Gehrig's [former] record was not one that could ever be broken. You're pretty safe on that one, but I think it is theoretically possible.
Jack Nicklaus' 18 Majors
Dan Shaughnessy: This one breakable totally breakable. I mean, Tiger [Woods] was on his way and then all those things happened. So, yeah, Tiger was on his way to do that. There will be another guy. The hard part now is, with all these young guys like [Jason] Day and [Jordan] Spieth and [Rickie] Fowler, that they're all almost equally good. No one has established a dominance in the sport. But we never know when the next Tiger is going to come along. It can happen.
Chris Gasper: Yeah, I definitely thought Tiger was going to break this one. He's not going to do it now. I think that almost the more amazing thing is that Jack Nicklaus finished second in majors 19 times.
Dan Shaughnessy: That's actually a pretty good number right there. So, almost 40 times he's in danger of winning a Major.
Oklahoma Football's 47-Game Win Streak
Dan Shaughnessy: Absolutely breakable. You've got these corrupt programs. They've got a chance to just run the table every year. [Alabama coach] Nick Saban, every year he can go undefeated. So, what's to stop him from stringing together five or six of those? I think, given that the cesspool of NCAA college football, it's always possible.
Chris Gasper: I'm going to disagree because the closest any Power Five program has come since then is Miami's run of 34 straight from 2000 to 2002. And the reason is, back when this was set (1953-1957) there were no scholarship limits. If there were players they didn't want to play against, they'd just offer them a scholarship and hide them on their team. Now, there's a lot more parity in college football. And also, you have these championship games, you have the college football playoffs. You just have to win a lot more games. I think this one's going to be very difficult to break so I'll say that one won't be broken.
UCLA Men's Basketball 88-Game Win Streak
Dan Shaughnessy: This is difficult and that is, in my view, the greatest college team of all time. Bill Walton is the greatest college player of all time. I'm going to say it is, theoretically, beatable but it's tough to do.
Chris Gasper: I'm going to say no, [it's not beatable], and I'll tell you why. In today's college basketball, to win [that many games] would take 60 different players. With the "one and done" [rule] you're switching teams every year. I think that's really, really difficult to do. The UConn women won one 111 straight games from 2014 to 2017, which is just remarkable ... But I think the women's game is different in this regard: They don't have the "one and done" factor. You get to have some sort of continuity, which has really gone from the men's game.
Bobby Orr's +124 Goal Differential
Chris Gasper: It's the one and only #4, Bobby Orr, a great defenseman the Boston Bruins. In the 1970-71 season he was an incredible +124 in goal differential when he was on the ice throughout the course of the season. That is ridiculous. I don't think this will ever be broken.
Dan Shaughnessy: That's a good one and it's not coincidental. I mean, those numbers are exactly what they sound like, which means they were better every time he was out there. To the untrained eye who didn't know anything about hockey, we all saw Bobby Orr—his skating, his prowess on both sides of the Blue Line—tt was just amazing to watch. He will always be the greatest player ever. Numerically, I guess it's possible [for someone to break this record]. But, theoretically, this is not possible because there will not be another Bobby Orr.
Jerry Rice's 208 Career Touchdowns
Dan Shaughnessy: I know [football] is a passing game now, but I just think guys get hurt, careers are short ... I'm just going to say it's too many. Not going to happen again.
Chris Gasper: I agree with you. You know what swayed me on this? The simple math. If you play 20 years in the NFL and average 10 touchdowns per season, you still fall short.
Two bonus records that definitely cannot be broken
Dan Shaughnessy: I saw a game in Pompano, Florida, a Spring Training game, where the catcher for the Orioles, Dave Criscione, caught three foul pop-ups in one inning. That will never be broken. It is de facto impossible to break. And the Baltimore Orioles' left-handed pitcher Tippy Martinez once picked off three runners against Toronto Blue Jays in one inning. That will never be broken. You won't even see it equalled. So there.