Sportscaster Lesley Visser On Her Hall Of Fame Career
Play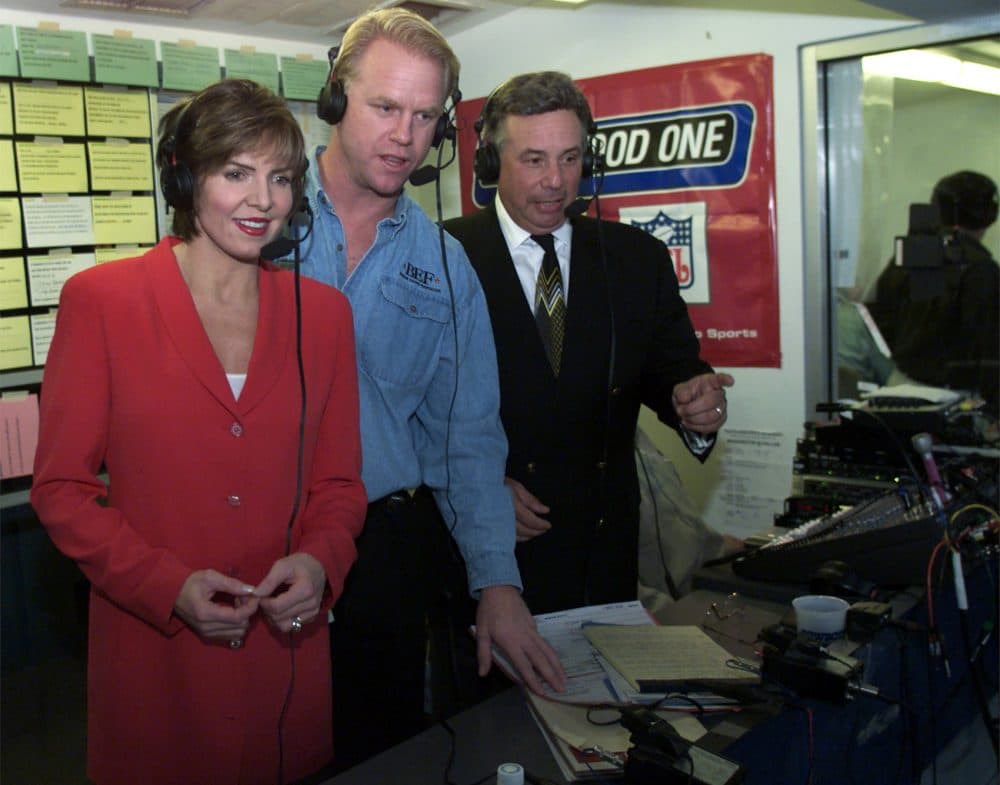 Story continues below
Subscribe to the podcast
Today on Season Ticket, Chris Gasper (@CGasper) talks to Lesley Visser, the most highly acclaimed female sportscaster of all time, about her career and her new book, "Sometimes You Have to Cross When It Says Don't Walk: A Memoir of Breaking Barriers." She discusses getting her start during the glory days of the Boston Globe, facing sexism early in her career, and her international experience, covering everything from the fall of the Berlin Wall to Yao Ming. She also sheds light on the time she got Patriots coach Bill Belichick to open up.
Guest
Lesley Visser is currently a host for "We Need To Talk," a CBS Sports Network weekly show. She's the first and only woman in the Pro Football Hall of Fame; the only female sportscaster to have carried the Olympic Torch; the only woman to have presented the championship Lombardi Trophy at the Super Bowl; and the first woman on the network broadcasts of the Final Four, Super Bowl, and NBA finals. She was voted the Outstanding Female Sportscaster of all Time by the National Sportscasters of America, and was also elected to the Sportswriters Hall of Fame for her work at the Boston Globe, national magazines, and CBS.com.
Interview Highlights
On getting her start during the glory days of the Boston Globe in the 1970s
Lesley Visser: When somebody like Will McDonough would have [former NFL commissioner] Pete Rozelle on one phone and [former owner of the Oakland Raiders] Al Davis on the other, you know they were pretty high and mighty there. When McDonough went home—everyone had Rolodexes then—and Dan [Shaughnessy] and Kevin [Paul DuPont] and I would be diving under Will's desk to get his Rolodex. It was a great, great, great place to work.
"I didn't want to complain to anyone because I didn't want anyone to say, 'See, a woman can't do this.'"

Lesley Visser
On facing sexism
Lesley Visser: Right on the credential that I wore, it said, "No women or children in the press box," which was pretty diminishing. And also they had no ladies rooms ... You know that scene [in the movie "Hidden Figures"] where Kevin Costner says to her, "Where do you go every day?" And she says, "I go to the bathroom."
[cont.] Well, that was kind of my life because there were no ladies rooms because there were no other ladies. So, I used to sit in the press box. Patriots would have the ball ... and I would think, "Gosh, can I get down the elevator, across a field, and back up before they punted." Yeah, that was tough. And then the locker rooms had no provisions for equal access for another seven years. So, yeah, I was out in all those parking lots.
On why she stuck with sports reporting through adversity
Lesley Visser: I had a passion for sports the way some kids want music or poetry or ballet or art. I just love sports ... I never sued anybody. I never complained. If a player was too aggressive or something with me I would just say, "Oh come on, your mother didn't teach you to talk like that!" That worked out great. I also had the thought that I didn't want to complain to anyone because I didn't want anyone to say, "See, a woman can't do this."
On Rob Gronkowski's cheap hit on Bills cornerback Tre'Davious White after the whistle
Lesley Visser: When you talk about times of change, remember the young woman who asked Cam Newton that question?
Chris Gasper: Yes I do, from the Charlotte Observer when Cam was very condescending.
Lesley Visser: I thought to myself, "Gosh, times aren't changing fast enough for me." But ... when I started, everyone would have sided with the quarterback. Instead, he got blasted. Her question was legitimate, she was legitimate. So, I thought, "Well, that's pretty good."
On getting Bill Belichick to open up
Chris Gasper: What's your relationship like with Patriots coach Bill Belichick? Is he as inscrutable to you as he is to the rest of us?
Lesley Visser: I don't ask him [questions] very often, but last year I went up there and I did something he said no one had ever asked him before. We sat down and I invited Joe Bellino, his hero from the Naval Academy. So, I brought a white board and a sharpie and I said, "Now when Bellino was winning the Heisman you, Bill, were six years old. Can you remember a play of Joe Bellino's from back then?" He took the sharpie and the white board and he wrote down "27 F-Trap" and he did it all ... And he handed it back to me and the whole thing took ten seconds. It was his brain from 1969.
Chris Gasper: That's amazing. And that does speak to Bill, I mean, I think he has a photographic memory. I really do.
Lesley Visser: Yeah he's probably some kind of savant, really. But he did that and he was so happy and Bellino was so thrilled that he'd made it a touchdown!
Chris Gasper: You can always get Bill going on the Naval Academy.