Young Celtics Hit 'Rookie Wall,' Plus Stories Of Embittered Eagles Fans
Play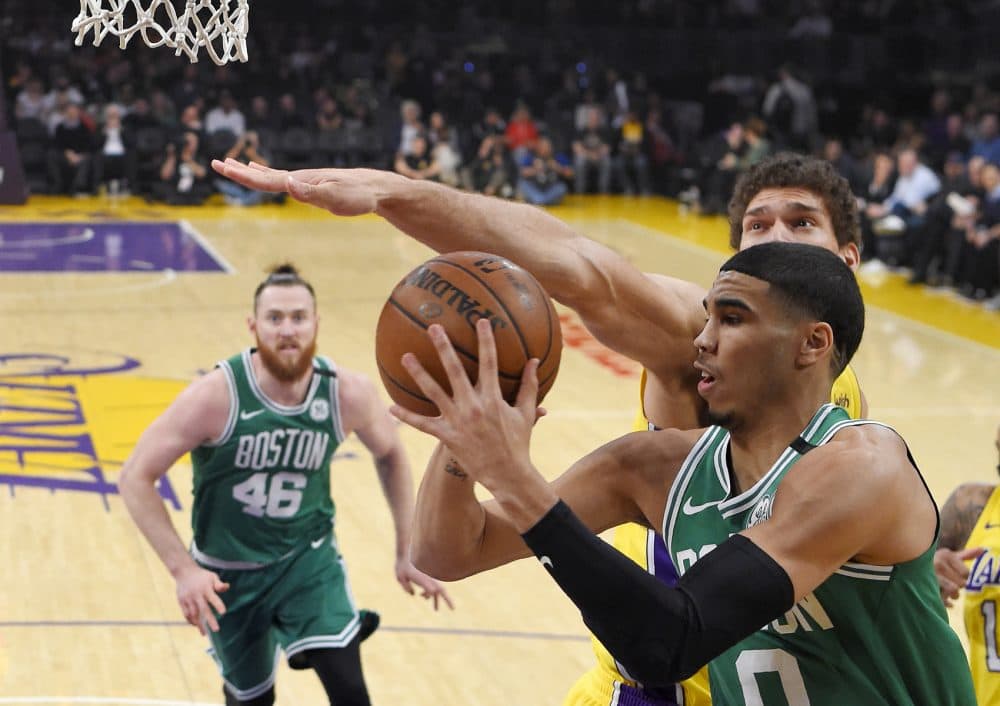 Story continues below
Subscribe to the podcast
Today on Season Ticket, host Chris Gasper (@cgasper) welcomes Dan Shaughnessy to talk about the Celtics' four-game losing streak and chaos in Cleveland. Then, they switch gears to debate whether losing this Super Bowl would be the worst Super Bowl loss in Patriots history and discuss Philadelphia's embittered fanbase.
Guest
Interview Highlights
On the Celtics' four-game losing streak
Dan Shaughnessy: Hey, they were not going to win 65 games. I think the early projections were a little bit crazy with that long, long winning streak they had after losing their first two and now [they're] coming back to reality a little bit. It was interesting they had those cheesy losses to not good teams before this trip. Your Philly thing and your Orlando thing — that's what tees up this road trip and makes it alarming. Back-to-back tonight in L.A. and then you got the Warriors (Saturday) and then at Denver (Monday). You could really string together quite a little losing streak before you get home.
On Jayson Tatum hitting the 'rookie wall'
Chris Gasper: Big game from Kyrie Irving (33 points) but he just didn't get a lot of help and that's been something that's been a consistent theme during this losing streak. One guy who's disappeared a little bit — not just during the four games but over the last nine games — Jayson Tatum. Tatum over the last nine games is only shooting 39% from the field, 34.5% from 3-point range, averaging about 10 points per game ... Is he hitting the rookie wall?
Dan Shaughnessy: Let's not take this too far here, but, sure I think that this is the proverbial rookie wall. He's at a point now where they've played almost 48 games. The college season is over, in terms of games played ... [Rookies] in the league just aren't used to it. They're 19-20 years old. This is a tall order and sometimes you don't pace yourself the way [veterans] do. Young guys hate to pace themselves because it looks like you're dogging it, they can't really rationalize that. But when you're a jumping jack out there the whole time you're on the floor, that's not really the NBA way. If you look at the veterans, a lot of them know when to put it into cruise control and not try to do so much.
"It looks to me like they need to fire the coach. Make LeBron the player-coach if they have to."

Dan Shaughnessy, on the Cavaliers
On the Cleveland Cavaliers' struggles
Chris Gasper: Another subplot of the Celtics' four-game losing streak here is they have a real opportunity to bury the Cleveland Cavaliers and they have not taken advantage of it. There's a lot of acrimony, a lot of turmoil in Cleveland. You have guys calling out other guys. Kevin Love [called out] by his teammates against the Oklahoma City Thunder. Apparently one of the guys calling him out was Isaiah Thomas — who's been on the team for about 20 seconds and also doesn't seem like he's endeared himself to one, LeBron James, so far.
Dan Shaughnessy: That thing is just a bleep-show at this point ... It looks to me like they need to fire the coach. Make LeBron the player-coach if you have to. Isaiah's defense — you're going to see a problem there. But guys like Tristan Thompson, [Kyle] Korver, [Derrick] Rose just look done. They look old and I don't know where this is going ... You still take them seriously come playoff time. They're still a factor in the Eastern Conference.
On Gordon Hayward traveling to Los Angeles for the Celtics game
Chris Gasper: Celtics' coach Brad Stevens didn't want to give any indication that this meant that Gordon Hayward was closer to a return, the fact that he was on this road trip for the first time. He's shooting threes standing up and all that good stuff. I honestly think the Celtics are sandbagging us: he's coming back and I think he's in their plans.
Dan Shaughnessy: Emotionally, I think it's a mistake to bank on him being a factor in the postseason for them. I just think it's asking too much of the physical stress you have to do coming off that injury. I'd rather see him have his summer and do all these things. I would be nervous watching him. I was there the night it happened in Cleveland and you say to yourself, "We're not going to see this guy again this year." If we do, good for him, good for them. I just have a hard time banking on it.
Chris Gasper: I think he's the one who's pushing it, pushing it, pushing it. You don't want to put any public pressure on him and say he's definitely coming back. If you act the whole time like you don't expect to have the guy back and he sort of "miraculously" comes back then it looks great ... It's January 24th, we have two-and-a-half months left in the season, this guy's shooting threes standing up and traveling on road trips and you're telling me he's not going to come back?
"It would be very, very disappointing if they lost the opportunity for a sixth Super Bowl title to this team with Nick Foles at quarterback."

Chris Gasper
On where the Patriots losing Super Bowl LII would rank
Chris Gasper: I'll be honest with you, I think Philadelphia's a good team but if the Patriots were to lose this Super Bowl to the Eagles, I think it would be a worse loss than the Super Bowl XLII loss to the Giants.
Dan Shaughnessy: I would disagree with you. No one's ever going to say that. That's a ridiculous comment. You should not make that comment. It cannot be worse than an undefeated team [losing in the Super Bowl] ... Around the country, the Patriots losing [Super Bowl XLII] was not to be believed. This game, 5.5 point spread, is a little more up for grabs and it won't carry the kind of shock and awe and disgrace that that team had.
Chris Gasper: Look, there's an historical component there that you lost the undefeated season and I understand what you're saying. But, what I'm saying, from a pure matchup standpoint, that Giants team was hot and they had Michael Strahan, Plaxico Burress and Eli Manning — they had some name-guys. You look at the Eagles, they love being in this underdog role but you look at their team and it's Nick Foles with Alshon Jeffery ... I'm not disparaging them, I just think when you look at it, this whole thing has been tee'd up for the Patriots. It would be very, very disappointing if they lost the opportunity for a sixth Super Bowl title to this team with Nick Foles at quarterback.
On the Eagles fanbase
Chris Gasper: Probably the most embittered fans in America ... We like to fancy ourselves here in Boston as a very critical fan base — I'm sure it's not as critical as it used to be — but what is it about the Philadelphia sports fan where they are just in a situation where it's not only misery, but there's a real indignation and anger when it comes to their teams and following their teams.
"It's not only misery, but there's a real indignation and anger when it comes to following their teams."

Chris Gasper, on Eagles fans
Dan Shaughnessy: Lots of anger. It's festered because they haven't won. They did have the Phillies [win the World Series] a decade ago, but the Eagles have never won a Super Bowl — that really sticks with them. And they travel well. They will dominate the population when we get to Minnesota. There will be way more Eagles fans than Patriots fans. This will be one time you're outnumbered; watch out.
On the Patriots choosing white jerseys for the Super Bowl
Chris Gasper: Those are the jerseys they wore against Atlanta last year in the great comeback. In Super Bowl XLIX [against Seattle] they were wearing white. They're 3-1 all-time in white but in the Belichick-Brady era they're 3-0. Normally, I would poo-poo this but I feel like this is the type of thing that Bill would somehow be aware of or someone would make him aware of it. No stone is left unturned by Bill Belichick.
Dan Shaughnessy: They got the choice in this, and they made the choice. It's kind of like deferring the kickoff. They know what they want to do and I think given the track record, why not keep a good thing going? If you had a choice, and that's the memory from the last two, of course you're going to go with that.
Who is more important in the Patriots dynasty: Bill Belichick or Tom Brady
Dan Shaughnessy: Well, I mean, obviously that's a loaded question because no matter what you say there's a lot of blowback on it. I'm in the Belichick camp at this moment. No one's been a better quarterback than Tom Brady, I realize that, [but] when I see these games on a week-to-week basis, and as I get older as this thing goes on, the disparity is greater at [head coach] than it is at the quarterback position from what I can see. I mean, Drew Brees can come in and have a game with Tom Brady if he's matched up. But these coaches, it's like they all wet their pants when they see Bill Belichick. They all make stupid decisions, they lose their football acumen. It is psychological, it is tactical, it is strategic, it's preparation and experience. All those things. And the gap is wider than ever. Everyone in the NFL is a stooge except for Belichick and it gives you an advantage and it's why they'll win this game as well. So I'm going with the coach on this one.
Chris Gasper: I disagree. I think it's Brady. I think one of the biggest myths is that somehow [Belichick] got so much better from Cleveland to New England. I think he was a great coach in Cleveland [but] his quarterback was Vinny Testaverde and he won one playoff game ... There's no doubt he's a great coach. There's no question about it. I just think the quarterback is that little extra that puts you over the top where you're talking about five or six Super Bowls.
Dan Shaughnessy: There is no right or wrong answer to this question, Chris Gasper.
Chris Gasper: No there's not. It's one of the all-time great debates.