McDaniels Fleeces Colts For Patriots; Celtics Look To Add Piece Ahead Of Trade Deadline
Play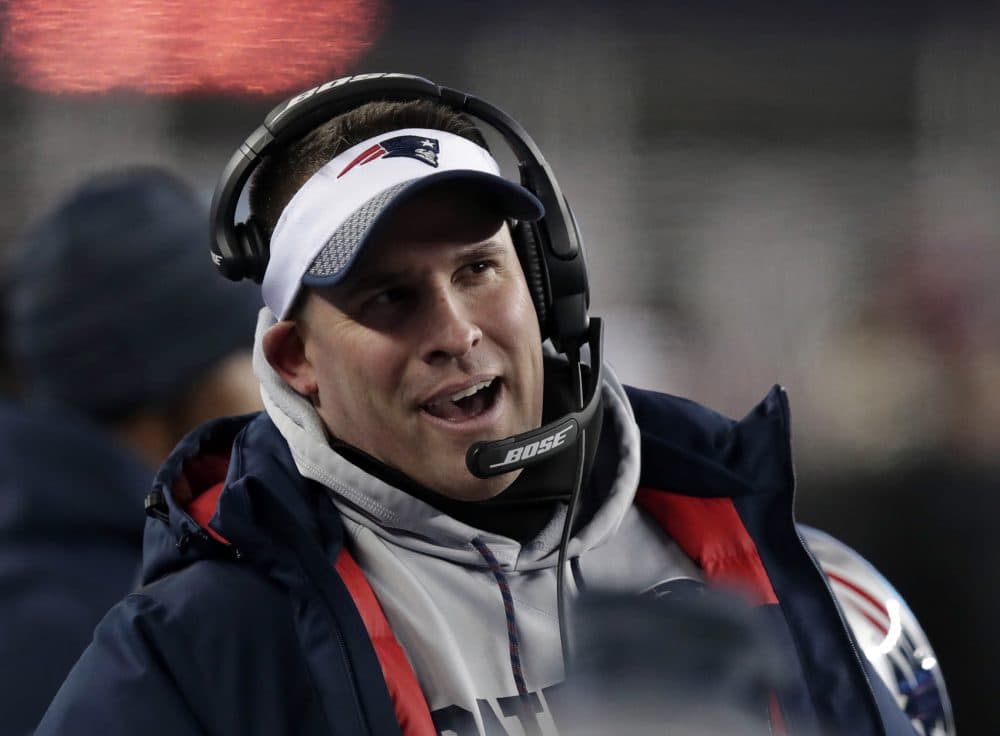 Story continues below
Subscribe to the podcast
Today on Season Ticket, host Chris Gasper (@cgasper) and Chad Finn react to the stunning news from last night that New England Patriots Offensive Coordinator Josh McDaniels has decided to return to the team after agreeing to terms to be the next head coach of the Indianapolis Colts. Then, the two try and figure out if Celtics General Manager Danny Ainge has any tricks up his sleeve with the NBA's trade deadline set for 3 p.m. Thursday.
Guest
Interview Highlights
Initial reaction to the Josh McDaniels news
Chad Finn: It's bizarre but I think if you take a step back and look at it, it is the best thing for the Patriots. He's got the continuity of Brady, the complete trust, the history and an incredible amount of success. If the defense had made two plays in the Super Bowl on Sunday, Josh McDaniels and Brady would be celebrating another championship together. Good thing for the Patriots, tough thing for the Colts.
Chris Gasper: It's a gift, really, for the Patriots having that continuity moving forward. The way this went down, though, is something that is going to stick to Josh McDaniels ... There were multiple reports that he went into Gillette Stadium to clean out his office on Tuesday, ended up having a conversation with the Robert Kraft and Jonathan Kraft and Bill Belichick, and changed his mind ... He might end up being the heir apparent to Bill Belichick here and maybe he got some assurances in that regard but, if he wants to coach somewhere else in the next two to three years, I don't think it's going to come easily to him because he's backed out of this job and last year he came close to taking some jobs — including the 49ers job. It wasn't this bad but he left people feeling like there was a real possibility he could become their head coach and then backed out at the last second. He sort of comes off here as indecisive.
"It's a gift, really, for the Patriots having that continuity moving forward."

Chris Gasper
On why McDaniels backed out of the Indianapolis job
Chad Finn: The thing that looks bad is that they had already hired [assistant] coaches ... The gap that needs to be filled in with Josh is: what changed his mind? Was it a meeting with Kraft? Was it more money? Was it assurances that if Bill leaves next year or the year after that he's, if not the guy, the frontrunner? There's a piece of information we don't yet have that probably changed Josh's mind.
Chris Gasper: I have an idea what that piece of information might be. On Super Bowl Sunday there was a report from ESPN's Chris Mortensen that Andrew Luck's shoulder was not progressing as well as people had been reporting. And if that's the case, if there's any sort of question mark about Andrew Luck, that roster is not that great [and] the owner (Jim Irsay) can be a little bit of a loose cannon ... At the end of the day, even though I disagree with the way this decision went down and I think it looks really bad for Josh — someone who I like a lot and have a tremendous amount of respect for — I do think this is the best decision for him because I never thought the Colts job was a great job for him.
On McDaniels succeeding Bill Belichick as head coach
Chris Gasper: There might be some tacit agreement here that Josh McDaniels succeeds Bill Belichick, which again would help the Patriots. Because Josh McDaniels and the Patriots Director of Player Personnel, Nick Caserio, played college football together at DIII John Carroll ... Those guys are really close and that could be your power structure moving forward. You're not going to replace Bill with one guy but if you have to replace Bill with those two guys, that's about as good as it gets.
Chad Finn: That's as much continuity as you can possibly get other than if they had found a way to hold onto Jimmy Garoppolo and then you had the natural succession at quarterback. In terms of the organization, yes, that's what you want. That's really hard to do. Going back to when Belichick left the Jets, that's what the Jets thought they were going to have from Parcells to Belichick in that old 80's Giants tree. That is probably a best case scenario for the Patriots if that's how it works out.
"Regardless of what they do at the trade deadline, I still think the biggest addition is going to be Gordon Hayward."

Chris Gasper
On the Celtics biggest needs at the trade deadline
Chad Finn: They need another scoring guard. The names are out there: it's Lou Williams and Tyreke Evans ... Watching that game [in Toronto] last night, they had defensive issues and, to me, I hear all these Marcus Smart rumors, that they may move him and he's in the last year of his deal and probably in the dog house at this point, and I look at them as having defensive issues at guard when he's not out there. They couldn't stop Kyle Lowry, they couldn't stop [C.J.] Miles. Ideally, they get a scorer without moving on from Marcus but I think those two things are probably intertwined.
Chris Gasper: The guys that you mentioned are the guys they are most associated with. I think Evans would certainly make a big difference for them. I've been saying since the beginning of the year that I think they need another scorer. The rotation is a scorer short, the bench is a scorer short. Where they find that guy, though, I don't know. And it seems like they don't want to give up first round picks to bring someone in so then how do you bring somebody in? ... Smart is somebody I'd be willing to part with. I also remember all the talk coming into the season that he worked on his shot, how different it was going to be — [he's the] same guy, offensively. I don't think he's ever going to be a consistent shooter. He is a valuable player, I'm not looking to give him away, but if you could move him in a deal and get somebody back who can help you and be a rotation scorer, I think that's the greater need at this point.
On Gordon Hayward being the answer
Chris Gasper: Regardless of what they do at the trade deadline, I still think the biggest addition is going to be Gordon Hayward. I think he's gonna play, I really do. I think he's gonna play whether it's late March/early April — I think he's coming back and that will deepen that rotation ... I normally hate this in sports when they say, so-and-so is coming back, that's our real trade deadline addition. Normally I hate that, but in this case I think it's legit and I think it's true.
Chad Finn: He's a top-15 player who you're going to be using as a rotational piece and a bench guy. Even if he's rusty, that would be an asset. I'm with you, too. It's a long way to June — that's the thing. We're in February, a lot's going to happen in between now and the later rounds of the playoffs. I completely agree with you that he's gonna play at some point this season and we're going to get a real glimpse of what this team looks like when he's fully healthy.