Fallout From McDaniels Reversal, Plus Collusion Among MLB Owners?
Play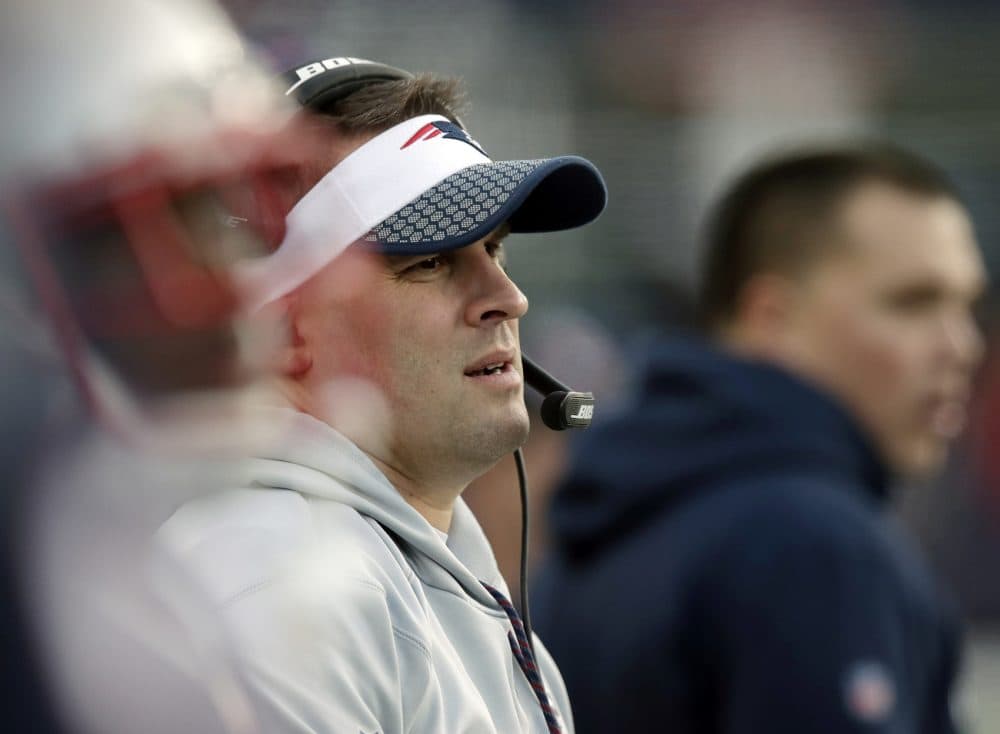 Story continues below
Subscribe to the podcast
Today on Season Ticket, Dan Shaughnessy joins host Chris Gasper (@cgasper) to discuss the ramifications of Josh McDaniels backing out of the Colts head coaching job to remain with the Patriots. Then, they talk about who's to blame for so many MLB players remaining unsigned less than a week before spring training.
Guest
Interview Highlights
On how the McDaniels reversal might exacerbate tension in Foxboro
Dan Shaughnessy: In our market, nobody really cares about the woes of the Colts, the poor Colts. It's like, "Oh good, screw them." They started Deflategate, they changed the rules for coverage in the defensive backfield. You can go back to the 80s when they moved the franchise, the Baltimore Colts, under the cover of darkness. So no one's feeling bad for the Colts, let's get that straight. But it's a bad optic for the Patriots ... They do business to take care of the Patriots and the Patriots only with no thought for anybody else. I suppose that's why you love them here, but this is not the way you do business in general ... It looks to me like this is the ongoing — I don't want to use the word feud — dysfunction, whatever you want to call it, that there is. You're choosing sides over there in Gillette now and you are either in the Brady camp or in the Belichick camp. This looks like more of a split: Tom wanted his guy Josh and they wanted some leverage over Bill. If they have McDaniels in the fold, Bill has less leverage to use [against] them: "I want more money, I want this, I want that, I want control." Like, "Well, Bill, we got your successor right here so you can't really hold that gun to our heads anymore."
Chris Gasper: It certainly helps the Patriots in terms of a succession plan for Bill Belichick. Now you have a guy in place who is comfortable and really close with the quarterback. I think that's important if Bill Belichick really is going year to year now and is going to walk away at some point, whether it's after 2018 or 2019 or 2020. You have [team president] Jonathan Kraft saying that Tom Brady has earned the right at this point in his career to decide when he no longer wants to play for the Patriots. So what they've said is there's this player on the roster by the name of Tom Brady who is outside the control of Bill Belichick. Bill Belichick looks at it every year and says, "Everybody has to fight for their job." Ownership's saying, "No, Tom Brady decides when he doesn't want to do this job anymore," and that's a very different dynamic in Foxboro. If there's a situation down there where there's a battle for control, a battle for the top spot on the masthead in the marquee, I think Brady has won that battle this year. The Krafts have backed him and having McDaniels here certainly helps Tom Brady in that regard. It's an interesting dynamic with Bill Belichick. There's no way he's ever going to want a situation where there's a player on the roster who essentially is outside his control and that's where Brady is right now.
"There's this player on the roster by the name of Tom Brady who is outside the control of Bill Belichick"

Chris Gasper
On why Josh McDaniels' reversal looks bad for the Colts
Chris Gasper: What does this say about the Colts that you have a situation where McDaniels would rather wait his turn behind Belichick, not sure when Belichick is going to retire, and roll the dice with a 41-year-old Tom Brady then go to your team? That says something about the Colts, the composition of their roster, the ownership stability there with [owner Jim Irsay], and the questions about Andrew Luck's health ... One thing [Colts general manager] Chris Ballard said in this press conference is that Andrew Luck is not at the point where he's throwing a football yet. I wonder if that was a factor here as well ... Was it easier for the Patriots to woo Josh back when he's starting to hear stuff about Andrew Luck, including a report from Chris Mortensen of ESPN on Sunday, that Andrew Luck might need additional medical attention to fix that shoulder. If you're going [to Indianapolis], you're going there for Andrew Luck. The rest of that roster ... needs a lot of work right.
Dan Shaughnessy: And they're also in a division where it's much harder to win. Teams on the rise, teams that are already good. Jacksonville's in that division, [Titans quarterback] Mariota's in that division — there's guys that you're going to have to contend with. With the Patriots, you're in the "tomato can division," the all-time of all-time [bad divisions], new guy on each team every year and no threat to challenge you in the division. So, you're going to look a lot better as head coach of the Patriots in the near future than you are as head coach of the Colts.
On how the Malcolm Butler situation is Bill Belichick's "Grady Little" moment
Dan Shaughnessy: It has been two days since that statement was issued by Butler and no one has come forward with [any evidence that his benching was disciplinary]. Instead, we have had players come out in support of him, including Tom Brady, including Gronk, including Hightower, you know, their best players. This looks to me like now it's back on Bill. It is what he said it was, it was a football decision. Well, no one's understanding or buying that. This is Bill's "Grady Little" moment and he's not being forced to be accountable on it. The notion that things could have changed so dramatically between the Jacksonville game when he played every defensive snap and the next game, and [to make] no adjustment when you're getting gashed and gutted by Philadelphia ... to not use him in the game looks petty, it looks punitive, and Bill does not explain himself.
"If I were the players, I'd be angry at my union not just angry at the owners."

Chris Gasper
On whether there's collusion among MLB owners
Dan Shaughnessy: It's probably an unspoken collusion. They're smart enough now to not have a paper trail, you know, e-mails, phone conversations, recordings, texts saying, "Hey, let's not bid on these guys. Let's everybody just suppress the market and they'll come crawling back." I think that is what's happened. I thought that's what happened 30 years ago when it really was collusion, there was a paper trail and they got caught and they were sanctioned. But in this case, to me, it's market correction. I tend to be a stooge for management on this stuff because I'm looking at J.D. Martinez, he's been offered five years $125 million. That's not good enough? Too bad. I'm not going to seven years on this ... We've seen it with Pablo Sandoval, we've seen it with Hanley Ramirez in this market. You can go back to J.D. Drew. It doesn't look good in the end. I understand owners smartening up on this and just slowing the train down. I don't think, with the Red Sox, that that's a rush to the bottom. They won 93 games the last two years. They don't need J.D. Martinez to keep from winning 72 games and to stay out of the basement ... That is happening with some franchises — you could point Tampa maybe.
Chris Gasper: How about Miami? That's a joke. That's an absolute joke what Derek Jeter is doing down there. They've strip-mined that team.
On why the MLB players union should be held accountable
Chris Gasper: In this new CBA, which the players agreed to, the luxury tax is a much more onerous mechanism than it was in the past. I think when you see teams like the Dodgers and the Yankees sitting out free agency, [it means] these teams are willing to forfeit that advantage [of being able to withstand bad contracts], which is a competitive advantage, because they're so afraid of this luxury tax. If you go over [the tax] for the first time it's 20%, then it increases to 30% for the second time and then it's 50% if you go over three straight years. And then there's an additional 12% added on when you exceed the luxury tax by $20 million to $40 million. And if you go more than $40 million over, which in the past the Dodgers have had no problem blowing past that number, but if you go $40 million over the luxury tax threshold, which for 2018 is $197 million, only $2 million more than it was in 2017, your first draft pick falls ten spots. So, I think this is a really onerous mechanism and it has a lot to do with what's going on in terms of suppressing the free agent market.
I look at it this way: Tony Clark, who's the director of the MLB Players Association — he struck out negotiating this CBA. This is a terrible CBA for the players. And you're seeing the manifestation of that this offseason. I don't think it's so much collusion as that baseball now has a salary cap. It's not a salary cap in name but it's a salary cap in reality and the players are finding that out ... Tony Clark, super nice guy, but I think this is one of the reasons why you need somebody with a legal background, somebody with a business background. Just taking an ex-player and making them the executive director of the players association ... I mean, we've talked about how this is a bad deal for [players], it goes through 2021. But let me just read to you the luxury tax thresholds as they were negotiated in the new deal: $195 million in 2017 then $197 [in 2018]. Then it goes up to $206 [in 2019]. Then it's $208 [in 2020]. In the last year of the deal it's $210. Those are not really substantial increases, especially at a time when Major League Baseball franchises are more valuable than ever. Major League Baseball, they're making more money than ever. This is a steal for the owners! I mean, this is this is incredible! ... It's unbelievable to me how one-sided this deal is and now the players are finding it out. If I were the players, I'd be angry at my union not just angry at the owners.