The Remembrance Project: Gunther Hoos
Resume
Long before Gunther Hoos became a Super-8 film master or a film professor at Fitchburg State University, his history was cinematic: leaving Romania in World War II as a 2 year-old; surviving a refugee train bombing that killed his mother; relocating to the United States at 13. If it were a film, it would have been dense with darkness and enlightenment — but it was his life.
In the mid-1970's, Gunther was a darling of New York ad agencies. Using Super 8 instead of more expensive film, he shot Oleg Cassini fashion events, weddings, an ad with Shirley MacLaine for her latest book. He gave international workshops and wrote the definitive Handbook Of Super 8 Production.
Still, when Gunther's wife, Barbara Hoos, brought him home to meet her parents, the paternal response was equivocal.
"You know, being the father that he was, he said, 'How do you do, and what do you do?' Gunther said, 'Well, I make movies.' And my father said, 'Yes, I know you make movies, but what do you do?," Barbara remembers.
Eventually, what Gunther did was leave production and found a university department. He wanted to liberate film-making.
"He felt that film initially was an elitist medium — that it cost a lot to make a film. That you had to go to a good film school and they were very expensive, so it was exclusionary for a lot of people to do that kind of work," recalls Barbara.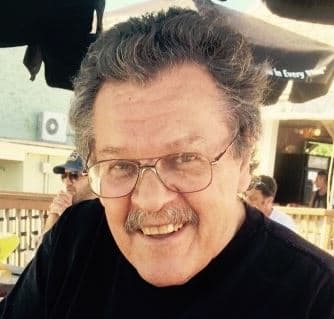 In contrast to 16 or 35 mm film, Super-8 was affordable. In contrast to marquis film schools, Fitchburg State was also affordable: equal opportunity for any motivated student. Over the next 27 years, Gunther sank his creativity into one immense project: his students.
One was his son, Keyan, who took 7 classes with him at Fitchburg State.
"When I was a little kid, I always joked with my dad that he never played catch with me. But what he taught me to do was splice film. So when I was 4 and 5 years old, I had a little splicer, I had some white leader, and I would cut it up and tape it back together," Keyan remembers.
All Gunther's students belonged to him.
"He had his students over to his house to use his own equipment to edit their movies. They'd spend weekends and nights at our house, eating all the food in the house, but he loved that — that was his thing," recalls Keyan.
He connected them to national internships, salved their fragile hopes, encouraged their grand dreams, and — when art demanded it — acted in their projects.
In 2014, Fitchburg State created a scholarship in his name to support film students during their internships. Passionate, fatherly, practical Gunther knew that his children couldn't live on art alone.
Gunther Hoos died in Fitchburg last December at the age of 73.
---
Did you know Gunther Hoos? Share your memories in the comments section.