Amelia Geggel, Environmentalist Whose Name Means 'Hard-Working Princess'
Resume
Amelia Sarah Geggel was born with both eyes open, curious from her start. She was also born with incompletely formed ears, which required hearing aides throughout her life, and a series of arduous reconstructive surgeries starting when she was 6 years old. As a child, her mother Karen Geggel said, there were inevitable comparisons.
"There was a time when she was about 3 and a half," Karen recalled, "she said, 'Daddy doesn't wear a hearing aid. Mommy doesn't wear a hearing aid. Ezra doesn't wear a hearing aid. I'm the only one that wears a hearing aid.' "
She was different in the world, and socially reserved because of it, but never, ever withdrawn from it. She wore her hair back and discovered her love for animals and the environment early. Amelia's childhood e-mail address was Salamander123, and by fifth grade, she was a moral vegetarian.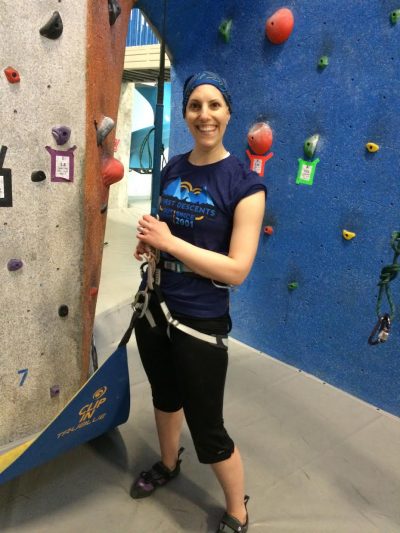 "Anything she got interested in, she delved deeply," said Karen. "She saw "Apollo 13" in sixth grade, and then she read all these books — the original "Apollo 13" book, plus "Moonshot" — another book, plus another. She just would delve into it so deeply."
Amelia studied religion and science in college.
"Part of what she had to sacrifice, being hearing-impaired and not a real social person, was to just stay internally driven and be competent. That's her self-image, and she had that nailed, right from the first day," Karen added.
She fell in love with a carnivore who shared her dry, eye-rolling humor. Side by side, they barbecued his meat and her tofu. Then, when she was 26, she was diagnosed with sarcoma.
The next six years were like time-lapse photography, full of compressed growth. While she was undergoing chemotherapy — four ravaging days every three-to-four weeks — she managed to get married, finish a master's degree in public health and find full-time work as an environmentalist.
After her death, some of her co-workers told her family they hadn't even known she was sick. When she'd wear different length wigs, they figured she'd cut her hair.
Amelia took up rock-climbing and traveled to five continents while she could. She was fully in life. Once her father asked how she endured, and she answered, in her dry, understated way, "what is the alternative?"
Five days before she died, Amelia's family held their annual Passover Seder. By then, she was unable to take more than a spoonful of ice cream and a sip of fluid. At one point in the Seder, parsley is dipped into salt water -- a symbol of spring, and renewal in the midst of hardship. Amelia's family tried to feed her a tiny sprig of parsley, but she waved them away. She tore off a handful as big as a fist, dunked it into the water and then into her mouth. When she had eaten what she could, and her face was covered with the green of spring and renewal, she raised her arms in victory.
To nominate someone for remembrance, please email remember@wbur.org.
This segment aired on July 26, 2017.