Cecil Rice, Mass. Therapist, Whose Expertise In Trauma Was Both Intellectual And Personal
Resume
Dr. Cecil Rice knew the powers of a group early on. He grew up in an Irish family with five siblings and 30 first cousins just on his father's side. He also grew up in northern Belfast, which Nazis bombed during World War II. He used to talk about it with his friend and fellow group therapist, Dr. Scott Rutan.
"He could hear the planes coming, hear the sirens," recalled Scott. "Then you'd see the bombs coming, you'd see buildings being blown up, and you didn't know whether yours was going to be [blown up] or not."
More groups at war — more us and them — followed with the troubles in Northern Ireland. In 1964, Cecil immigrated to Boston with his wife and baby. Groups were in his bones — and he became a group therapist.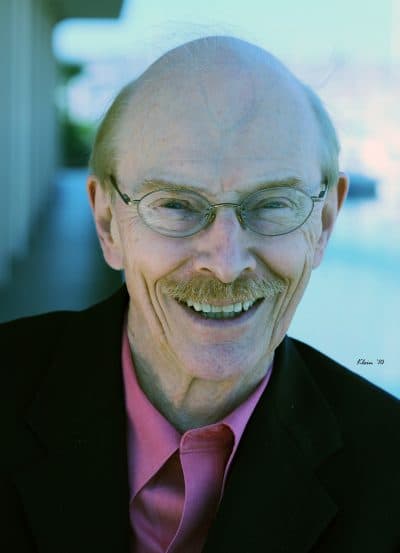 "Give people the skills to help people talk, openly and honestly to one another, and people learn from one another," Scott explained. "And what they find over time, they start by thinking, 'oh, we're so different, how can this work?' And over time, they realize, 'y'know, underneath it, we're all the same.' "
Cecil had a presence in the groups he led.
"Quiet, dignified, gentle, wise. When Cecil spoke ... you always listened," said Scott.
Cecil believed in reparation and forgiveness, both in the microcosm of the group and the macrocosm of society. With a therapist's vision, he began to write about world conflict.
"I can never remember him speaking ill of anyone, actually," Scott mulled. "And he had every reason, every right, to be vengeful, angry, hurt, distrustful, paranoid, and he just didn't."
In 1997, Cecil's only daughter and his only two grandchildren were murdered. It was devastating -- and for a therapist, it was also exposure.
"I mean, this was front-page news, so all of his patients knew what he was going through. And he didn't dodge it," Scott said. "I remember talking to him one time, and he said one of the hardest jobs for him was to help his patients stop feeling they needed to help him, or take care of him."
How is endurance possible? Cecil co-founded one more group: therapists who returned with him to Northern Ireland. They trained mental health workers there to lead trauma groups. These were workers who were themselves coping with violence and trauma. Cecil understood. He was coping, too.
"He was a man who lived through trauma from beginning to end," Scott said. "And yet he remained a loving, open, trusting, optimistic fellow."
We hope for grace after tragedy. And maybe even, to enlarge the unfathomable into something with meaning. We hope, and we mostly fail. But Cecil Rice did not fail.
To nominate someone for remembrance, please email remember@wbur.org.
This segment aired on November 8, 2017.