40 Victims Say They Were Sexually Assaulted At St. George's Prep School In R.I.
03:34
Play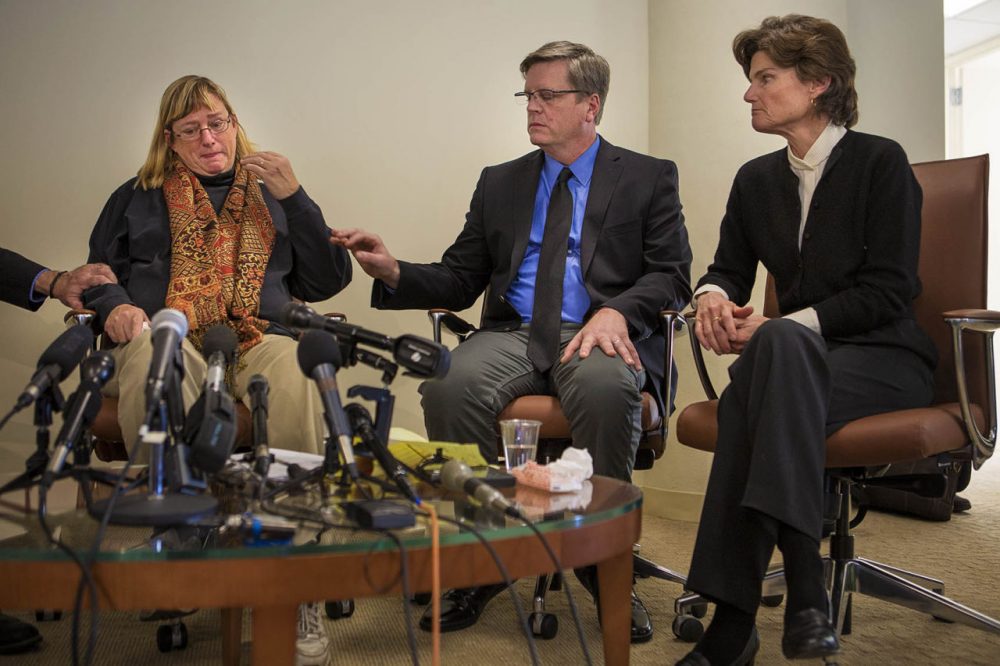 This article is more than 5 years old.
Attorneys say 40 credible victims have come forward alleging they were sexually assaulted during their time at St. George's, a private Episcopalian boarding school in Middletown, Rhode Island. The allegations involve seven former staff members at the school and four former students.
Three former students traveled to Boston Tuesday afternoon to talk about their abuse.
Katie Wales would have graduated in 1980. She used to go see athletic trainer Al Gibbs, now dead, because she injured her back riding a horse. She said Gibbs would lead her through the boys locker room and lock her inside the training room.
"And there was the, 'Oh, I have to work on your back but you can't have your T-shirt or your bra on, because I can't work on your muscles that way,' " Wales recounted during a press conference Tuesday. "And then that turned around into, 'Well, I have to work the front muscles also.' And then, 'Oh, let me show you how to dry yourself on your private areas.' "
Wales recalled one time when she says Gibbs photographed her naked without her permission.
"Within days of that, I guess he had shown it to the boys in the varsity locker room, and that is when the taunting started. It was absolutely horrible," Wales said. "I became known as the slut of the school, that I would show my body to anybody. I went to see Tony Zane."
Zane was the school's headmaster. Wales says Zane called her mentally unstable and did not believe her.
Zane has not returned a voice message left at his home.
Anne Scott did graduate in 1980. She said Gibbs raped her repeatedly over a two-year period.
"I was threatened not to tell. If I told anyone, he would come after me and I would be in trouble," Scott said. "I said nothing to anyone. I developed an eating disorder. I developed post-traumatic stress disorder, dissociative disorder, major anxiety and depression."
Scott said she stopped talking for prolonged periods of time after that.
"My parents did get me into therapy when I was in college, and through that I was hospitalized four times, one time for a prolonged period during my early 20s," Scott said. "My parents did bring a lawsuit. My name was on the lawsuit, when I was 27 years old."
Scott says she dropped the lawsuit because of the distress it was causing her family.
Harry Groome graduated in 1982 and said he was raped by fellow students.
"I was publicly raped while at St. George's as a freshman in 1978 by a fellow student with at least five witnesses," Groome said. "I kept that to myself and never contacted the school until I had enough courage to do so in 2002, when I wrote a letter to then-Headmaster Chuck Hamblett, laying out in graphic detail what happened to me, making the school aware of this crime."
Groome said he never got the meeting with Hamblet he was looking for. Hamblet died in 2010.
The allegations are raising questions about how New England prep schools in general handle staff accused of sexual assault. Attorney Eric MacLeish, who attended St. George's in the 1960s, said his investigation is leading him to discover that some staff members accused of sexual assault came from other prestigious New England boarding schools to St. George's, and he's wondering why the staff members left those schools.
"We want to know whether this was like the Catholic Church," MacLeish said, referencing the clergy abuse scandal. "Whether the bad apples got farmed out to other places where they'd have a feast on unsuspecting victims."
MacLeish said it appears when St. George's dismissed staff members accused of sexual assault, it did not warn other schools that hired those staff members.
In a statement issued after Tuesday's press conference with victims, St. George's School apologized for the harm done by former employees and students, and the way the school addressed the incidents.
"We recognize the long-lasting impact of sexual abuse and are dedicated to working with survivors to aid them in healing from its painful aftermath," the statement said.
The school said it would reimburse former students who were abused for the cost of counseling, and that it's continuing to work to "ensure a safe and productive learning environment for all of its students."
Rhode Island State Police say they are investigating the allegations.
This article was originally published on January 05, 2016.
This segment aired on January 5, 2016.